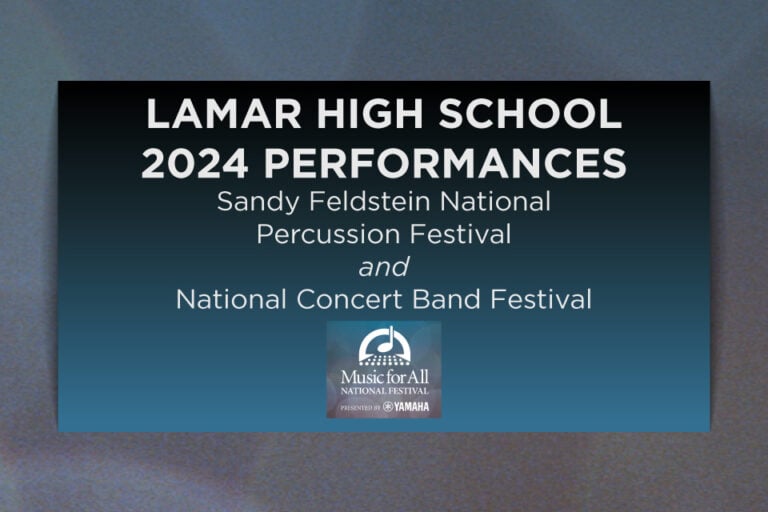 Lamar's ensembles two of only 45 selected from across the country
Lamar High School's wind ensemble will have some company when it heads to a prestigious national festival in March.
That's because the Lamar percussion ensemble was selected to participate, too.
Both ensembles will be headed to Indianapolis to perform at the 2024 Music for All National Festival.
Following a rigorous application and audition process, only 45 ensembles across the country were invited. The festival will feature both high school and middle school ensembles and is considered the nation's premier non-competitive festival for scholastic instrumental music ensembles.
The two Lamar groups were selected and deemed to have achieved the level of musical performance and artistry worthy of being featured and celebrated on a national stage. This will be the second festival for Lamar's percussion ensemble and the first for the wind ensemble.
"I am proud of the Lamar Band students for being selected for this prestigious honor," said Lamar director of bands Alan Lang. "The directors have been working for years to elevate the Lamar Band to this national standard of performance."
Students will have the chance to perform at top venues, receive evaluations and feedback from a panel of renowned conductors and clinicians and participate in educational workshops.
"The kids are incredibly excited," said Lang. "They know that this is a unique opportunity to be able to perform a concert, socialize with band students from around the country and learn from amazing professional musicians and conductors."
The festival will take place from March 21-23. Leading up to the trip, the Lamar Band program will begin fundraising activities to support their travel to Indianapolis.
So, be on the lookout for upcoming opportunities to support the Vikings as they prepare for their incredible adventure.
Congratulations to all our students and staff of Lamar's wind and percussion ensembles on being selected for this prestigious honor.
"Accomplishing something like this shows that Arlington ISD fine arts continues to be a nationally recognized district for music education," said Lang. "We expect the festival to be a once-in-a-lifetime experience."
You can learn more information about the festival or make donations here.