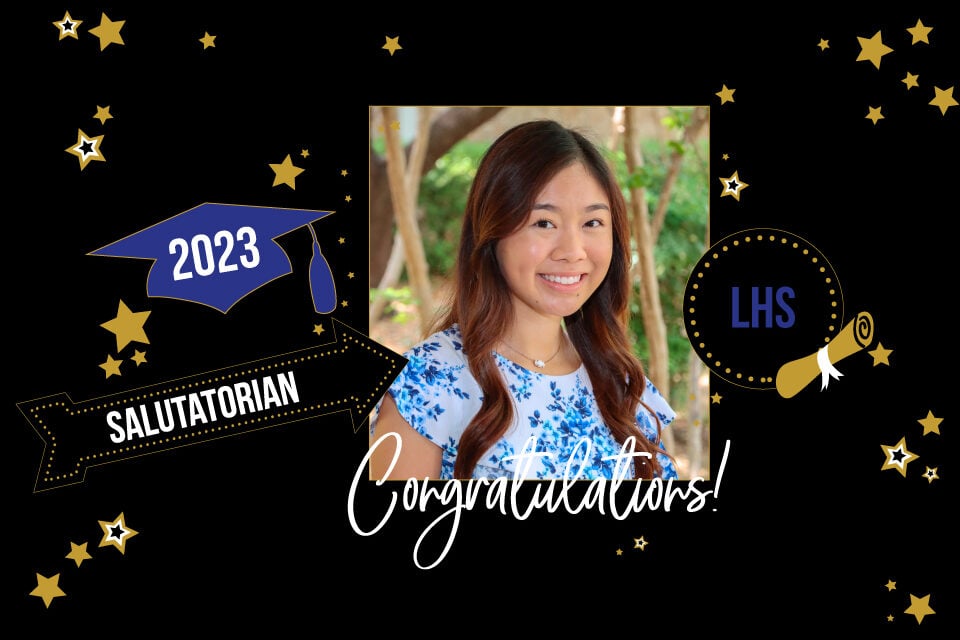 Lamar salutatorian Sara Lim
It's graduation season and we are celebrating the Class of 2023 valedictorian and salutatorian for all eight Arlington ISD high schools. Meet Lamar High School's salutatorian Sara Lim. 
NAME: Sara Lim
SCHOOL: Lamar High School
COLLEGE: University of Texas at Austin
INTENDED MAJOR: Biology
What is your dream and how do you plan to make it come true after graduation?
My long-term dream after college is to go to med school to become a pediatrician. I want to become a pediatrician because I have scoliosis and pediatricians that helped me along my scoliosis journey have really been there, more than just a doctor but to support me. I want to give back and give back to children like me.
Who inspires you the most?
My mom. It might seem like kind of cliché but whenever I stay up, pull all-nighters and am up until sunrise, she always stays up with me. She never goes to bed before me. Whenever I chase any goals or pursue any passions, she doesn't pressure me to change routes. She just supports me. She supports me in what I want to do.
What is one piece of advice you would give an incoming freshman?
For me, as a freshman, I didn't have a clue about rank, GPA, what classes I should take. I advise them to reach out to more experienced high school students like juniors and seniors. At the same time, rank and GPA don't matter that terribly, terribly much. It's a time to enjoy high school, but don't forget that with a better GPA, class rank, SAT, you might have a better chance to get into a better college. That was something I missed out on as a freshman.
What's been your favorite high school memory?
My favorite high school memory? A silly one was when the power went out in the first period, and we didn't have to go back to school for the rest of the day. That was a nice break.
How do you plan to make an impact on society in the future? 
Going into the healthcare field, just speaking for myself and for all of the healthcare field, we can always make an impact in our own little way just by helping others. It's not just the healthcare field. In any job you can help others. Becoming a pediatrician, I can help younger kids feel better.
What her teacher said:
Sara is without question one of the top students in the Lamar orchestra program and one of the best students at Lamar High School. However, I believe what distinguishes Sara from other extremely talented musicians and high-achieving students is the way she carries herself with humility and grace. She is highly motivated to be the best at absolutely whatever she puts her mind to but is also humble, helpful, relatable and kind.
– Andrew Walton, Sara's orchestra teacher