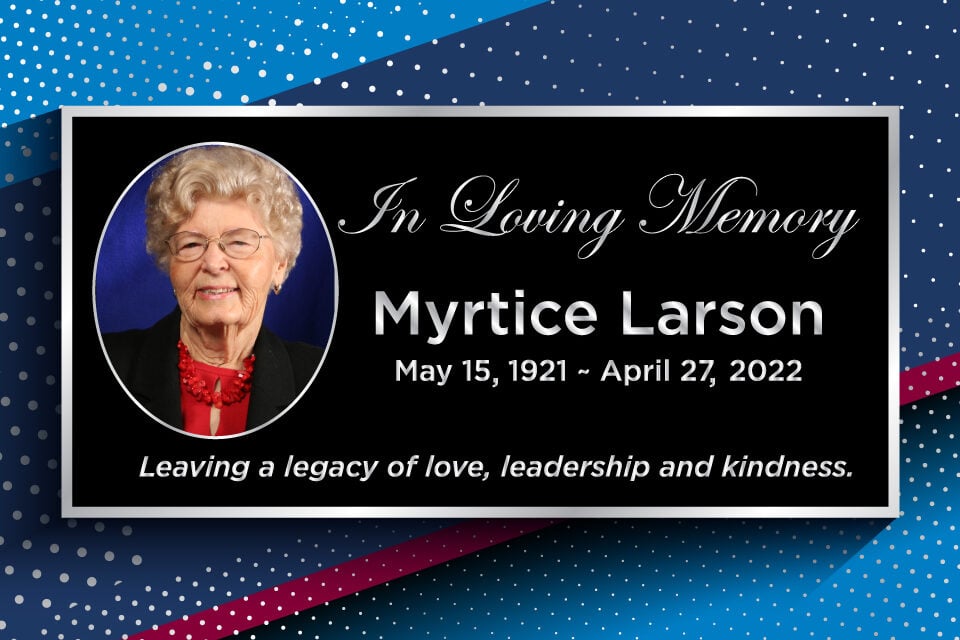 Larson Elementary School namesake Myrtice Larson, whose ties to the Arlington ISD started nearly 70 years ago, died last week at the age of 100.
Larson, who began her Arlington ISD career as a reading specialist in 1953, shared the namesake honors with her late husband Curtis. Curtis Larson taught at Speer and Thornton elementary schools before becoming a principal in the district.
The two combined for 74 years in the education field.
"The Larson legacy has left an indelible mark on our district," Arlington ISD Superintendent Dr. Marcelo Cavazos said. "Mrs. Larson was a significant member of our district and in our community. She never stopped caring about the students and staff in our district. She loved visiting her school."
The district dedicated the then Curtis and Myrtice Larson Academy in 1997.
Larson retired in 1981 after serving the district as a reading specialist, elementary consultant and kindergarten specialist. Larson directed the development of the district's first kindergarten program in the 1960s. She wrote the "Teachers and the Planning Guide" for Houghton Mifflin's kindergarten program, which is still in use today.
Even after Larson retired, she was a force for teachers. She was part of the Texas Retired Teachers Association, including a stint as president from 1994 to 1996.
Larson spent plenty of time in retirement at her school. That was the case when she was in her 70s, 80s and 90s. She handed out candy canes to students at the school in 2016.
Last year to mark her 100th birthday, students made cards for her, and the school had a wreath made for her. While she couldn't be at the school to mark the big day, the wreath was delivered to her.
There will be a memorial service for Larson at 10 a.m. Wednesday at Advent Lutheran Church in Arlington. The family is requesting no flowers. Larson is survived by nieces, nephews and friends from throughout her life.