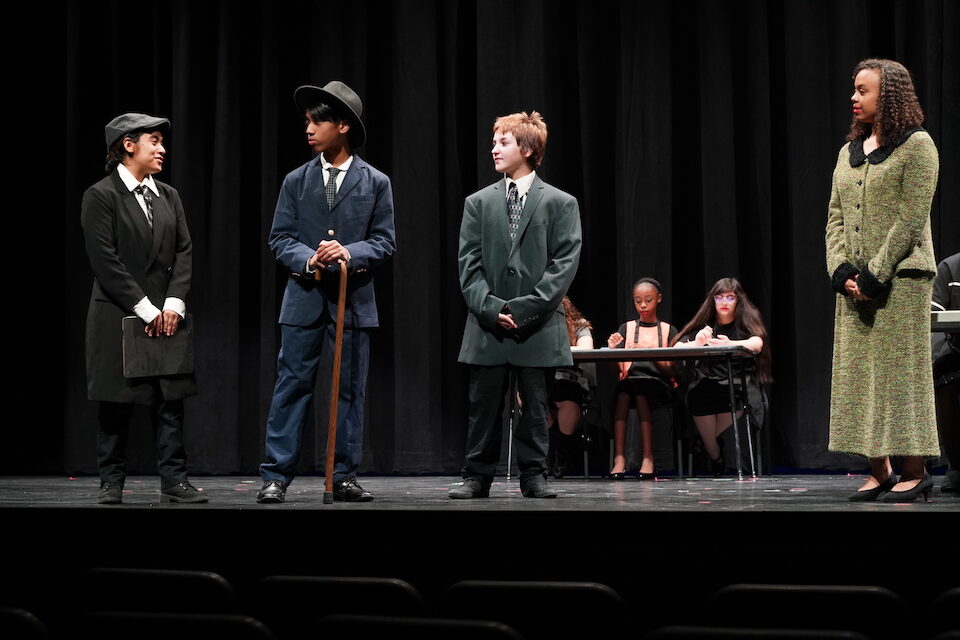 Bond 2019 upgrading lighting and sound
When Micah Green, Arlington ISD's fine arts coordinator of theatre and dance, set out to improve lighting and sound for the district's junior high and high school theater programs – as called for in the 2019 Bond program – he visited each campus to assess what they had and what they needed. When it came to the 10 junior high schools, he quickly realized they were starting from scratch.
"What I realized very quickly is that junior highs don't have anything," Green said, "and the teachers are working crazy amounts of magic doing what they're doing now."
Even at Workman Junior High, where they have a real auditorium – the other junior highs just have a stage in their cafeteria – they have little to work with.
"In our auditorium, there are breakers that they can turn on and off for lights, and that's about all they can do," said Joy Hatcher, Workman's theater teacher.
But that's about to change.
Junior Highs
In addition to simply lacking adequate sound and lighting equipment at the junior high level, Arlington ISD's new junior high one act festival – started last year – also served as an impetus to invest in lights and sound.
A part of the festival – and theater in general – is a technical element. If there is no technical equipment on the campus, it's hard to include it in the curriculum and instruct the students. Basic theater calls for lights that can go up and down and can light certain portions of the stage.
"It's a theater necessity," Green said. "Junior highs need to get to a place where they can have a functioning lighting system and functioning sound system."
But getting there isn't as simple as just buying some lights and a sound system for the junior highs.
"Any new equipment could not be at all dependent upon the infrastructure because the infrastructure is not in place," Green said.
The solution Green and his team came up with is a self-contained portable system that includes lighting and sound.
"Junior highs can set up shop and put on shows on the cafeteria stage" using the new portable systems, he said.
The new systems aren't just going to make performances better. They're going to improve curriculum and prepare students on a whole new level.
"The new sound and lighting equipment will help prepare our students for participation in the high school theater programs, as well as acclimate them to the tech that they will use at competition," Hatcher said. "With the new lights, they can experiment with colors as an expression of emotions in the scene and can create a focus for our audience. With the new sound equipment, our technicians can communicate with each other better, as well as create a more balanced sound."
The benefits extend to the actors as well.
"For actors, being able to do things like finding your light, or getting that extra feeling of the mood can really help in a performance," Hatcher said.
The theater teachers are "pumped" about what this means for their students and programs.
"I am so excited that every junior high in the district will be able to house their own lighting and sound equipment," said Katy Wells, theater teacher at Bailey Junior High, where they sold out both performances of the school's musical last year. Wells has been at Bailey for 21 years and has never had professional lighting or sound. 
"With new equipment, it is going to be such a game changer and a wonderful experience for our audience," she said. 
High Schools
Each high school is getting the same portable lighting and sound package that junior highs are getting, but they will serve a somewhat different purpose. 
For junior highs, the portable package is their main system in their only performance venue. At the high schools, their primary performance venues – the auditoriums – already have great lighting and sound because they were all renovated during the 2014 Bond program.
But the high schools have other venues as well – like small theaters, courtyards and cafeterias. The new portable systems can be used for all of them.
With the portable systems, "there's a lot more flexibility," Green said, "so that when you go see the shows outside the auditorium, it's going to look and sound and feel much more professional, much more theatrical than anything we've been used to."
The high school packages also include a set of intel lights, now an industry standard. These are highly sophisticated lights that can be programmed to move automatically in any direction or pattern.
Like the junior high packages, these are a huge step up for the high school theater curriculum. The students will get industry-level experience that prepares them for the next level.
"The idea is the kids are on the soundboard and the kids are on the lightboard running them," Green said.
STATUS
Most junior high and high schools have recently received the new light and sound packages, and the others will get them in the coming months. Then, theater teachers will receive training on the new equipment so they are prepared to instruct the students and start using it for theater productions next school year.
"The best part about getting new sound and lighting is that ALL theater students in AISD have the same opportunity to learn how to use the sound (mics) and lighting," Wells said.
Thank you to the Arlington community for making this possible through your support for the 2019 Bond program.