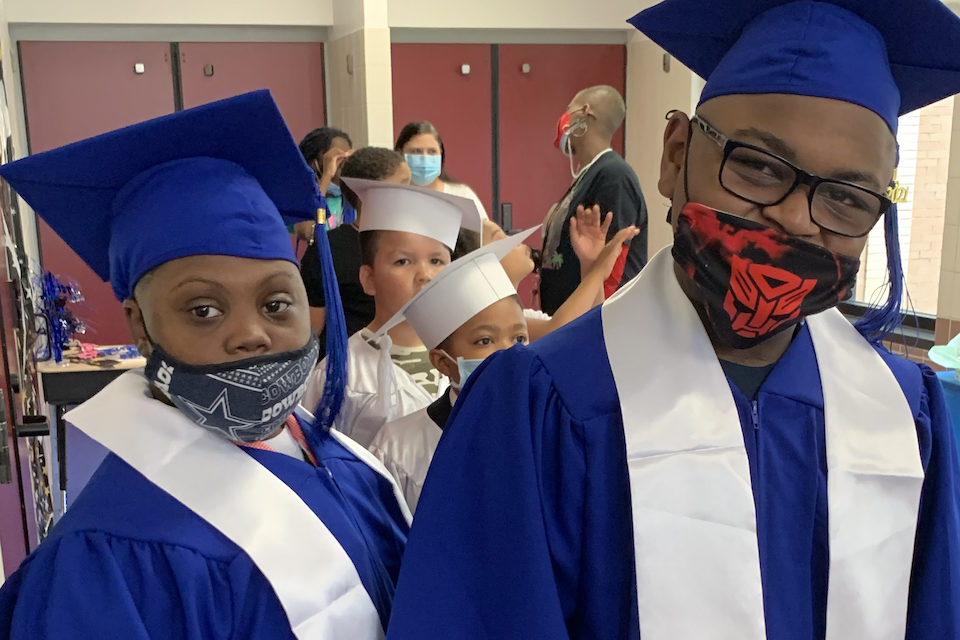 Inside Ellis Elementary School's rear hallway, the setup for the first-ever commencement ceremony held by its special education alternate curriculum staff couldn't have been grander.
Decked out with blue and white balloons to match the students' caps and gowns – the wing was lined with two rows of tiny chairs for the graduates and their "guests." Front and center was a laptop (used to stream the event as COVID protocols prohibited parents from attending), sitting on a table that doubled as a "podium" from which teachers handed out class awards. And there were snacks galore for when the festivities concluded.
May 20 was a big day for the youngsters, indeed.
But as the teachers added their finishing touches, some students appeared anxious as they stood in line, waiting for the sweet sounds of "Pomp and Circumstance." Every minute or so, sixth-grader Nathaniel "Trey" Prather shifted his body to find a more comfortable position.
"Trey, what are you doing, dancing?" a staff member jokingly called out from a distance.
But in true fashion, his longtime buddy Chandler Womack had his back on that morning. As Trey attempted to brace himself against a wall, Chandler reached out to grab his friend's hands to lend some support. It is just one of many priceless moments that the two have shared since they started kindergarten together during the 2014-2015 school year.
"They are almost like peanut butter and jelly," said Gwendolyn Hughes, the boys' teacher and the department's team leader. "One can't function without the other."
Unbreakable bond
Six years ago, Trey and Chandler became classmates while in Sherrod Elementary School's alternate curriculum program. But Trey's mom, Monique Metcalf, said she first noticed that the two were becoming close when they were in second grade.
"Trey would always want to wait for Chan (Chandler's nickname), to come in the building," Metcalf said. "Trey would just get tickled. No words were spoken; he would just start laughing."  
It wasn't until 2018 that Hughes met the boys at Ellis – where they eventually became enrolled – after she accepted her first alternate curriculum teaching assignment. She said it took "only about 30 minutes" for her to connect with her new students. And that's primarily because of the bond between Trey and Chandler, now both 12, and their personalities.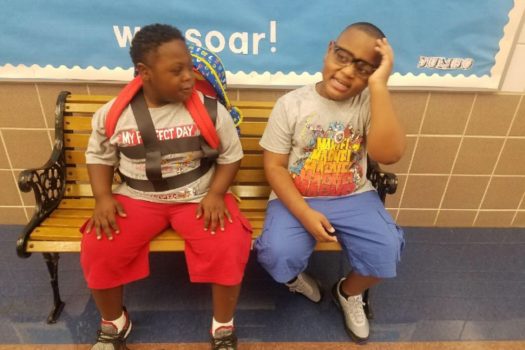 Trey was born with Down syndrome and has a speech disability. Being an extreme fan of Sesame Street, Teletubbies and Yo Gabba Gabba – shows that are all famous for sing-a-longs –Trey loves to belt out lyrics.
Over the last three years, Hughes said the very independent Trey brought an endless amount of compassion to their classroom. Voted the "Best Morning Person" award recipient during the ceremony, Trey greeted everyone with a smile each day, she said.
"He was very empathetic of his classmates," Hughes said." [When classmates were corrected for misbehavior], Trey would try to calm them down, go over to them and give them hug."
Chandler, who has been diagnosed with autism and is intellectually disabled, has often impressed others with his inquisitiveness. At the start of virtual classes, Hughes said Chandler often made it his duty to see which participants were in the Zoom. His comedic persona also won Hughes over. The spectacled Chandler – who sported a mask from his favorite film series, Transformers, at the graduation – took home the "Entertainer of the Year" award.
"Oh, come on, Ms. Hughes!" is a line that Chandler often shouted when a certain assignment didn't peak his interest, the teacher quipped.
Despite subtle differences in personalities, the boys were two peas in a pod. At recess, Hughes said they would ride the slides together and push each other on the swings. They always had to sit near each other during lunch.
Metcalf fondly recalls watching Trey recognize the spelling of Chandler's full name one day during class, when Hughes held up signs with her students' names so they could individually practice spelling their own names.
"(Trey) is so excited about EVERYTHING having to do with Chan, and that makes me excited," Metcalf said.
Life apart from each another
During this past school year, COVID protocols took their toll on students across the country, as social distancing placed limits on their daily activities. Trey and Chandler and their alternate curriculum were not exempt.
Prior to the pandemic, the two had spent time together outside of school – such as on weekends and at birthday gatherings. But throughout this year, Chandler remained a virtual learner as his mom, LaDonna Chandler, hoped to avoid any potential health setbacks.
The youth, who was born at only 23 weeks, battles pulmonary complications. Chandler spent more than 11 months in the hospital after his birth.
"His health is a major priority for me … I have no intention of ever going back for a stay like that," his mom said.
Chandler returned to school at the tail end of the year. And that was only after vaccines were approved and COVID cases were decreasing, as she was advised by his doctor.
"It was a very difficult decision to keep him home, especially when April came and he was the only student strictly online," Chandler said. "My preference was for him to be in a class setting to learn amongst his peers and get the attention he needed."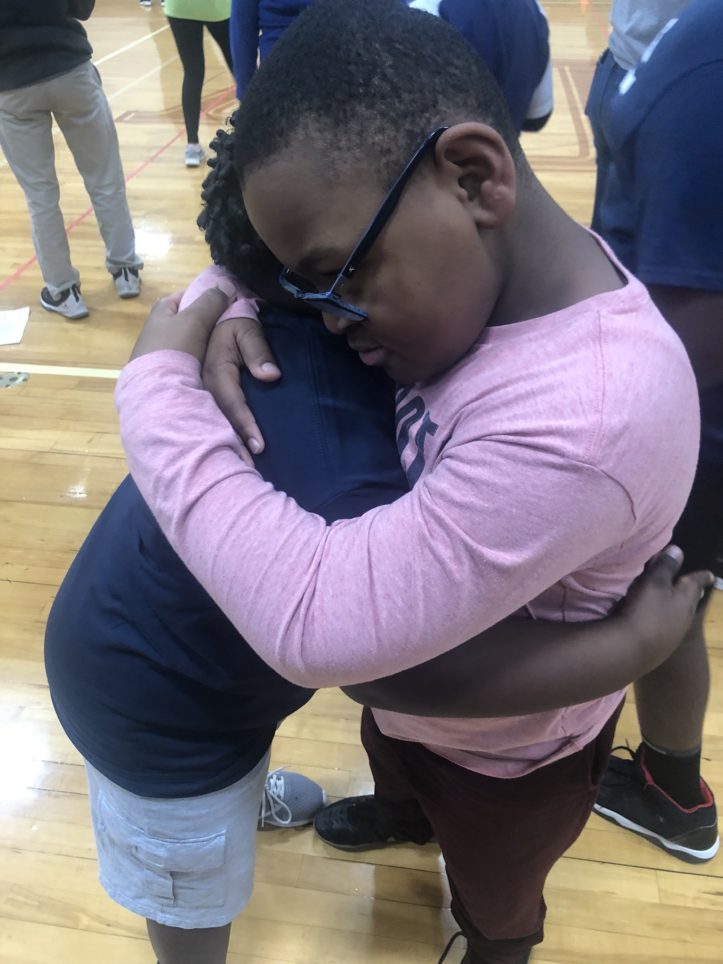 Whenever Chandler was unavailable for Zoom meetings, Hughes said Trey would often cry. He would perk up whenever his buddy rejoined the class online later in the school day. Hughes loved how the two would get one another's attention within the Zoom meetings – earning themselves the nickname, "the giggle buddies."  
Chandler's mom has never forgotten when she first learned of their "secret language" one day when she took the boys to grab a bite to eat after school. She couldn't explain the sounds, but said, "They were in their own unique world, and I was there for it. It made my heart happy." 
After the graduation ended, the boys sat in nearby desks and snickered while munching on their catered sandwiches. Hughes said the commencement ceremony was the perfect opportunity for Chandler and Trey to enjoy "one last hurrah" together.
This fall, Chandler will be a student at Nichols Junior High. Trey, on the other hand, will attend a private school.
Metcalf believed that the school was best for the next part of her son's journey and his alternate curriculum, although she admits the transition won't be easy.
"The thought of my baby not having Chan next year is really breaking my heart … Because they won't be in the same space all day, which will be odd," she said.
Nevertheless, Metcalf is confident that the boys' connection will remain strong. After all, she said their friendship has drawn the two parents closer over the years.
"Chan is my second son and everyone knows it," Metcalf said. "They are a unit … and I intend, with Donna's help, to keep these boys together."