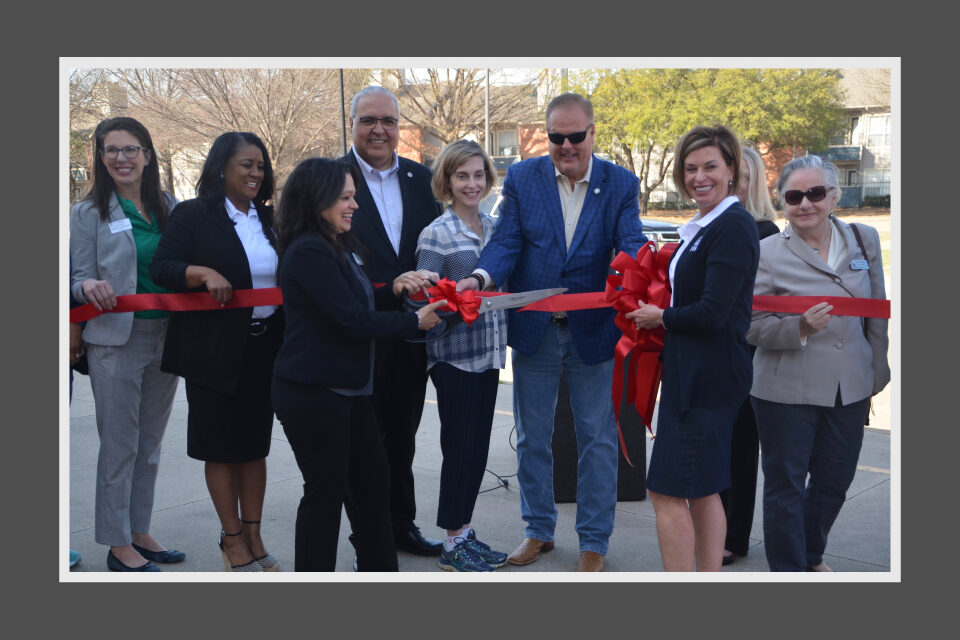 Partnership with Tarrant Area Food Bank, City of Arlington and Albertsons/Tom Thumb
The grand-opening ribbon hadn't even been cut yet and there were already four women inside the new food pantry at Nichols Junior High filling up grocery baskets.
Dignitaries like Arlington ISD Superintendent Dr. Marcelo Cavazos, Arlington Mayor Jim Ross and Tarrant Area Food Bank (TAFB) President and CEO Julie Butner did finally get the ribbon cut, so the new Mustang Food Pantry is officially open.
The storeroom that sits in the northeast corner of the school cafeteria has had a kind of soft opening for much of the school year. Many parents and students have been taking advantage of the variety of food items and other necessities, like paper towels, for a while now.
But now it's officially open thanks to a collaboration among the Arlington ISD, the City of Arlington, TAFB and Albertsons/Tom Thumb.
Food Insecurity is Real
During a brief ceremony Saturday, which also introduced TAFB's Red Bus, Butner pointed out that Arlington has 65,000 people "who go hungry" each day. TAFB has served well over five million meals in Arlington alone, he said.
"When I started with the food bank we had 13 food pantries in schools," Butner said. "Today, we have 56. It's important for kids or young adults who are hungry to have access to food."
With Nichols coming on board, one of those food pantries is now located in an Arlington school, and Cavazos expressed a strong willingness to have a pantry on more Arlington campuses, if not all.
"I think we've learned from the most recent pandemic that food insecurity is real,' Cavazos said. "So what Tarrant Area Food Bank is doing today is continuing the effort because we know that food is essential and not everyone has access to it.
"So, for us to have a pantry inside the school where parents and others can receive food and get food is a blessing. We know it works and families need it."
Serving Nichols' families
No one knows that better than Kristy Santos, Nichols' family engagement liaison. She serves as one of the point persons for the community wanting to access the pantry. Parents or students can just stop by on weekdays for needed supplies, but Santos also stays in touch with most of them by email. She often sends out a form for them to fill out, which lets her know what they need and when it should be picked up.
"A lot of times parents will just call in because I have a relationship already established with them," Santos said. "They will just say, hey, I need to pick up some items."
Students can shop at the market with her during their advisory time.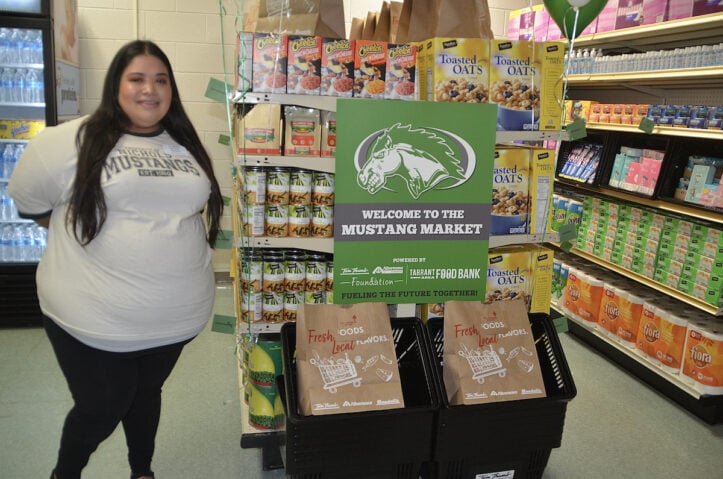 "We have gotten really good feedback from the families," Santos said. "What they really appreciate is the community that they see come in, like other organizations that come in and donate their time. They love to see the kids in there volunteering their time. They also like the fact that they can come and shop without judgement."
That's actually a biggie, according to Nichols Principal Catherine Claiborne, who said that vulnerability is not something people like to show. Asking for help with food can be difficult because often people feel a sense of embarrassment. These emotions can be barriers to getting the help they need.
"We had some families, one in particular, a mom, who after I asked her about needing something from the pantry, said, 'No, no, no, no, I don't need anything.' I said, well, just come in and check it out, and she went shopping and has been shopping weekly ever since. "
Another Nichols parent Claiborne convinced to "just come in a take a look around," did so and eyed detergent and body wash.
"I can just take this?" she asked Claiborne, who answered, "Yeah, you can take that."
Mustang Market
What's different about the Mustang Pantry is that while other schools might have a closet with a few items on hand, "this looks like a market," Claiborne said.
Indeed, once inside, the items are neatly stacked along short aisles.
"The whole idea behind this is that families can shop with dignity," Claiborne said. "It doesn't feel like a handout. They are coming in and choosing what they need. We have shopping baskets just like any grocery store. It feels like a shopping experience."
"A mark of a good community, the mark of a good company, the mark of good individuals is how you take care of those who can't take care of themselves," said Arlington Mayor Ross. "How you take care of our very young, our old, our disabled, our hungry, those who are in need. This demonstrates what a true partnership looks like."
Among the "good individuals" are Nichols students.
"The kids are happy to help," said Santos. "And it's different organizations and clubs at the school who come together to work the pantry. It's just great seeing the students come together for one purpose."