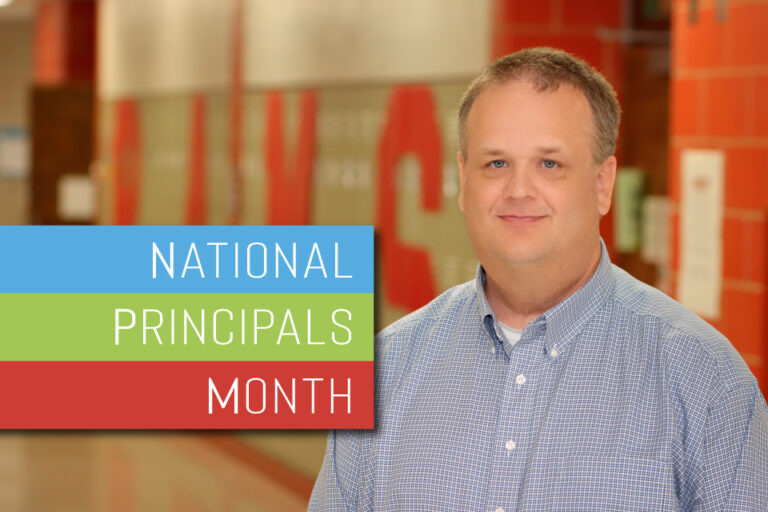 Davis a former athletic trainer at Sam Houston High School
October marks National Principals Month, and we want to honor the principals who work hard in our vision of making the Arlington ISD a premier school district and leader in education. 
Today we're spotlighting Bailey Junior High principal Jason Davis. Davis has been the principal at Bailey since 2020, but his Arlington ISD career started way back in 1999 when he started as the athletic trainer at Sam Houston High School. He also spent 13 years at Arlington High serving as a teacher, dean of instruction and assistant principal.
〉What is the best thing about being a principal?
I think the best thing about being a principal is just helping kids grow and helping them be successful. Probably the best part about being a junior high principal is setting them up for success so they're ready for high school.
〉Isn't being a junior high principal different because you only have them for two years unlike elementary (7-8) or high school (4)?
Two years, that's all we've got. We've got two years to get them ready. One of the things since I came to Bailey, this building is built on relationships. It's an important piece of who we are as a campus. We really work hard to do that. We do certain things like greeting kids at the door and good things. I know that's not unique, it just seems to work here.
〉When you were an athletic trainer did you ever see yourself being a principal?
Uh no. No. I really didn't see myself being a principal until I got out of athletic training and started teaching classes. I just knew I wanted to have a bigger impact on kids than what was going on in my classroom. That's kind of what drove me to take on that administrative role.
〉You're pretty entrenched in that 76013 (zip code) area. You've been there 16 years. What is it about that area you like?
I think a couple of things – there is a lot of tradition. Both Arlington High and Bailey have these deep-rooted traditions. There are also families that they went to Bailey and Arlington High and their kids go to Bailey and Arlington High. This cycle of people who want to be a part of the 013 and part of this community.
〉What's the hardest part of the job?
For a junior high principal one of the hardest parts is we only have them for two years. That time constraint can sometimes make it difficult. We do see amazing growth in kids in that short period of time.
〉Speaking of growth, do you see it more as we get further away from the pandemic?
The further we get away from COVID the better. This year is probably the most normal.