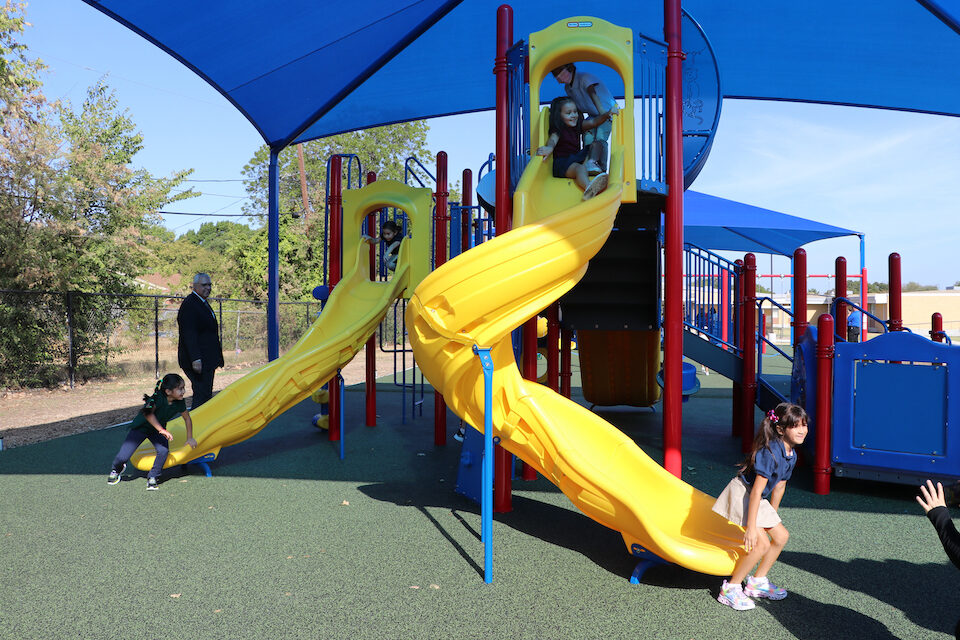 At least he was honest.
It was the first day of school at Crow Leadership Academy when Arlington ISD superintendent Dr. Marcelo Cavazos visited a second-grade classroom.
The conversation quickly turned to the new playgrounds right outside.
"The playgrounds are the only reason I came to school day," one second grader told Cavazos.
That little boy will soon find out there are lots of great reasons to come to school. But the new playgrounds definitely deserve to be at the top of his list.
"It has been great to see students excited about the new playgrounds," said Crow principal Liznel González-Morales. "Recess has a completely new meaning, even for sixth graders. This space is designed to enrich and promote play opportunities which is an essential component of learning that cannot be overlooked."
See photos of Crow's playgrounds.
New playgrounds for every elementary school
The new playgrounds at Crow are part of the 2019 Bond program. Every elementary school is getting two – one for pre-K through first grade, and the other for second through sixth grade. The playgrounds include shade structures, accessible play equipment and rubber surfacing. While the equipment is standard from campus to campus, each school got to make their own color selections.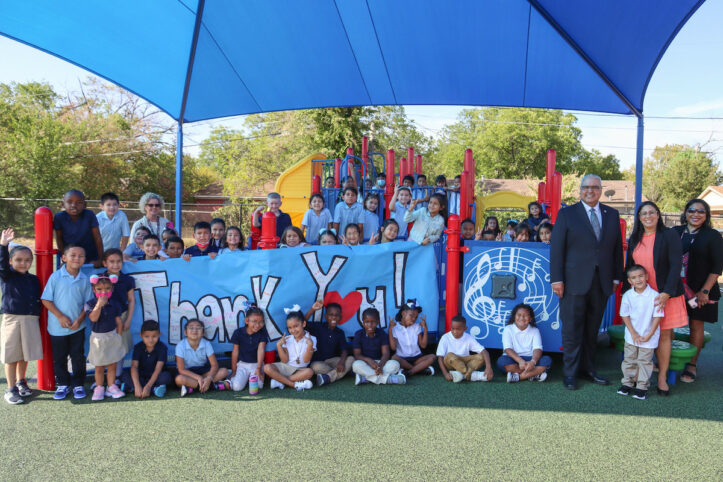 "The new playground equipment standard for Arlington ISD represents a vast improvement over the systems the district had in place," said Kelly Horn, Arlington ISD assistant superintendent of facility services. "To have new play equipment is a blessing, and to have the play systems be accessible with a safer play surface and solar shading allows our students to enjoy the play area throughout the year."
Three phases
The playgrounds are getting installed at all 53 Arlington ISD elementary schools in three phases. The first phase, with 17 schools, is already complete. Crow is the first school in phase two to open the new playgrounds.
Work has also started at several other schools in phase two, with more starting soon.
Webb Elementary's new playground equipment is nearly 95% installed and will open when the new building opens.
The work at Wimbish World Language Academy to pour the concrete slabs and install the shade structures is already complete and the equipment is being installed now.
At Ditto Elementary, demolition of the old playgrounds started last week and will wrap up soon. Then they'll start on the new playgrounds and should have them ready in October.
Demolition of the old playgrounds at Jones Academy starts this week.
And that's just the start of phase two. Work will begin throughout the fall at the other phase two schools: Fitzgerald, Farrell, Burgin, Morton, Dunn, Hill, Blanton, Rankin, Patrick, Kooken, Butler and Sherrod elementary schools. All the new phase two playgrounds are scheduled to be completed by early 2023.
Following phase two, construction will start on the third and final phase. Phase three includes Adams, Amos, Atherton, Berry, Foster, Goodman, Hale, Johns, Key, Little, McNutt, Miller, Peach, Pope, Short, South Davis, Speer, Swift and Thornton.