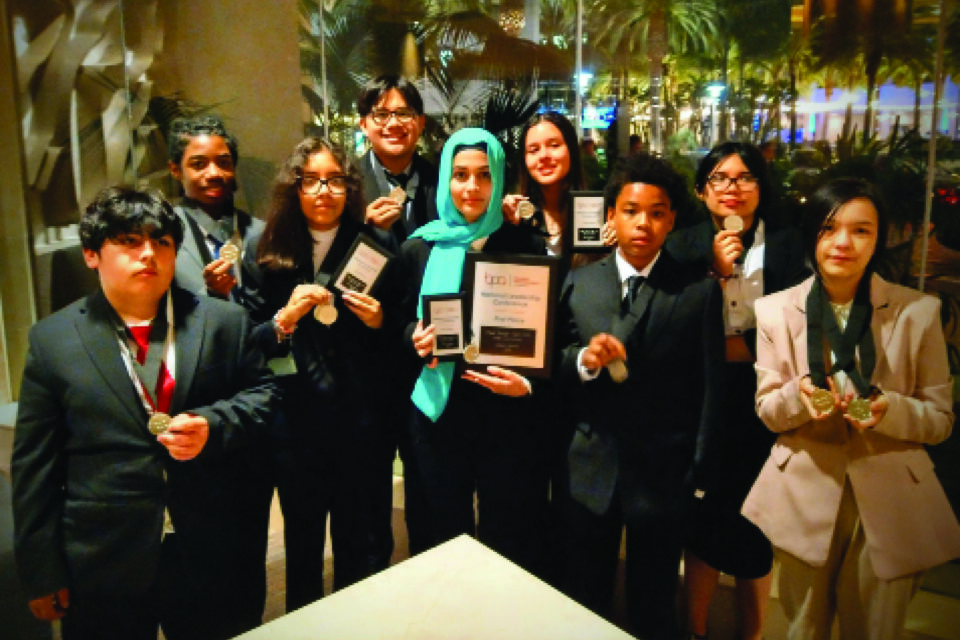 Nichols students win multiple awards
When Nichols Junior High students traveled to California this spring, it wasn't a vacation.
But it was fun, especially with all the winning they did.
The nine Nichols students joined 6,500 others at the 2023 Business Professionals of America (BPA) National Leadership Conference in Anaheim in April.
While in Anaheim, students vied for top honors in BPA's Workplace Skill Assessment Program competitions, which cover the areas of business administration; digital communication and design; finance; health administration; information technology; and management, marketing, and communication. Conference participants also attended professional development workshops, received awards for community service activities and elected BPA's 2023–2024 national student leadership team.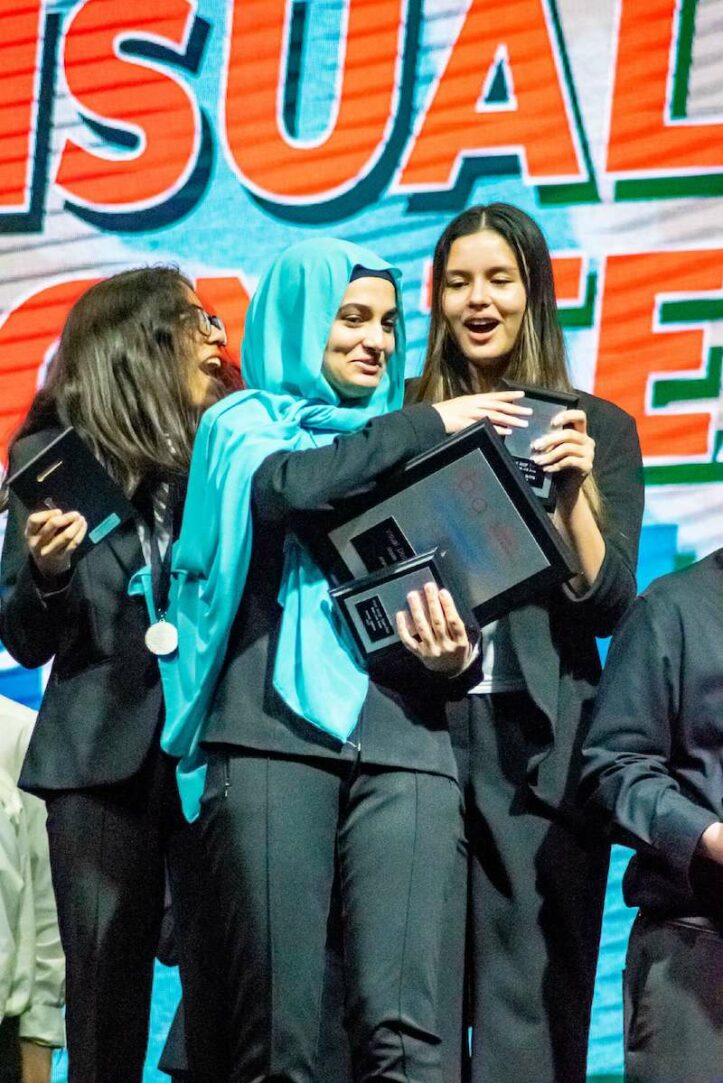 "The national conference allowed the scholars to experience what it's like to compete against the best because the other scholars were the best selected to represent their state and country," said Sabrina Taylor, a career technical and higher education investigations teacher at Nichols and the BPA advisor who traveled to California with the student scholars.
The Nichols students didn't just go hang out with the best, they proved they are among the best of the best by earning multiple recognitions, including a first place in visual design.
Dana Nayfeh, Leilyn Leon and Emmy Perez teamed up to win the top award for Visual Design Team – Middle Level with a presentation they created in Canva. They also created a website, an Instagram account and an animated video with voiceover for the presentation, along with products like posters, bracelets and a tote bag.
"The visual design team was comprised of scholars whose first language was not English," Taylor said. "However, working with me, their advisor, and being a part of BPA helped to improve their English-speaking skills, gave them confidence to present and helped them realize their full potential."
The awards and recognition were a great way to end a full year of learning and growth. BPA at Nichols is one of more than 1,600 chapters across the nation designed to help middle, high school and college students prepare for careers in business, finance, information technology and related fields.
"BPA teaches the scholars to solve problems and how to conduct themselves in a professional manner," Taylor said. "I love the growth I see in my scholars."
While the organization is focused on career and technical development, the lessons they learn will help the students in every facet of life.
"If you want to be the best, there is no shame in triple checking every little thing," said Nichols student Jayden Chance, one of four BPA scholars who won eighth place for the Digital Game Design Team – Middle Level Award.
"Set your goals high," said Dana Nayfeh from the first-place Visual Design team, "and don't stop until you achieve them."
Full list of Honors
Visual Design Team-ML Award: First Place – Dana Nayfeh, Leilyn Leon and Emmy Perez
Video Production Team-ML Award: Seventh Place – Carolina Garcia and Lillian Liu
Digital Game Design Team-ML Award: Eighth Place – Jayden Chance, Gabriel Aubuchon, Dunn Diel and Jeremy Woods
Business Communication Skills Concepts Test: Sixth and Seventh Place – Lillian Liu (sixth) and Leilyn Leon (seventh)
Honorable Mentions: Nichols BPA scholars who won at the Regional Leadership Conference and participated at the State Leadership Conference – Stella Chaney, Kai'Dence Beamon, Aliyah Miles, Gracious Bonds and Daminque Valentine