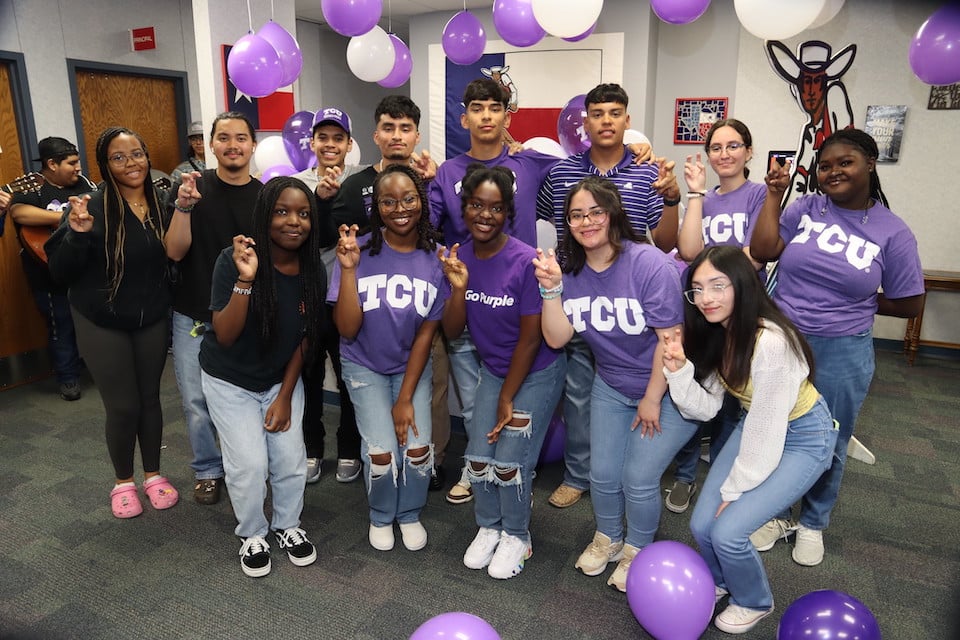 12 students heading to TCU on full rides
Sam Houston High School might want to consider relocating its campus to Fort Worth.    
The way the school keeps sending students to Texas Christian University, it makes sense.
Nine Sam Houston students were selected as TCU Community Scholars recently, meaning they're going to be Horned Frogs for the next four years on scholarships valued at more than $280,000 each.
If that wasn't enough, three other Texans who applied for the Community Scholars scholarship earned scholarships at TCU that will allow them to attend the school debt free.
"I've wanted this since my freshman year," said Adrian Correa, who plans to focus on criminal justice at TCU. "That's a big thing at Sam Houston, you know about this big scholarship that you can get. For me, this was a big relief for my parents. To be able to go to school on a scholarship like this is pretty amazing."
The path to the scholarship for Eddy Trejo was like Correa's.
"I remember writing it down my freshman year that I wanted to be a TCU Community Scholar," Trejo said. "I've been hearing about this scholarship since I was in eighth grade. I knew that if I put in the work through the years, it would pay off and I'd have a good chance at getting the scholarship."
Both Trejo and Correa play baseball at Sam Houston and got the email notification while they were at a game. They decided to open the email after the game with their teammates. While the Texans didn't win the baseball game, it really didn't matter at that point.
"We got the big W at the end of the game," Correa said.
The stories for the other recipients are similar.
Each year, TCU awards 50 scholarships to students at Title I schools in the Dallas-Fort Worth Metroplex as a part of the program. Last year Sam Houston had eight recipients. Sam Houston is one of 13 Metroplex schools that are in the program. The application process starts in September and includes three interviews for each student.
"It further enhances our culture as a college-going campus and having that emphasis on post-secondary education," said Sam Houston counselor Cynthia Carter, who spearheads the program. "Our students ask about it. They know about it. We're excited about it. We have kids who are constantly going through and constantly exceeding our expectations."
Before the COVID pandemic, the TCU Scholars at Sam Houston found out they were recipients in a surprise ceremony at the school. The pandemic has changed that, and now the students find out through their portal. That doesn't mean there's still not an element of surprise.
This year the students found out on a Friday, the day before April Fool's Day. That allowed one of the recipients – Leela Makor – to play a trick on Carter. While Carter saw that Makor received the scholarship, Makor said that wasn't the case. That had Carter confused and ready to call TCU before Makor told her the truth.
Makor and Dilan Romero also pulled similar pranks on their parents by telling them they didn't get the scholarship before letting them know.
Regardless of how the students found out or who they pranked, it's a huge honor for all of them.
"It really feels surreal," said Moti Okunrotifa. "I'm proud of myself. We're going to make changes and go out in the world and do good things. It's a huge thing. I'm proud of myself."
She's not alone.
"I could not be prouder of these guys," Sam Houston principal Juan Villarreal said. "They've had a lot of challenges these four years not having the traditional school. I know their perseverance, and everything they had to do prepared them well to be very successful."
Carter and the rest of the counseling team weren't done after the nine scholars were announced. They went to work securing scholarships for three other students to make sure they could also go to TCU. That mission was also accomplished.
Way to go Texans! Congratulations to the nine TCU Community Scholars:
Adrian Correa
Zuhal Jafari
Leela Makor
Angela Manu
Lucia Martinez
Bryan Molina
Moti Okunrotifa
Dilan Romero
Eddy Trejo
Also attending TCU debt free:
Ana Gutierrez
Winfridah Machogu
Geof Paday