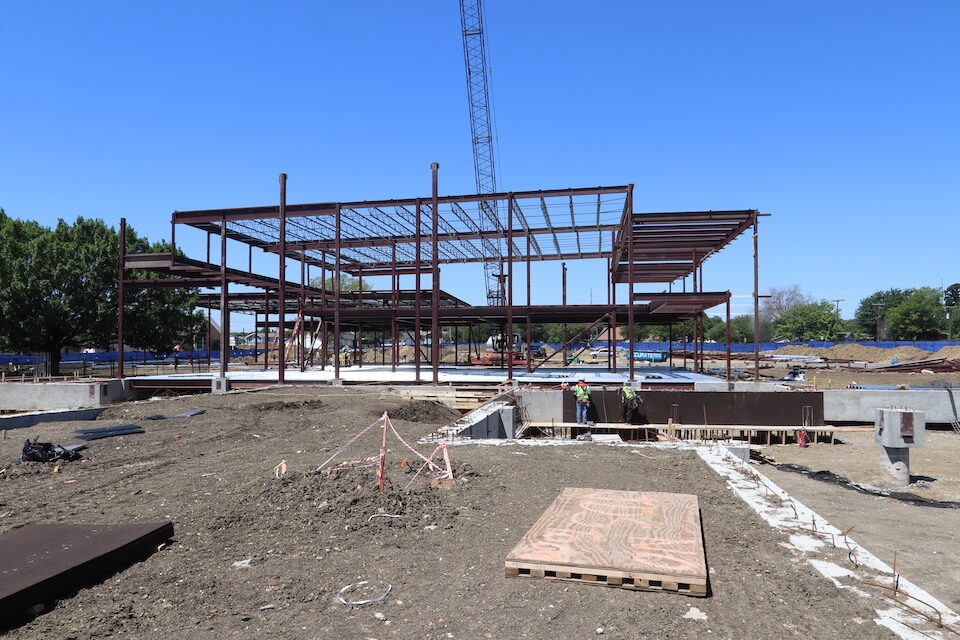 Sounds of progress
Thornton Elementary is quiet today. Yesterday was the last day of school, so classrooms and hallways are empty. But down the street at the future Thornton Elementary, it's not quiet at all. And there will be no summer break.
Construction of the future Thornton Elementary is moving full speed ahead. The Bond 2019 project to replace the old Thornton with a new, state-of-the-art facility is noisy day in and day out with the sounds of heavy machinery and progress.
The original Thornton, which first opened in 1956, was demolished in the fall to make way for the new building. Thornton's students and teachers have been housed this past school year and next in a temporary location – the former Knox Elementary – until the new building is ready to open in the fall of 2023.
Construction Update
It's still early in the process, but construction of the new building is on schedule. After lots of preparations – grading, installing utilities, drilling piers, pouring grade beams and more – Thornton has gone vertical, which means steel is being erected. The steel framing and steel floor decking have been installed in the future cafeteria/kitchen and the future library, and plumbing is being installed in the crawl space. The concrete for some of the parking lot and about half of the fire lane have been poured so far.
Upcoming work includes installing more electrical and plumbing in the crawl space, hanging a lot more steel and pouring a lot more concrete.
The New Thornton
"The 2019 Bond is allowing us to transform our district with rebuilding four of our schools that need it most," Arlington ISD Trustee Kecia Mays said at Thornton's groundbreaking ceremony. "The new school at Thornton is part of our plan for east Arlington that is transforming all of our schools in the area to make sure every student gets an outstanding education in a facility designed to inspire and promote learning."
The new 105,000-square-foot Thornton will include five classrooms for each grade (pre-K-6), a media center, fine arts classrooms, STEM labs, makerspace, collaboration spaces and more.
Outdoor spaces include a new entry plaza with a canopy, an outdoor learning courtyard, two playgrounds for different age groups, a paved court for basketball and a play field.
Corgan Architects designed the new Thornton with input from district administrators and Thornton teachers, students and parents. Pogue Construction is serving as the general contractor.