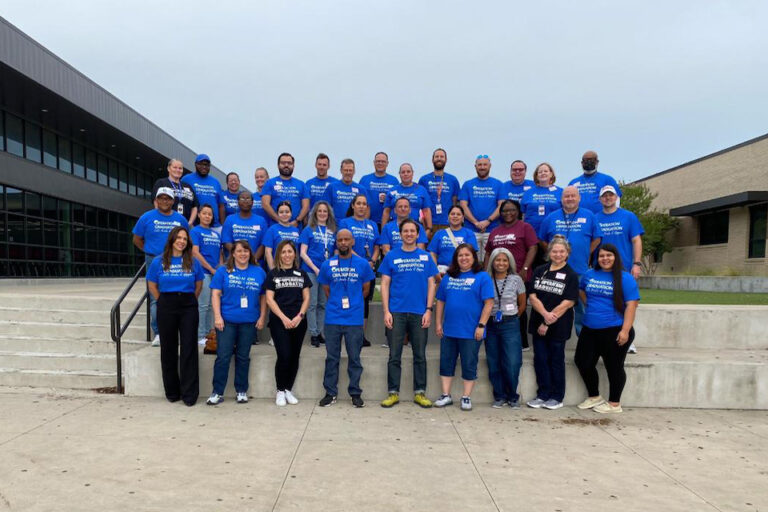 Operation Graduation volunteers meet students where they are
Jessica Carpenter knows a thing or two about school dropouts.
She almost was one.
High school wasn't the easiest for her. She went to school at a time when learning differences went largely undiagnosed.
You had to either swim academically or sink.
"I used to skip school – a lot," Carpenter said. "My way of dealing with the learning disability I knew I had was not going to class. Not taking my education seriously as I should have was my way of coping."
Now, Carpenter is a data clerk in charge of posting transfers of student transcript information as those students head off to college.
On Saturday, she was part of an army of Arlington ISD teachers, staff and administrators who marched across Arlington to find students who were no longer enrolled.
That is the objective of Operation Graduation, which attempts to re-enroll students who may have left school before graduation due to various factors. Some students are just a few credits shy of earning their diploma, others a bit more, but the number of credits is not the issue.
This effort meets the student where they are in terms of their education and makes a plan to work around whatever reasons they have for exiting school early in the first place.
"This is a unique experience," said Lamar High School assistant principal Carolyn Longoria, who addressed a couple dozen volunteers at Lamar. "Anytime you are doing a home visit, you are entering their place and letting them know what we are trying to do. We want to meet the families where they are and let them know that we want their child to be successful."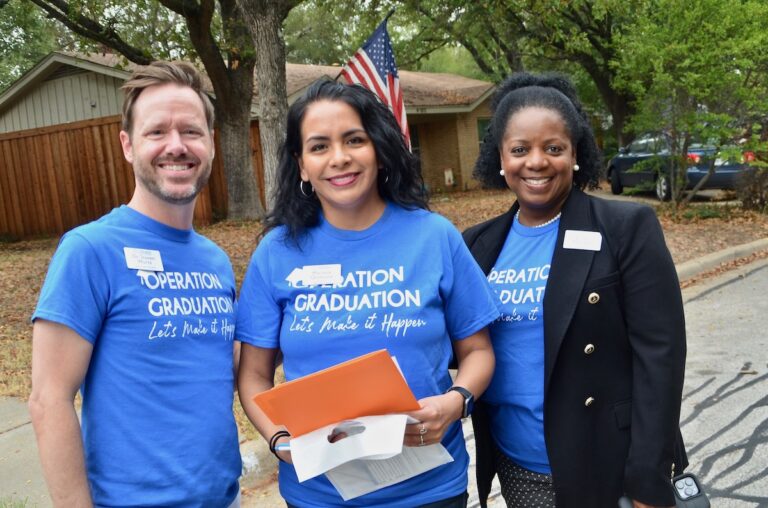 Groups of at least three converge on homes to speak with students or student guardians, first as a fact-finding mission and next to offer options the student may have to return to school. When a student or a guardian can't be reached, the group leaves information at the door explaining the graduation path.
"Our goal for the day is to say, 'Hey, this is not impossible,"' Longoria said. "And here's how you can accomplish this and how we will walk right beside you."
Arlington ISD trustee Dr. Aaron Reich called Operation Graduation "a wonderful thing."
He should know. You could say he's one of the founders, at least of the Arlington ISD version. He attended an education conference in San Antonio with then Arlington ISD superintendent Jerry McCullough when they learned of another district taking a day to lasso students who had not returned to school.
The event has taken on a life of its own in Arlington ISD, which now includes all its high school campuses. Most volunteers are teachers and staff with a soft spot for struggling students.
Like Andrea Donova. Married at 16, Donova left high school after several academic troubles but returned to earn her GED. She now has two master's degrees, worked in television news, and currently teaches English at Lamar.
"I was so delusional at the time," she said. "But it's my story. I like being in situations where we try to get kids back to school. To tell them they have a chance and opportunity. But you have to level up with yourself."
Before heading out to knock on doors, Reich told volunteers about being "realistic" about what they were trying to do and that not all trips are successful. Most aren't.
"Some years it's a bust," Reich said. "Other years, you get several; some years, you get a couple. If we can get one out of the day, it's a saved life."
Arlington ISD interim superintendent Dr. Steven Wurtz, Lamar principal Lesley Maroney and counselor Mariana Quintana visited three homes, connecting with one. They learned that the student was only one and a half credits away from graduation and would return to register.
"This is special," an overjoyed Wurtz said after the visit. "We all have a goal. To help kids be successful in life. Sometimes life gets to them. They have things that distract them from the work of school. They work and have families they are trying to support. This is a chance for them to get back on track to reach their long-term goals."