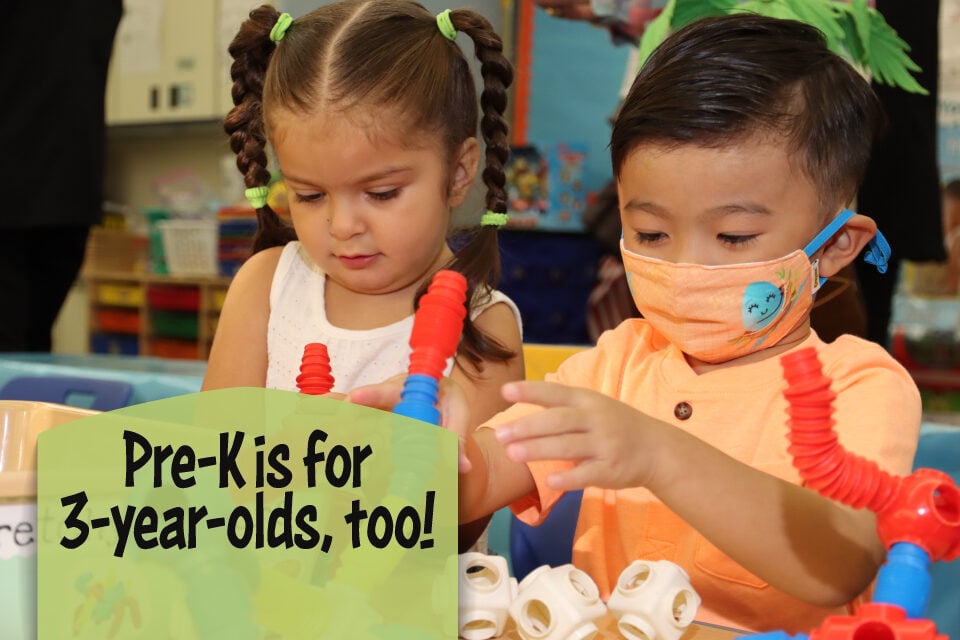 True or False?
How about a little game of True or False?
In Arlington ISD, pre-K begins at four to prepare kiddos for life-long learning. False!
Arlington ISD is a step ahead when it comes to preparing your little learner for the future. And it all begins at 3-years-old.
Age three is pivotal in early childhood learning, and that's why the district is committed to creating environments full of learning and play for your child. With a half-day curriculum, your child will have the opportunity to learn letters, vocabulary and math all while having fun and developing social and emotional skills.
Pre-K starts it all
"This stage marks the beginning of everything, especially the introduction to school," said Maria Castro, pre-K 3 teacher at Thornton Elementary. "Kids establish a social foundation, learn left from right, how to form a line, and everything in between. Because adults have known this stuff for so long, we often forget that this is the time for kids to learn those developmental skills."
Castro knows what she's talking about, too. The bilingual teacher is in her 21st year teaching and loves being the little ones' biggest cheerleader. She believes offering encouragement to the students after every accomplishment makes a world of difference in their lives.
Swift Elementary pre-K 3 teacher Kristen Diaz agrees pre-K 3 is the educational foundation, too.
"We are teaching children how to go to school, be a good friend, follow directions and learn academics they will need for the rest of their time in school," Diaz said. "Pre-K 3 is essential for the children's social, emotional and physical development. The things these children learn in PK3 will stay with them for the rest of their education."
The pre-K 3 curriculum also focuses on fine and gross motor skills like opening snacks and milk bottles and holding pencils. With lots of music, art and furniture suited just for kids, the design and personalization of the curriculum and classroom foster creativity, exploration, fun and learning.
It starts with social and emotional
Starting school can come with a lot of anxiety for both children and parents. Arlington ISD pre-K 3 teachers know the importance of assuring parents that their child is safe and is getting plenty of emotional support. In fact, social and emotional learning is so important that Castro has all the kids paint their handprints on an agreement stating they promise to be respectful as the teacher cares for them and helps them learn.
"I love the opportunity to scaffold the emotional needs kids have," Castro said. "Social and emotional learning is so important, because once you master separation anxiety, then the academics can start. We have lesson plans, but social emotional learning takes priority.
"Pre-K 3 is proactive by preventing challenges, and it gradually irons them out academically and emotionally," Castro said. "We can know quicker if a child is experiencing challenges and we're able to address those things before they get to kindergarten."
Enroll today!
The benefits of pre-K 3 are priceless. When it comes to nurturing kids' curiosity and developing their social and emotional skills. It truly takes a village to raise a child, and yours is right here in Arlington ISD. If you're ready for your little learner to be a part of a community that fosters all-around growth, register for pre-K today at aisd.net/prek. Let the fun begin!