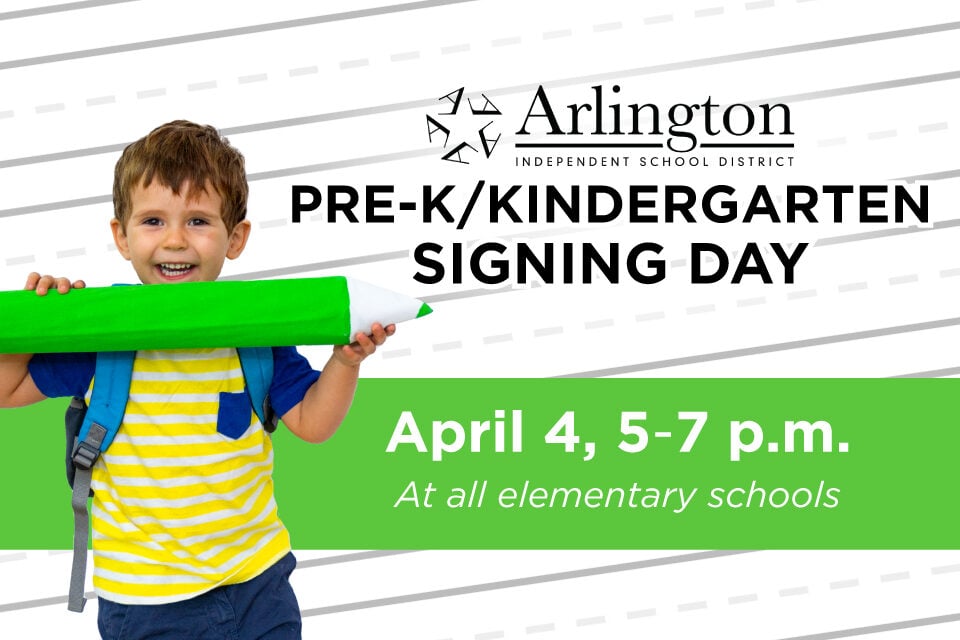 Fun photo ops at Pre-K/Kinder Signing Day
There's no bigger deal than starting pre-K or kindergarten! That's why Arlington ISD is hosting its first Pre-K/Kinder Signing Day on Tuesday, April 4, from 5-7 p.m. at your child's school. Your child is starting a new, exciting chapter in their lives, so come out next week for a chance to celebrate this momentous milestone and get your child registered.
It's going to be a lot of fun. Just like high school athletes declare their college choice and sign a letter of intent, your child will get to sign a certificate declaring their status as a rising pre-K or kindergarten student. You'll get a fun photo of your child declaring their intent to learn and grow!
Not sure what school your child is going to attend? Visit the school locator here.
Signing Day will also be a great opportunity for your family to walk the school building for the first time and visit the pre-K and kindergarten classrooms. Meet teachers and school staff and check out the amazing student artwork on display. You'll get a sneak peek at how our incredible teachers blend fun with world-class learning opportunities. Plus, you can get help and support with completing the registration for your child.
Registration for pre-K and kindergarten opens online on Monday, April 3. Find our more details and important dates here.