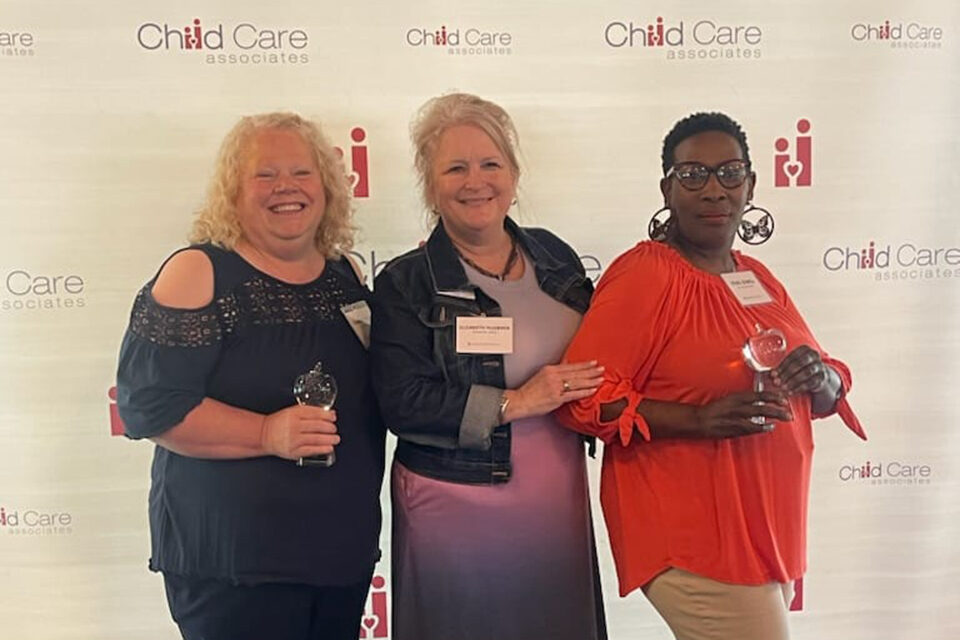 Crystal Apple Awards
Child Care Associates honored several Arlington ISD pre-K 3 teachers this month with Crystal Apple Awards. The Crystal Apple Award is CCA's equivalent to the teacher of the year. CCA is one of the largest child development nonprofits in North Texas and has served more than half a million young children in the past 53 years.
"In Arlington ISD, we are honored to be able to take care of and teach thousands of preschoolers from our community," said Dr. Jackeline Orsini, Arlington ISD's director of early childhood learning. "Knowing that we have the best teachers leading our pre-K program in a caring, playful and safe learning environment is a matter of pride. We're so grateful for the commitment our teachers have to educate every child with excellence."
The Crystal Apple winners include:
Tammy Dutton, teacher, and Ethel Sewell, teaching assistant, from Kooken Educational Center
Lindsey Leal, teacher, Tamara Jones, teacher, and LaShay Simon, teaching assistant, from Abram Arlington ISD Head Start
"Ms. Dutton and Ms. Sewell make a great collaborative team!" said Kooken principal Elizabeth Huebner. "They set specific expectations for students and families while consistently elevating their standards throughout the year. They are intentional in their planning and it shows through their instruction, as well as student achievement."
Leal, Jones and Simon teach at one of the district's community-based Head Start programs. Through the Head Start and Arlington ISD partnership – and these teacher's dedication and hard work – students not only get a fun learning experience in the classroom, they and their families also receive support through parenting classes, counseling sessions, outdoor education and more.
Best in CLASS
The Crystal Apple award winners were selected largely based on CLASS scores, an assessment that looks at effective and engaging interactions between the teaching staff and students in the classroom in the areas of emotional and instructional support, as well as classroom organization.
"We know that high-quality early education classrooms are warm and positive environments, emotionally safe, have strong procedures and systems, a clear behavior management plan and are rigorous," said Allison McCollum, CCA pre-K coordinator. "Effective teacher-child interactions have a huge impact on student development cognitively, socially and behaviorally."
The teachers were honored at a community reception with campus, district and community leadership.
Learn more about the best-in-class pre-K 3 programs at Kooken and at our community-based pre-K partners.