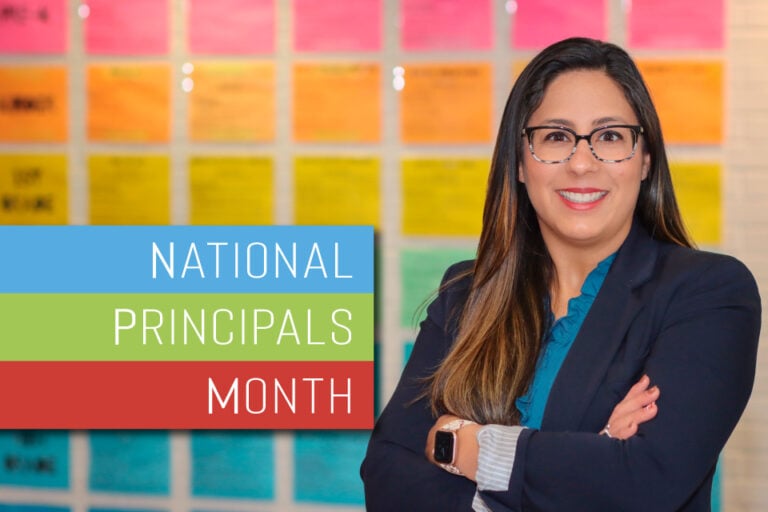 Gonzalez-Morales started teaching in Puerto Rico
October marks National Principals Month, and we want to honor the principals who work hard in our vision of making the Arlington ISD a premier school district and leader in education. 
Today we're spotlighting Crow Leadership Academy principal Liznel Gonzalez-Morales. Gonzalez-Morales has been the principal at Crow Leadership Academy since 2021, but her ties to Crow go back to 2014 when she came to the school as an assistant principal. Gonzalez-Morales got her teaching career started in Puerto Rico as a Spanish teacher in 2001.
〉When did you decide you wanted to become a principal?
That happened very organically. I did not know and feel that I wanted to be a principal. That is something that leaders – principals that I had – saw leadership potential in me and encouraged me to take leadership roles on campus. One thing led to another and led to another until the opportunity presented itself to lead Crow, and that has been a blessing and so fulfilling to be able to lead a campus.
〉What is the biggest difference from being the assistant principal at Crow to being the principal?
The biggest difference has been the instructional piece. As the assistant principal, I oversaw the operational side, the logistics of arrival and dismissal and cafeteria and PBIS and discipline, a lot of the operations of the building. As the principal, it's leading instructionally, being in classrooms, coaching, growing teachers in their instructional practices so that our students can be successful.
〉Is that a hard transition?
It wasn't hard because I love the connection with the students. Being in classrooms definitely feels better than directing traffic or discipline. The transition was not hard. It's a shift in mindset for me and the staff as well.
〉What's the biggest difference in being the principal at a traditional school vs. being one at an academy?
We are innovating, and we are looking for opportunities that are unique to our campus toward our demographics for them to be successful. This focuses on their leadership skills and growing students' agency where they reflect on their learning and they own their learning and they set goals on their learning. They recognize how to apply those in the real world.
The real learning is transferrable. How is that transferring into making a difference in your classroom, in your home, in your community where people see you and recognize leadership qualities because you show service, and you reflect on the things you do and how you get better so that you're in this constant phase of life where you just want to be better every day.
〉You started teaching in Puerto Rico. What's the biggest difference in teaching in Puerto Rico vs. the United States?
A lot! And I worked in a private school in Puerto Rico which adds another layer. The biggest difference is the focus that we have in the United States on individual student growth and making decisions that are individualized to the student's strengths and not making blanket decisions, not teaching to the group and moving on. Looking at data and tapping into a student's strengths through small groups, through individualized pathways so that students can be successful and reach their goals. I learned how to learn in small groups in the United States. I did not learn how to do small groups in Puerto Rico. That is a skill I acquired when I came here.
〉What is your favorite part of the job?
Being in classrooms and connecting with kids. I would say the highlight of my day is when a student comes to me and says, "Ms. Gonzalez this is what I'm learning," or the student says, 'I have mastered a goal.' It's definitely celebrating students' successes.
〉Our specialized programs window opens on Oct. 24. Why should parents apply to send their students to Crow Leadership Academy?
Enroll at Crow! Here students grow leadership skills and become reflective learners that seek ways to make contributions in our society.