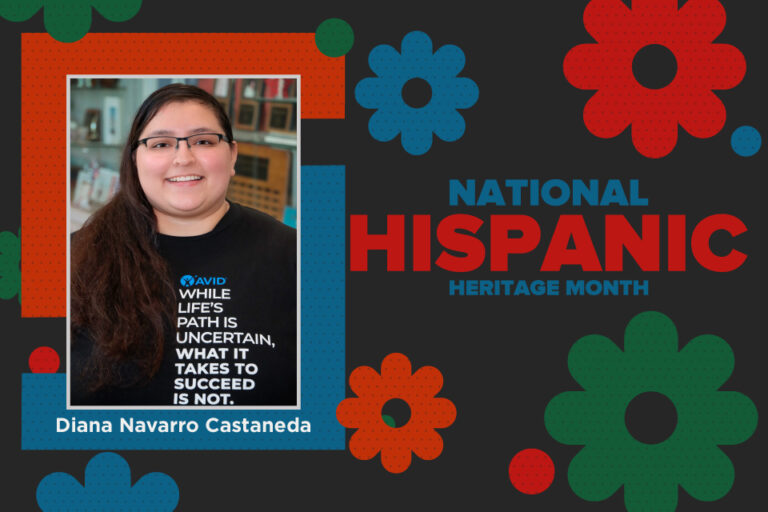 "Mariachi to the Hispanic culture is life"
We're celebrating Hispanic Heritage Month by spotlighting several Arlington ISD staff members about their Hispanic heritage. We're starting with Sam Houston High School mariachi director Diana Navarro-Castaneda. We caught up with her and asked her some questions about her Hispanic heritage.
What does Hispanic Heritage Month mean to you?  
Hispanic Heritage to me is an incredibly busy month as the only mariachi in Arlington ISD. We get to help people recognize the beauty of the music that comes directly from Mexico! 
How did you get involved in mariachi? 
I went to college at Stephen F. Austin State University. I had a friend who wanted to start a mariachi there because there was a huge Hispanic community. He asked me to sing for the group as we started it up and I fell in love with it. During COVID, I was applying for band director jobs, but as I was a first-year teacher it was difficult. I caught wind of this job and thought it would be a good opportunity. And now I am in my fourth year here and love the mariachi community. 
 What does mariachi mean to the Hispanic culture? 
Mariachi to the Hispanic culture is life. Music breathes life into every part of our culture. As someone who has been exposed to band, choir, theater and orchestra, mariachi is like a mixture of everything. The way the gritos and loud singing bring joy and smiles to everyone's faces. There is literally nothing like it. 
 How do you celebrate Hispanic Heritage Month? 
Hispanic Heritage is a month for us to give to others. El Mariachi Tejano de Sam Houston spends this month consistently performing for Arlington ISD and the local community. We spend the month traveling around after school and showcasing the music of mariachi to others.  
Learn more about National Hispanic Heritage Month.