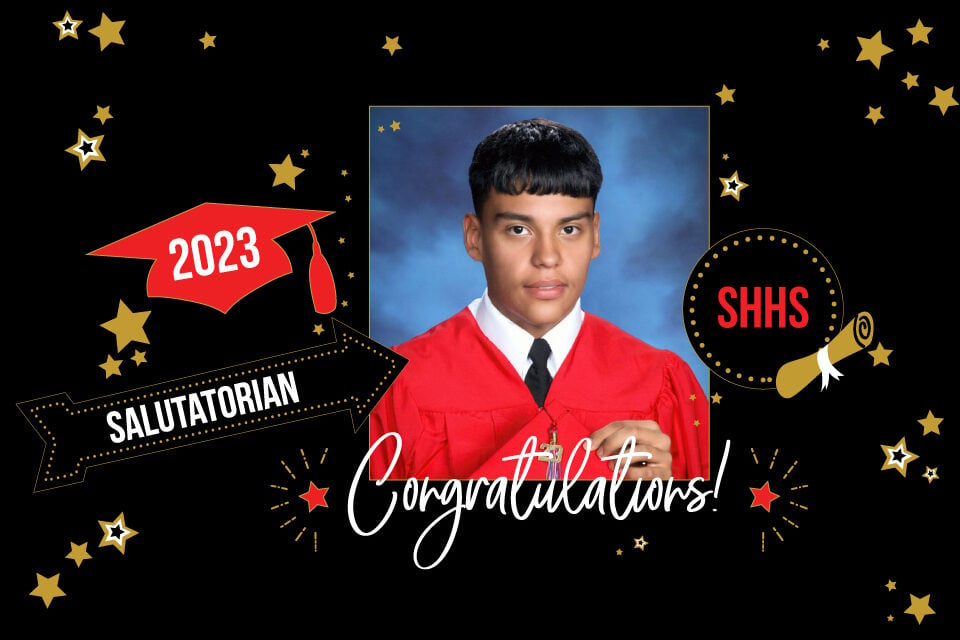 Sam Houston salutatorian Eddy Trejo
It's graduation season and we are celebrating the Class of 2023 valedictorian and salutatorian for all eight Arlington ISD high schools. Meet Sam Houston High School's salutatorian Eddy Trejo.
 NAME: Eddy Trejo
SCHOOL: Sam Houston High School
COLLEGE: Texas Christian University
INTENDED MAJOR: Mechanical engineering
What is your dream and how do you plan to make it come true after graduation?
My dream is hopefully to get a degree in mechanical engineering. I was blessed with the opportunity to become a TCU Community Scholar. That's going to give me enough financial aid and resources to go to a well-known school and hopefully get my degree in mechanical engineering.
Who inspires you the most?
Definitely my parents. They came to this country with nothing, and they had to work hard to be able to give us a roof above our heads, make sure we had a good education and enough to eat and everything. They are definitely my biggest inspirations.
What is one piece of advice you would give an incoming freshman?
Start off strong and don't slack off your first year. Don't skip classes and put in effort. It's going to be harder to build up for your senior year trying to get your credits up. You might as well start off strong your freshman year.
What's been your favorite high school memory?
Probably all the senior events we had this year. We were able to create a community and just be with each other. I have great friendships that will last forever.
How do you plan to make an impact on society in the future? 
Have something that will help the community. I plan to have a scholarship one day to give back to the community that gave it all to me. I was blessed to have a scholarship that covers my tuition, food and housing so I would like to be able to do that one day for someone too.
What his teacher said:
From the moment that Eddy walked into my AP US History class, I knew that he was going to be successful. Here was a student after my own heart, self-disciplined, focused on continuous improvement and motivated to achieve at the highest levels. A true Advanced Placement student and a true Sam Houston Texan. Over the course of the year, he confirmed my original impression and even exceeded my expectations. 
On top of the academics, Eddy is honestly just a good down-to-earth person. By the way he interacted with his peers you would never have guessed he was at the top of his class. I am so proud of all that he has accomplished and have great expectations for his future success. Go Texans!
– Andy Balash, Eddy's AP U.S. History teacher