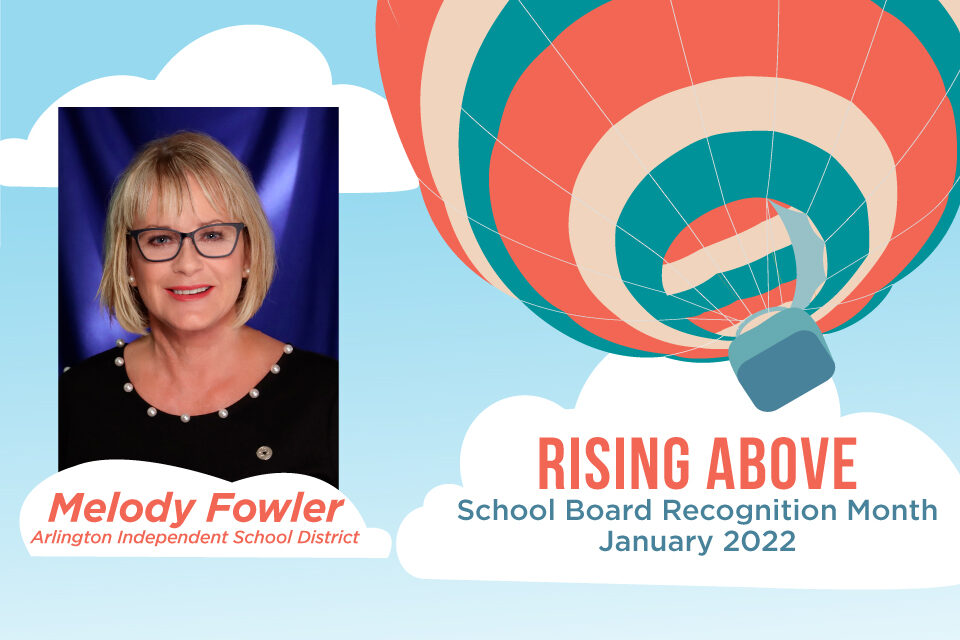 Melody Fowler is a former PTA president
January is School Board Recognition Month and this year's theme is Rising Above. Our Arlington ISD Board of Trustees has been rising to meet challenges throughout 2021 and into 2022. We wanted to get their thoughts on what they've learned in helping lead a district of more than 56,000 students and 8,000 employees.
Name: Melody Fowler
Board member since: May of 2018
〉What are your ties to the Arlington ISD?
My relationship with Arlington ISD started 17 years ago. Our son attended Arlington ISD K-12. While he was in elementary, I served as a member of PTA, room mother, grade rep and served on the site-based decision-making team. During his junior high years, I served as PTA president for two years while also serving on the site-based decision-making team there. I continued my involvement with Arlington ISD throughout my son's high school years, again serving as PTSA president and site-based decision-making team. I also served on the choir board. Today, I am grateful to be serving as an Arlington ISD Board of Trustee having completed my first term and now into my second term. I currently serve as the board's secretary, elected by my colleagues.
〉Why did you run for the school board?
As a 30-plus year educator and mother of an Arlington ISD graduate, I thought I had the skill set that would benefit the Arlington ISD Board. I have always been a strong advocate for education, and I will continue to advocate for students, teachers, staff and parents. One thing I firmly believe is that Arlington ISD will continue on its successful path and remain a premier school district. I truly love serving as a trustee and look forward to continuing my service.
〉The theme for School Board Recognition month this year is Rising Above. How are we as a district rising above, even as we face unprecedented challenges?
Rising Above is exactly what our teachers, students, staff and parents have done over the last 18 months. As a community and a school district, we have been hit hard from every direction. When the pandemic hit our community, our school district hit back harder! Our amazing teachers "rose above" and took control. These educators pivoted from face-to-face teaching to asynchronous to virtual. Never have I been so proud of a group of teachers. Their dedication to their profession and their love for their students was never so evident. At the district level, our team of administrators jumped into action handing out thousands of devices for students' home use. The district provided thousands of hotspots throughout the community allowing students internet access. And because brains can't properly work on an empty stomach, Arlington ISD set up food service sites where parents and students could pick up breakfast and lunch – all for free. Our district and community came together and made sure that the teaching and learning never stopped in Arlington.
〉The board has been working on a new strategic plan for the district. Is there an aspect of the plan or planning process that you are particularly excited about?
I am extremely proud of our new strategic plan. Our new plan focuses on our people – teachers, students and staff. This new 5-year plan will help drive our decisions for the district. The strategic plan is a living document, allowing for change and growth. Many hours have gone into this plan, and I am excited to see the results.
〉As you have visited schools and attended district events this school year, what has inspired you?
Although many events throughout the district have had to be paused, there were still exciting events to attend. I was so happy that we as a district were able to hold graduations for all our high schools. It took a lot of planning and a lot of hard work, but every senior was able to walk across the stage while their family and friends cheered them on. We have also been able to attend several groundbreakings for our schools that are being rebuilt. It is so exciting to watch as the plans start to become a reality. I look forward to the time when we can attend choir and band performances, plays, robotic competitions and so many other opportunities our district offers to our students.
〉What are you looking forward to in 2022?
Well, I look forward to continuing my service to Arlington ISD. I am so proud to work for our teachers, students, staff and parents. I am honored to have earned their confidence and pledge to continue working hard to do everything in my power to support their needs.