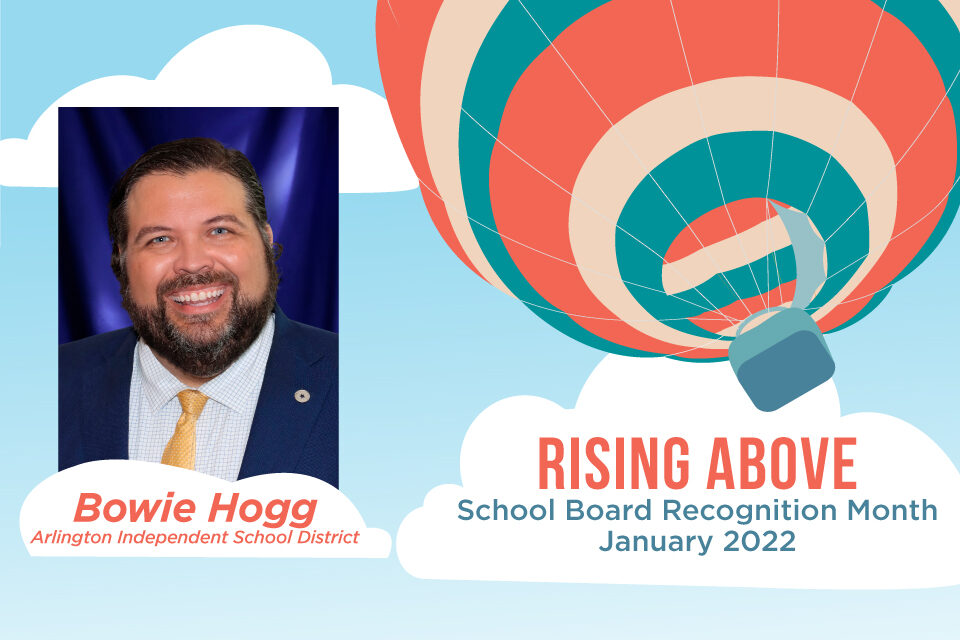 Bowie Hogg is an Arlington High School grad
January is School Board Recognition Month and this year's theme is Rising Above. Our Arlington ISD Board of Trustees has been rising to meet challenges throughout 2021 and into 2022. We wanted to get their thoughts on what they've learned in helping lead a district of more than 56,000 students and 8,000 employees.
Name: Bowie Hogg
Board member since: May of 2008
〉What are your ties to the Arlington ISD?
I was blessed to be born and raised in Arlington, and we have continued to choose Arlington to raise our family. I attended Arlington ISD schools from kindergarten until graduation from Arlington High School in 1996, following my three older brothers' footsteps as AHS grads. I am also the son of two former teachers. My late father taught and retired from Diamond Hill-Jarvis High School in the Fort Worth ISD, and my mom taught and retired from Shackelford Junior High in the Arlington ISD. I am married to a former Arlington ISD teacher, as my wife Leslie Hogg taught fifth grade at Sherrod and Pope Elementary schools. Now we are blessed to have both our kids, Helen and Ellis, as a second grader and kindergartner in the AISD. The ties are deep, and we are proud to be tied to the Arlington ISD.
〉Why did you run for the school board?
I have had the honor to serve the Arlington ISD since 2008. From the start, I was focused on student achievement, engaging students, safety for students/staff and bringing the community together. I was given an excellent education from the Arlington ISD, and I knew I wanted to raise my family in this same community. Education is different than when I graduated from school, and the Arlington ISD has had to keep progressing to be more proactive than reactive. Arlington ISD is now one of the most progressive districts in the state in the opinions of many. We provide students with opportunities that I dreamed about during my early days volunteering for the district, from career technical programs, enhanced academics, and generally rigorous and relevant learning that students and families want. We still have more to do, but I believe we have a culture that is continually progressing to reach our goals. 
〉The theme for School Board Recognition month this year is Rising Above. How are we as a district rising above, even as we face unprecedented challenges?
I have seen everyone step up and accept the challenge. From teachers committing everything they have to parents providing more flexibility and support than they ever expected and hearing from almost everyone in the community asking how they can help. Student achievement should be the discussion out of everyone's mouth in this country, and I genuinely believe in Arlington the entire community realizes this is the critical factor for our long-term success. The district knows we have to adjust to work for the immediate future and our strategic plan addresses continual progress.
〉The board has been working on a new strategic plan for the district. Is there an aspect of the plan or planning process that you are particularly excited about?
The new strategic plan focuses on the most important thing, our people (students and staff). The insight from students, staff, parents and community members is that our commitment to students is the key. I am the most excited about the constant message we heard from everyone that our teachers and staff working with parents are the keys to our student success. The impact of a high-performing teacher in the classroom is still the most important thing, and this plan is very focused on addressing the best for our students and staff.
〉As you have visited schools and attended district events this school year, what has inspired you?
The resilience of teachers and staff is truly amazing. Each year during this pandemic has brought new challenges and many we never would have predicted. I have seen the effort from all that we are in this together. We know we have major challenges before us, and we have to do what we can at this moment and must focus on the critical factors and removing obstacles. I see the smiles on teachers, students and families' faces when they are back to doing the things in school they love. Students, staff and families have realized how much joy everyone has from the school community, and being back together are what makes our schools great. The most inspiring part is the true grit everyone has shown. We don't have the option of not doing everything we can, as student achievement is the responsibility of the entire community.