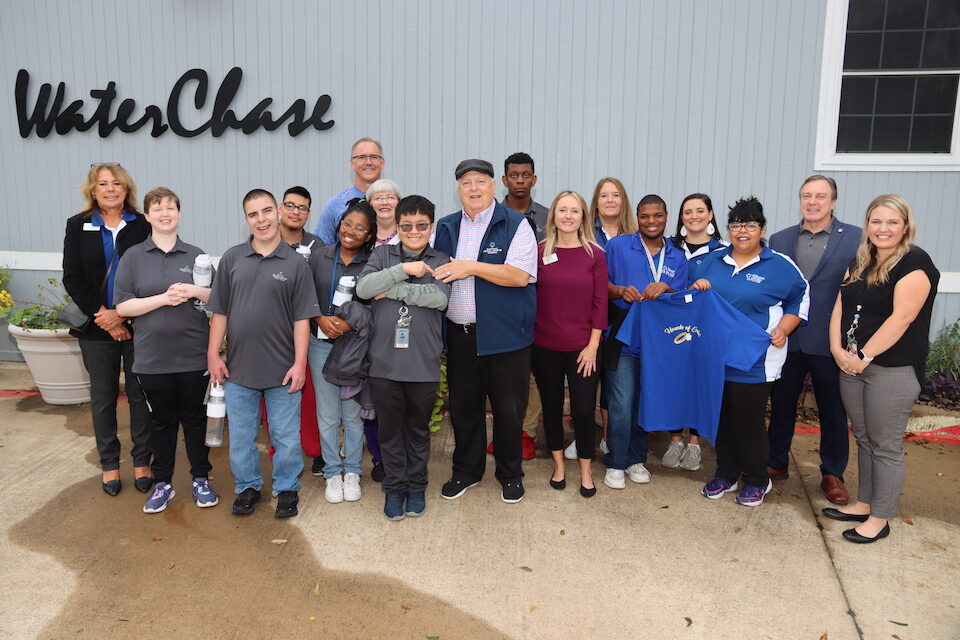 Finding a lost wedding ring – it's all in a day's work for Arlington ISD's 18 PLUSS students.
As student Ryan Young put it to the ring's owner, "I'm glad we could save your marriage."
A group of Arlington ISD 18 PLUSS students saved the day recently when they found local photographer Dwayne Lee's lost wedding ring.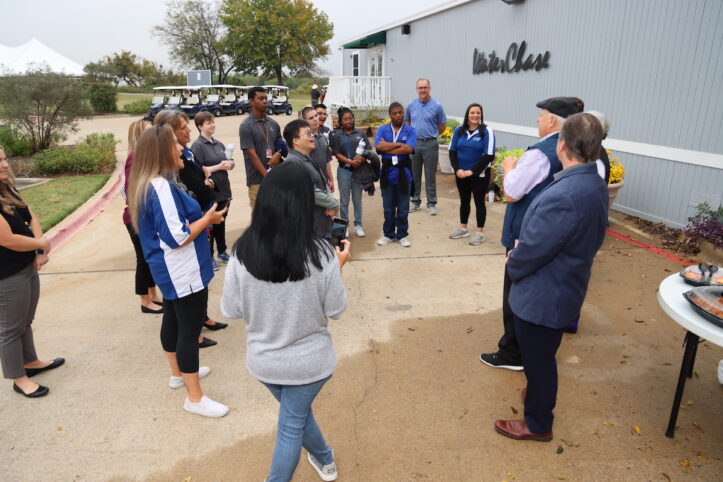 Lee made sure the students knew how much he appreciated them last Thursday when he surprised them with a thank-you party complete with Chick-fil-A and custom-made t-shirts.
Lost
Lee took off his wedding ring to play golf a couple of weeks ago at Waterchase Golf Club. But when he went to put it back on, it wasn't with his wallet and keys like he thought.
"I looked everywhere – in the car, all of the pockets of the golf bag, my pockets on my shorts, the ground – everywhere," Lee said. "Nothing! I was sick, to say the very least."
He even returned the next morning to search some more.
"At first I thought he was kidding," Lee's wife Barbara said when he broke the news. "At least we almost made it to 50 years," she joked.
Any wedding ring is important, but this one is extra special. It's been on Dwayne's hand nearly 50 years. Plus, the band matches his wife's ring. There's no replacing it.
Found
Enter the Arlington ISD 18 PLUSS students. These are special education students who have completed their high school requirements and are now in a one-to-three-year program that teaches job skills to help them start their careers.
"The biggest thing about 18 PLUSS is working on specially-designed instruction in the area of vocation and employability," said Brenda Cupps, the curriculum coordinator for the 18 PLUSS program. "We specialize in working on finding them a job that fits their needs."
Local businesses partner with the program to provide work opportunities for the students.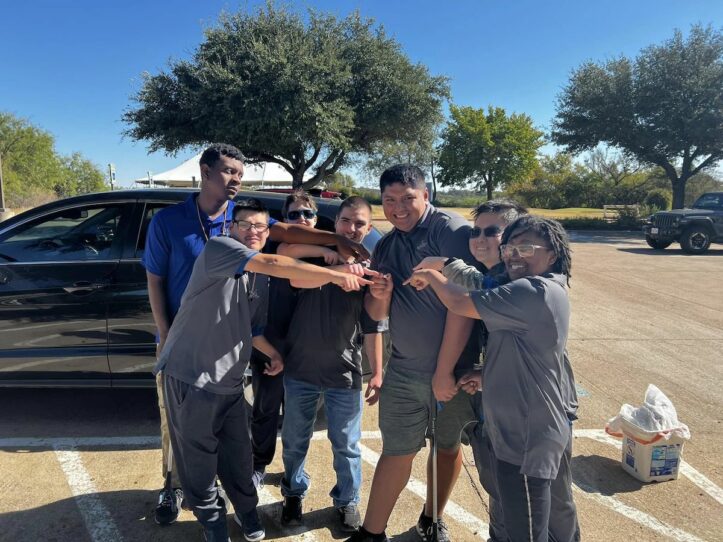 One day each week, an 18 PLUSS class from Bowie High School goes to Waterchase to work. They detail carts, fix divots, pick up trash and do whatever needs to be done.
"They help us keep the golf course nice and tidy," said Waterchase general manager Jason Heitschmidt.
Two days after the ring was lost, the 18 PLUSS class showed up for work at Waterchase where Heitschmidt told them about the missing ring.
The students panned out to find it.
"They were on a mission," Heitschmidt said.
After two hours of looking on the golf course, they decided to try the parking lot.
 "What color is that ring?" one student named Isaac asked their teacher, Krista Zometa.
"It's silver," Zometa told Isaac. "And he reached out and said, 'Like this?"
The ring! The rest of the students swarmed him in triumph.
"Everybody just started running and jumping. They were so excited!" Zometa said. "It was just a big celebration."
"They were fired up when they found it," Heitschmidt said. "It was like they won the lottery."
Thank you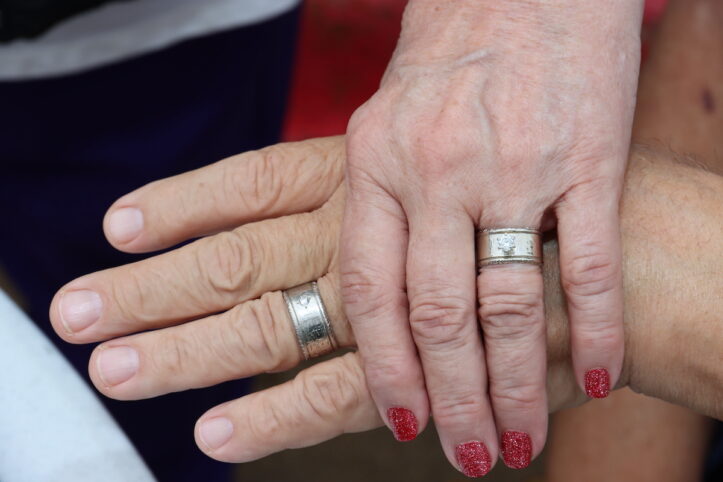 To say Lee was thrilled is an understatement, and he was determined to show the students his appreciation. But he hadn't met them yet – until last week.
He did know their names though. They had all made cards and written him notes to tell him how happy they were to have found his ring. That's where Ryan Young had written that he was glad to have saved their marriage.
So, when the students filed off their school bus at Waterchase Thursday, the Lees were waiting to surprise them with Chick-fil-A and t-shirts.
"We've been married coming up on 50 years," Lee told the students to cheers and clapping.
"This ring made it 49 years and 11 months when I lost it," he said. "So, y'all reuniting it with me has really been a blessing and I really appreciate every one of you guys. I want you to know how much we appreciate you."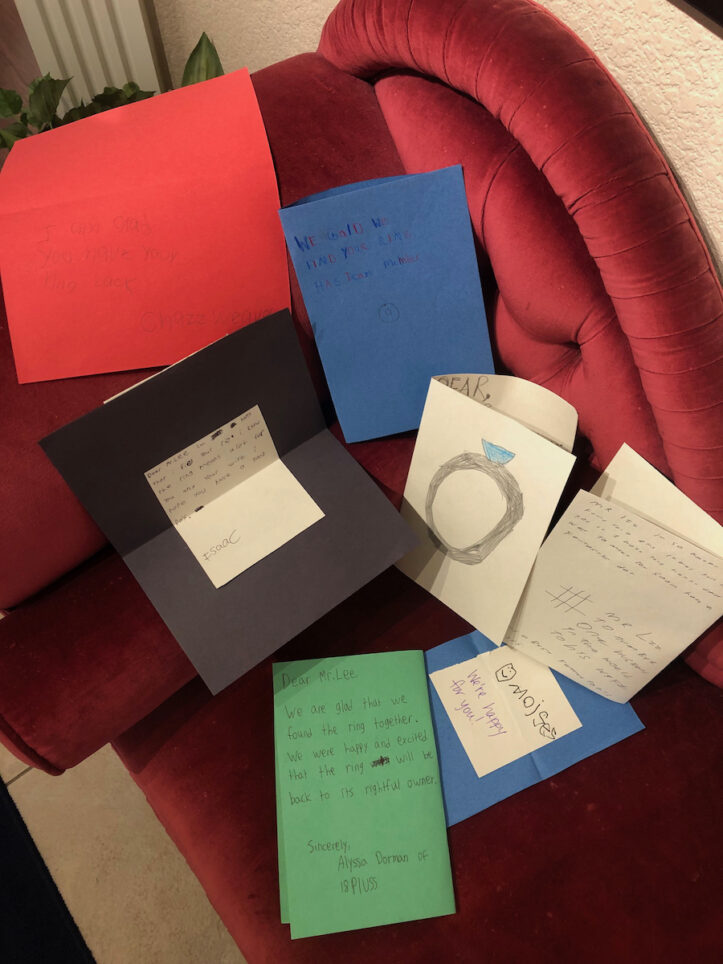 Arlington ISD trustee Dr. Aaron Reich was there to thank the students, too.
"Thank you for being great citizens," he told them. "That's the whole goal of Arlington ISD – to help educate people to ultimately become great citizens. You are already doing that all the time every day."
Hearts of Gold
The t-shirts the Lees gave the students couldn't have been more accurate. The shirt featured the image of a ring – inspired by the picture of a diamond ring that Ryan drew on the card he made for the Lees – with the words, "Heart of Gold."
That's a perfect description for these students.
"They are spectacular people, and they do stuff like this all the time," Zometa said. "For them to finally be recognized for the commitment they have to the community and the surrounding partners is amazing. I want everyone to know, don't discount them … they're amazing."