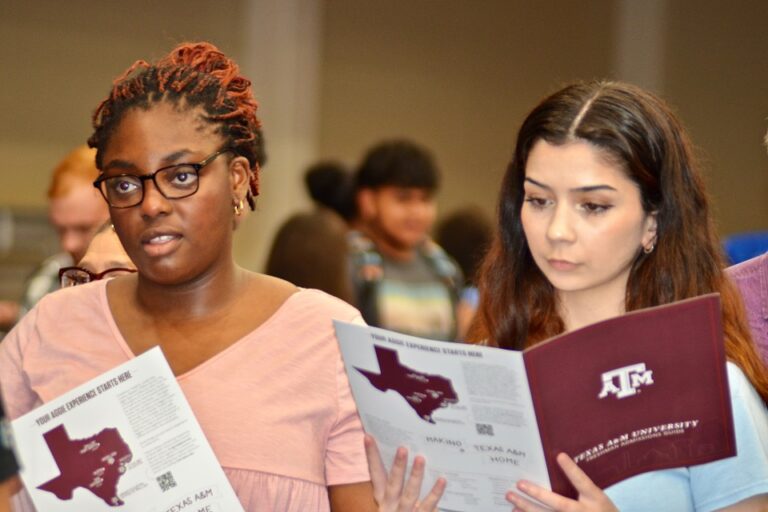 High school students meet with college reps
When Tyler Hastings was a third grader, his mother – who found him to be fiercely independent for an eight-year-old – asked him a rather odd but revealing question:
"Do you even need parents?"
He told her he did.
For food, shelter and maybe the occasional allowance tossed in.
Other than that, he was perfectly fine.
"He was such a logical thinker, even at that age," his mother said. "That's why I knew he would be good at math and science."
She also knew he'd be okay when selecting a college to attend.
Hastings is only a sophomore at Martin High School's rigorous STEM Academy. Still, there he was during UT Arlington's Arlington ISD College Night on Sept. 21, visiting with college recruiters who were more than happy to plant a seed that their university would be a good fit for him.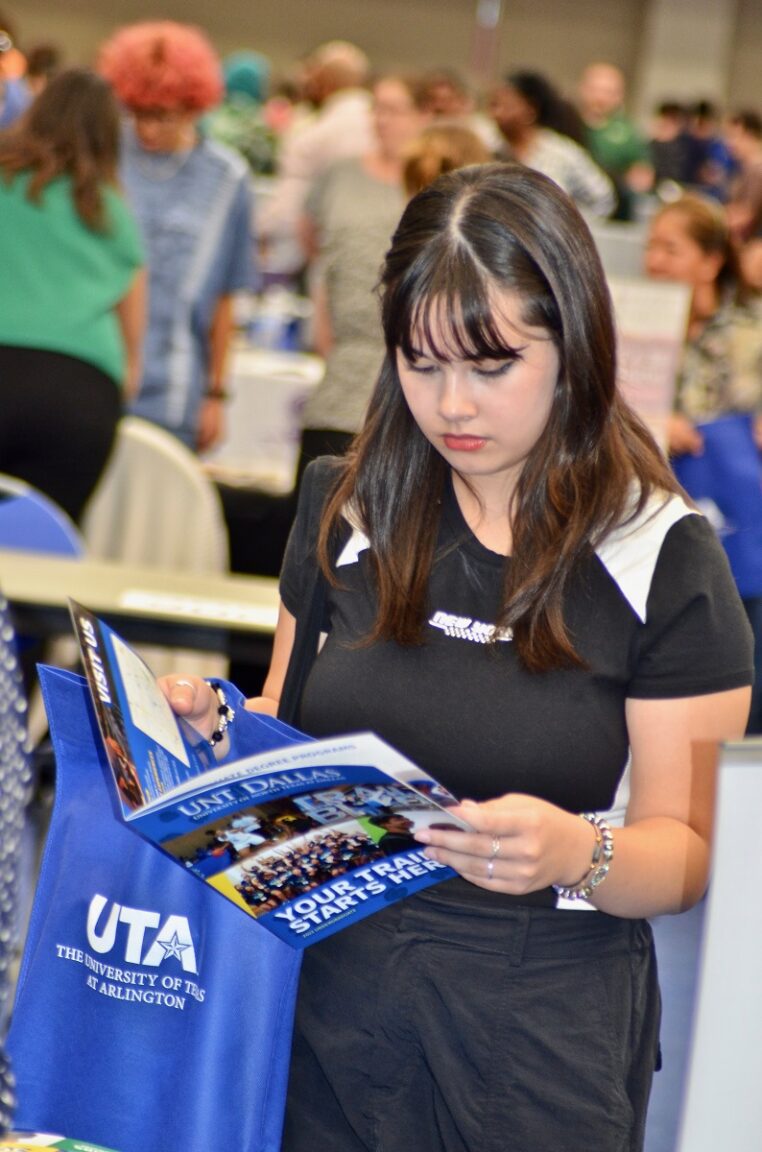 While most of the students attending the annual event were seniors with some juniors sprinkled in, Hastings was one of the few sophomores taking advantage of a free event that counselors say is invaluable for getting a head start on a marathon experience often treated as a last-minute sprint.
It helps when your mother is a counselor, as Tonia Hastings has been for 16 years.
"Preparation is key," said Tonia Hastings, who counsels at Seguin High School. "I was just telling him that we are doing our senior conferences at Seguin, and there are so many kids in their senior year who still aren't sure what they want to do. But you need to know by the end of junior year. Once those applications open, it's time to get started. I always invite our kids out just for exposure so they will understand how this all functions."
A rite of fall, Arlington ISD College Night, held at the Mavericks Activity Center on the UTA campus, is where students can do quick-hit visits to booths of about 200 universities, community colleges and military institutions, such as the Air Force and Army.
Upon arrival, students are handed a bag large enough to fill with university brochures and pamphlets.
An invaluable function of College Night is the one-on-one students can have with college recruiters, providing information not found in the brochures, such as campus climate culture and is there really a Chick-fil-A in the student union.
The usual hot-button Texas universities – the University of Texas at Austin, Baylor, Texas A&M, UTA, and TCU – were all represented. There were also plenty of out-of-state schools such as Penn State, the University of Oregon and Full Sail University, a private Florida college focusing on film, media production, video game design, animation and other studies related to the media and entertainment industries.
Sharmaine Udoubak, a senior at Lamar, is considering Texas A&M but has an affinity for Brown, which she finds far more diverse in student body and curriculum.
"I've researched schools a lot, and being a cultural student, I'm not from America; I'm just really attracted to Brown because of its diversity," said Udoubak, who is from Nigeria. "I want to study immigration law because we went through the whole immigration thing to get papers and stuff like that."
Yet A&M is beckoning for two reasons: Her mother prefers it (closer to home; Brown is in Rhode Island), and she and her mom fell in love with the campus setting.
"You have to think about all these things when picking a school," Uboubak said. "It's a lot. How do you know what's best for you?"
Tonia Hastings, the Seguin counselor, understands, which is why she is a proponent of starting the college search early.
"We know that ninth and tenth grade kids just don't know the career choice or career path to go to," she said. "But sometimes they will talk to an admissions officer or someone from a college and say, 'You know what? This college has this feature that I like. I talked to this really nice person. I'm interested in this career field.' It changes it for them and gives them a direction. Without exposure, they will have a harder time deciding what they want to do in school and in life."
Seguin senior Myriam Bouayad knows. She's eying computer science at UT. Tazyria Fields knows as well. The Arlington senior is set on Tarrant Community College, where she wants to earn an associate degree in business before moving on to a four-year university or entering her chosen profession.
"I'm in cosmetology and about to take the state exam to get my certification," Fields said. "But I want to do more than work in a shop. I want to own it."