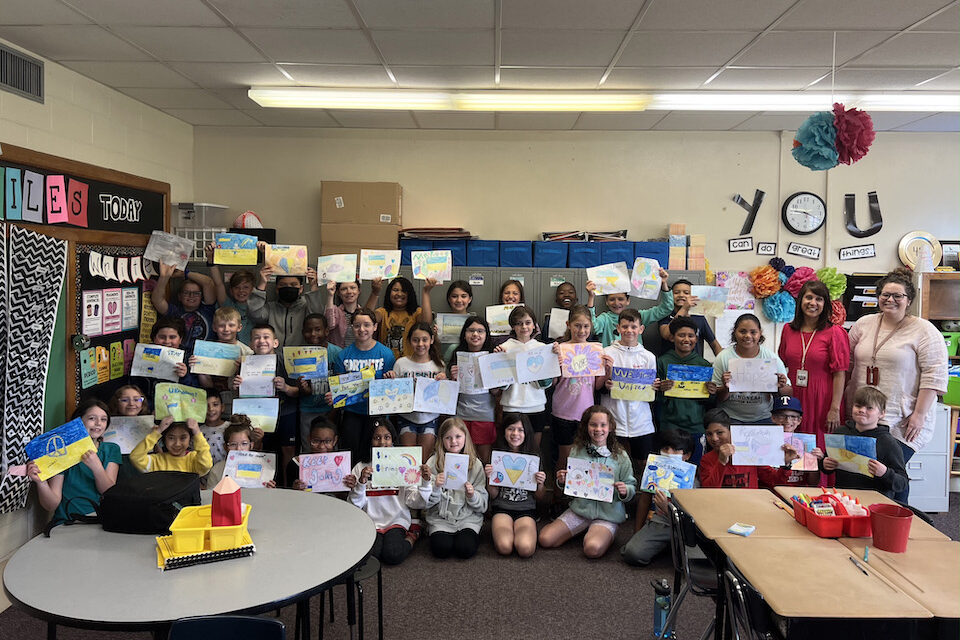 Students across Arlington ISD are using art to spread love and hope to a special group of children in Germany.
Since the conflict between Russia and Ukraine began, many citizens have fled the country for safety into neighboring countries. Some Ukrainian refugees are currently staying in Arlington's sister city, Bad Königshofen, Germany. The City of Arlington and Arlington ISD partnered for a special project to provide some cheer to Ukrainian refugees.
In just a few short days, classes from Corey Academy of Fine Arts and Dual Language, Duff Elementary, Jones Academy of Fine Arts and Dual Language and Pearcy STEM Academy for K-6 created inspiring artwork to send to refugee children in Bad Königshofen to spark hope, joy and love. Drawings of Ukraine's flag, national flower, hearts and peace signs are just some of the ideas the kids came up with to spread light.
"Our class is currently learning symbols, and this project was a great way to show the kids how powerful art is," said Samantha Uribe, Corey Elementary art teacher. "They made sure to use images to portray hope, kindness and love from our school. I'm so glad we got the opportunity to use art to reach beyond our local community."
With only two days to complete the project, the teachers found a way to incorporate it into their lessons. They emphasized social awareness and how to make a difference in the community. The kids were thrilled to take part in such a fulfilling project. Many used paint, colors and markers to convey messages of hope.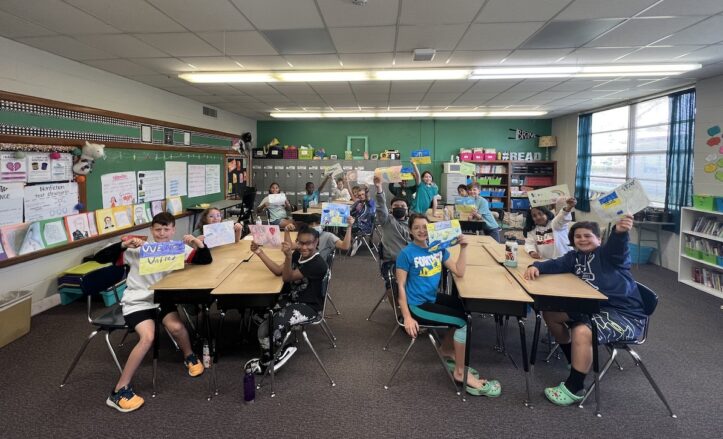 "These kids are so gracious and eager to help all the time," said Duff Elementary teacher Diana Andro. "We've been talking about Texans making a difference, and this is an extension of that discussion for them. Even in their young lives, they understand they can make a difference, too."
Community impact
Representatives from the City of Arlington picked up the artwork and will mail it to Bad Königshofen. The hope? To help boost the spirit of refugees there. On a larger scale, the Arlington community came together to raise over $30,000 to aid Ukrainian refugees in Bad Königshofen.
"Like we've done many times throughout our history, Arlington residents have come together again to make a difference," Arlington Mayor Jim Ross said. "The $32,000 raised by our community will help these refugees get the food and resources they desperately need during a time of turmoil. I also want to thank our Sister City. Our friendship has remained "solid as a rock" for more than 70 years."
Friendship, hope and love know no borders, and the Arlington ISD is proud to partner with the City of Arlington to uplift and encourage those who need it most.