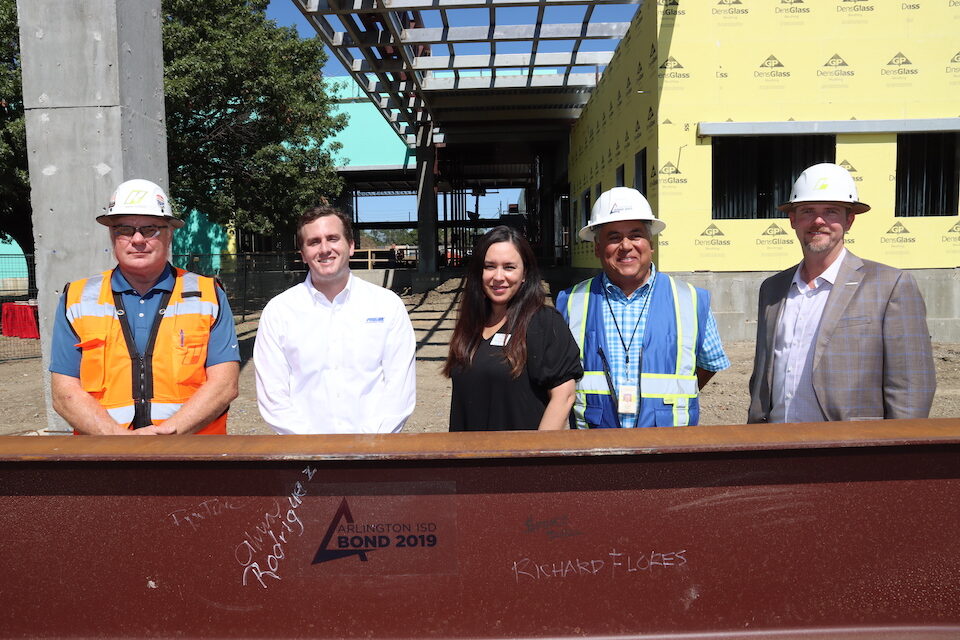 Principal signs beam and tours building
Wednesday was the last day of the summer, but it felt like July. Except under Thornton Elementary's two big oak trees.
The old Thornton building is gone, but the old oak trees are still there, ready to welcome many more generations of students. They are positioned perfectly at the front entrance of the new school currently under construction.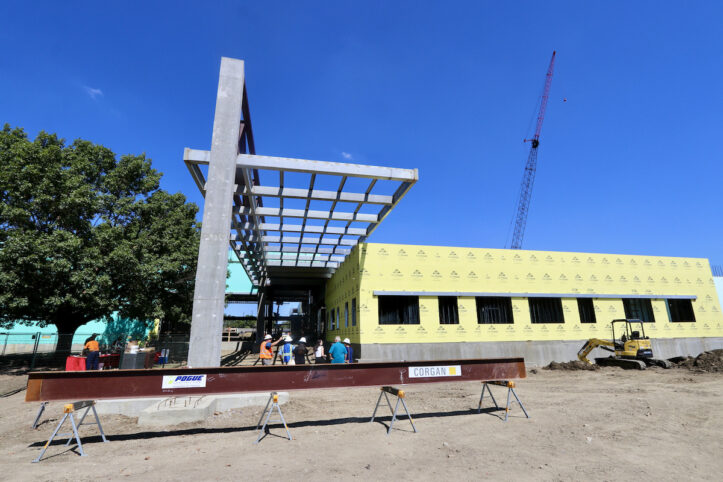 Under the shade of the oaks is where everyone gathered Wednesday to celebrate Thornton's topping out – when construction crews install the last beam of the steel building.
To celebrate the topping out, Thornton principal Alicia Rodriguez joined others from the construction contractor, Pogue Construction, the architect, Corgan, and the Arlington ISD's facility services department in a ceremony that included signing the final beam before it gets installed and eating Spring Creek barbecue under the oak trees.
After signing the beam, Principal Rodriguez got a tour of the building.
"I was just excited," Rodriguez said. "Wow, they did such a great job of making it feel like a close-knit community with the courtyard, grand entrance and keeping our two beautiful trees."
Rodriguez can already imagine families gathering at the entrance by the trees.
See photos from the topping out and construction.
The new Thornton is under construction on the site where the old Thornton, opened in 1956, once stood. The old building was demolished last year, and the new Thornton is scheduled to open for the 2023-2024 school year. The school is temporarily housed nearby at the campus that was formerly Knox Elementary.
The New Thornton
"The 2019 Bond is allowing us to transform our district with rebuilding four of our schools that need it most," Arlington ISD trustee Kecia Mays said at Thornton's groundbreaking ceremony in December. "The new school at Thornton is part of our plan for east Arlington that is transforming all of our schools in the area to make sure every student gets an outstanding education in a facility designed to inspire and promote learning."
The new 105,000-square-foot Thornton will include five classrooms for each grade (pre-K-6), a media center, fine arts classrooms, STEM labs, makerspace, collaboration spaces and more.
Outdoor spaces include a new entry plaza with a canopy – near the oak trees – an outdoor learning courtyard, a paved court for basketball and a play field.
And don't forget the two new playgrounds. According to Rodriguez, that's what many of the students are most excited about.