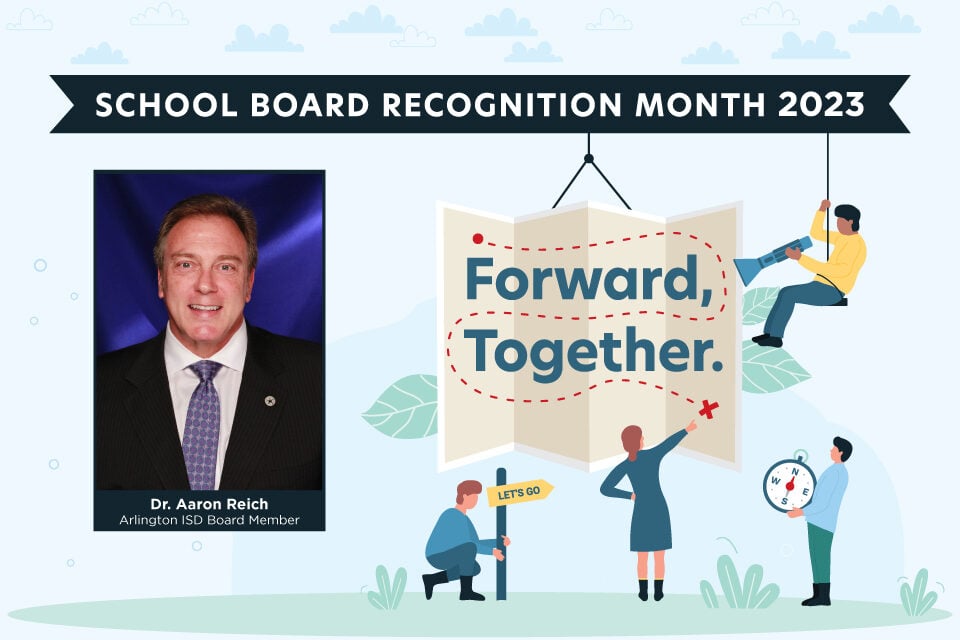 Q&A with Trustee Dr. Aaron Reich
January is School Board Recognition Month, and this year's theme is Forward, Together. The Arlington ISD has been moving forward together thanks in part to our board. We appreciate our school board members, so we're catching up with them this month to find out about their lives and why they serve.
Next up is Dr. Aaron Reich, who is the longest-tenured board member. Reich began serving on the board in 2009.
What does it mean to be the longest-tenured board member?
For me, it has been special to be able to share the 'why' with colleagues about governance and strategic direction. Additionally, I've had the privilege to connect and develop relationships with so many wonderful people in Arlington over the years. The ability to be able to impact and contribute to something that is so much bigger than me has been a huge honor and truly humbling upon reflection. That's really what it's been all about for me since the beginning. It's inspiring to see the opportunities we've created and to see those opportunities in action. What a transformation! It's been exciting to be a part of that for sure.
Has the time gone by fast?
Looking back, sometimes it's been a whirlwind blur. Other times it's a bit slower than that. For the most part, it feels like yesterday even though it's already been 14 years and it's going to be 15 at the end of this term. Seeing all the things that have been done, the physical structures erected and the opportunities that didn't exist for Arlington youth when we started, those kinds of things make it seem like both a long and short time.
Being able to look at the face of Arlington change and being part of helping get the community really engaged, empowered and supportive, and giving the community what it expects – that's been huge. To see things done physically and culturally within the organization, it's just fantastic to see where we were, what we are doing now with the platform and what we're going to do going forward into the future.
Is there one thing that stands out to you about the last 14 years?
It's hard to pick one. One of the top things that comes to mind is developing and implementing our first strategic plan. The district never had a strategic plan before that. That set us on a launching pad in so many ways. That led to so many things with our curriculum and curriculum redesign, our focus on the priorities of culture and leadership, the big bond in 2014 – these all came from the first strategic plan. We began to address and create opportunities and provide access to those opportunities. That's been a big change to the culture and what we do. It was a generational change. Our actions led to recognitions on the state and national level.
How much has changed?
I won't forget one of my very first board meetings. I was elected in May, so this meeting was maybe the first meeting in August. On the dais they were about to call for the 2009 bond. Part of my decision in running was schools were by and large becoming college pressure-cooker environments. I was thinking what can we do? Students who don't go to college are also successful financially and great for the community. We need to change our approach. At that meeting, I remember saying maybe we can do something in the bond for a career tech center.
I don't remember who it was, one of my colleagues said that's a great thought but the train has left on that. That college pressure-cooker environment doesn't speak to many kids whose families are working hard and haven't had time to think about that possibility.
I really reflected on that. What are the barriers, and how can we provide opportunities. Then the 2014 Bond happened, and the CTC opened at capacity with nearly 5,000 students – the demand was there. I remember when we opened it. I was the board president at the time. I remember saying that what is happening here is going to impact generational poverty, it's going to impact not just the students, but families and generations to come. It's so cool to be able to contribute.
The theme for this month is Forward, Together. How has that worked for this board?
One of the things I've always said from the very first time, we can all agree to check our ego at the door and we're in it for the same outcome. We are the leadership of the district. We are the face at the top of the district. What we present and how we present it is how it's going to be followed. We must hold ourselves to a higher standard. That has resonated and continued through all the boards. People have kept that in mind while mostly being respectful and polite and showing the basic virtue of doing unto others as you would have them do unto you.