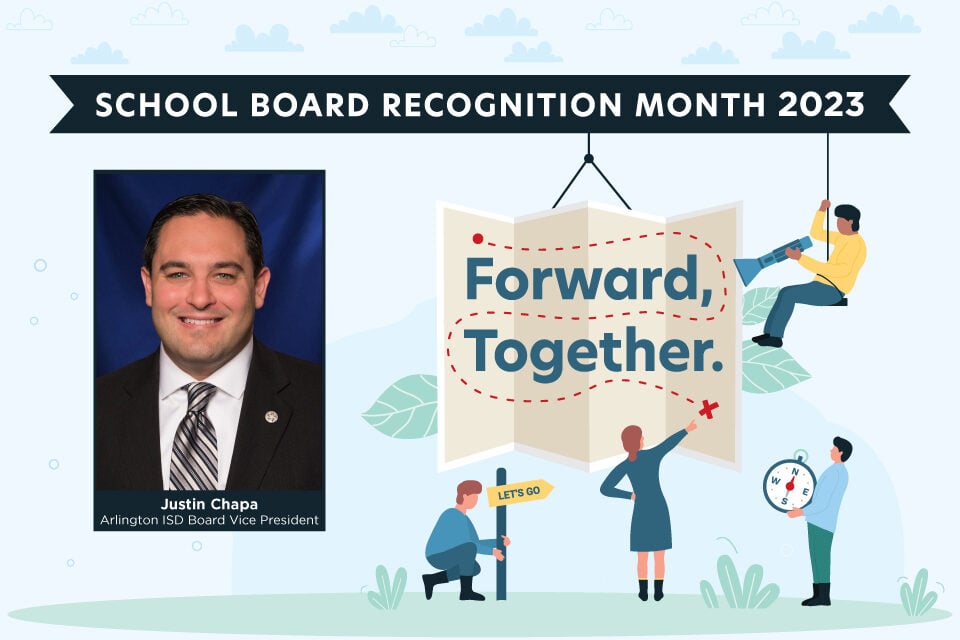 Q&A with Trustee Justin Chapa
January is School Board Recognition Month, and this year's theme is Forward, Together. The Arlington ISD has been moving forward together thanks in part to our board. We appreciate our school board members, so we're catching up with them this month to find out about their lives and why they serve.
Next up is Sam Houston High school graduate Justin Chapa, who has been on the board since 2017 and now serves as the vice president.
You have so many deep ties to the district and family members who work for the district. Do you think you take the job personally because of that?
Yes. I grew up here, and I know the community really well. So I'm invested in that sense, and I also have three kids in the district. I know every decision the board makes not only affects people in my family who work in the district but also impacts my kids.
Is it tougher on you because of your roots and everyone knows you?
Everyone on the board has some unique sphere of influence that they're personally involved in, given the district's large footprint. You're also going to have a personal connection with people who have kids or have some other personal interest in the district. You want to represent all those various interests at the same time and sometimes you can't. But you get better about it over time. And I think over time people learn there are certain things I can and can't do as a board member.
What's something you didn't know before you got on the board that's helped you now?
Understanding that it often takes years to see the fruits of the decisions we make as a board. You can put together a $966 million bond package, but it's going to take five or six years to implement. It may take even more time depending on how things are going with the economy and individual projects. It's not often that we can get up on the dais on Thursday night and make an immediate change that will happen the next day.
What are the things you're most proud of from your time on the board?
Universal pre-K is definitely up there. That's going to be a huge difference-maker for our community. It's really something that didn't exist before now. There are a few other things, like the 2019 Bond package, that really moved forward the construction part of the east Arlington Master Plan, which includes building a new Carter Junior High and Berry, Thornton, and Webb elementaries.
I'm really proud of that work, and it's in the neighborhood I grew up in. There's also changes coming to Arlington High as well. If I had to pick a third thing, I'd go with the VATRE that the community passed in 2020. That was a tough election. It was a presidential election year, and yet we were able to convince folks that we need to invest not just in our facilities but our people. As a school district, the only way you can do that is raise taxes through a VATRE. We did that, and now you see that the Arlington ISD is back in the top tier of DFW area school districts for educator pay.
If you could give advice to someone who wants to be on the school board what would it be?
It's not as easy as it looks. Education and school finance is really complicated, and so take some time and learn about the issues impacting education. Learn about the community here in Arlington. We're a city built of neighborhoods, and those neighborhoods can be very different and have different needs. Get a grasp of the basics of the job and the community before you jump in. If you don't have a constituency, and you don't know what you're doing, you're not going to be in a position to truly add value through your service.
This year's theme is Forward, Together. What are you looking forward to most in the next year?
We're still coming out of COVID, like the rest of the country, but there already are signs that we're getting back on track. Some of our academic measurements look even better than we anticipated. I do think it's going to take several years to pan out, though, and now there's a new legislative session. So, in the next year, we're going to need to deal with some of the consequences of law and policy changes made by the legislature, like we do every time the legislature meets.