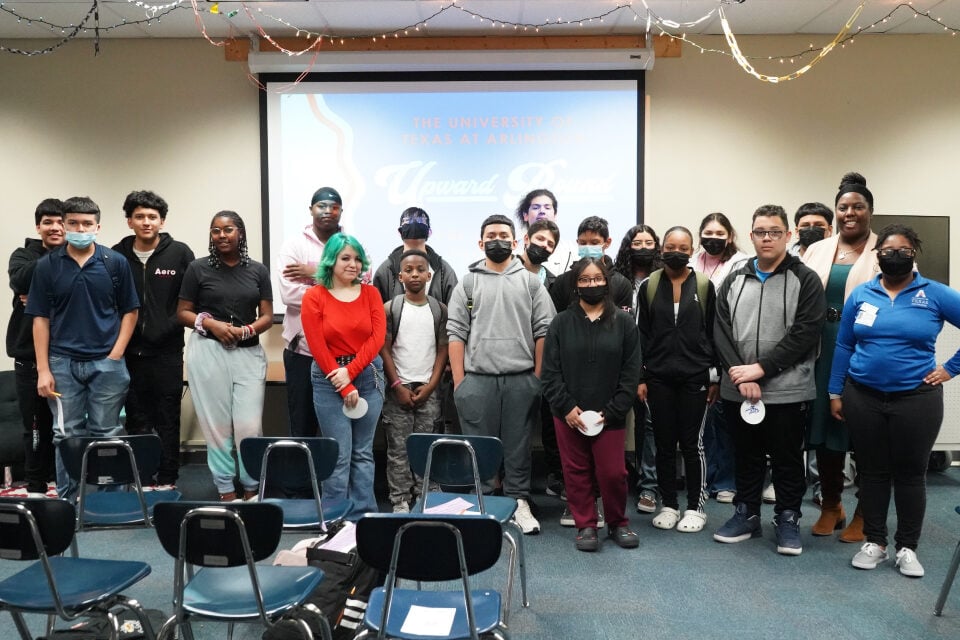 Arlington ISD prepares students for success after graduation, but the district can't do it alone. Community partners like the University of Texas at Arlington work side-by-side with the district to provide opportunities unique to students. UTA's Upward Bound program is one that makes a huge impact.
Upward Bound at UTA
Upward Bound at UTA is a year-round program. It offers at-risk youth the chance to receive SAT and ACT prep, after-school tutoring, college tours, scholarships and so much more. Since 1982, Upward Bound has been providing services to students at Arlington, Bowie, Lamar, Sam Houston and Seguin high schools.
"The program provides consistent mentoring from eighth grade until senior year and opportunities for scholarships that give at-risk youth an even playing field with students that may have access to more resources," said Marsha Fountain, behavior support interventionist at Carter Junior High.
Fountain is passionate about reducing dropout rates at Carter with the help of programs like Upward Bound. To qualify, students must be in eighth through 11th grade, a first-generation U.S. college student, qualify as low-income and maintain a 2.5 GPA. Through cultural field trips, team-building activities and academic lecture series, students get exposure to resources. and opportunities that may not be available to them at school or home.
Upward Bound sets you up for college!
"I couldn't have gone to college without this program," said Micheal Frausto, educational advisor for Upward Bound. "If you want to go to college but don't know which exact path you want to take, then we're the program for you. No matter the path, we walk students through scholarship and grant applications, so they don't have to worry about finances while they're trying to advance their education."
Not only do students get the chance to advance academically, but civically, too. Upward bound's community service projects and volunteer opportunities helps build their resumes. If students choose to participate in the summer bridge program, they'll be one step ahead of their classmates by getting the feel of what it's like to attend college and stay on campus.
Upward Bound at UTA has plenty to offer students, so learn more about the program and specific qualifications online. If you're ready to jump in the program now, fill out an interest form here and get ready to take your education to new heights!