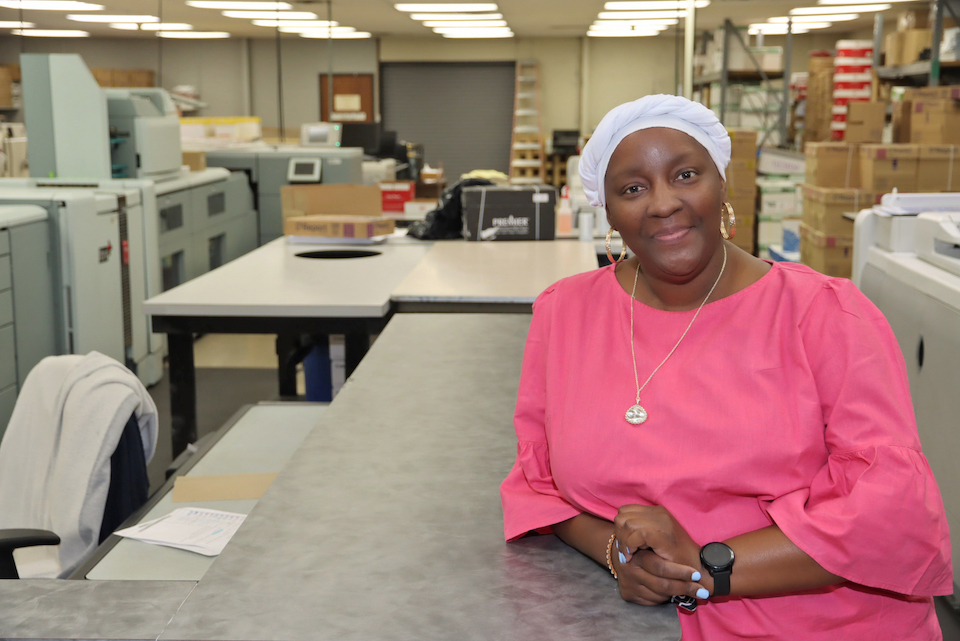 Many have heard the saying "teamwork makes the dream work," but few have believed in it as much as Venetia Wilson when it comes to her career and personal life.
Wilson has worked at the Arlington ISD print shop as an associate for nearly five years but has worked in print services for a total of 18 years. She is a dedicated wife, loving mother of six and zealous community advocate. Although she hails from Ruston, La., her heart belongs to Arlington, the city she has spent most of her adult years in.
Printing banners, posters, curriculum testing and copies keeps her busy at the print shop year-round. If that wasn't enough, she's served on the Capital Needs Steering Committee and calendar committee and often volunteers at Arlington ISD campuses, including Sam Houston and Lamar, where her kids attended school.
With a big family and a job that requires lots of effort from multiple contributors, over the years she has learned what it takes to join forces with others to simply get things done.
"You have to be ready to step up and get involved on your team," said Wilson. "Whether it's at home with your family, at work or in a local organization, there are always going to be times where you have to dive in so your team can come out with a win."
When times get tough, she credits her family, customers and community as the reason she keeps showing up every day.
Some days are harder than others since Wilson was diagnosed with breast cancer in 2021.
After finding out about the illness on her birthday, family and friends helped her realize it was time to switch gears from mainly focusing on others to prioritizing self-care.
"Throughout this journey she's continuously kept a smile on her face and stayed in good spirits, because she just loves helping her family, especially our grandbabies," said Roderick Wilson, Venetia's husband and an Arlington High science teacher. "My wife is the strongest person that I know.
"My family and I have been very supportive of my wife every step of the way, because we believe family is important to make it through good and bad times. Everybody needs love, compassion, understanding and support."
After a few long months, the love and support from her family helped Wilson finish chemotherapy in December. After making it home from the last round, she was surprised to see family, teachers and staff members at her house to congratulate her on the huge milestone.
That's the love that's kept her going from day to day.
Her children even motivated her to return to school to pursue a bachelor's degree in business management by reiterating, "It's your time now." She obliged and is scheduled to graduate from Tarrant County College in the spring of 2023.
Joy beamed from her face as she recalled the day she realized a life-altering truth: "Together, we are enough.
"From helping bond packages pass to volunteering at school, some of my favorite memories in Arlington ISD have taught me that growing throughout life is a team effort, and we cannot do it alone. It's a family affair."
Wilson is currently focused on living a healthy, well-balanced life and is basking in the overwhelming support she's received from her loved ones. In a society that glorifies independence, it's a beautiful thing to know you can lean on the community surrounding you.
"It takes all of us to come together and accomplish a goal, and that's the beauty of this district. We always come together for the greater good of Arlington."