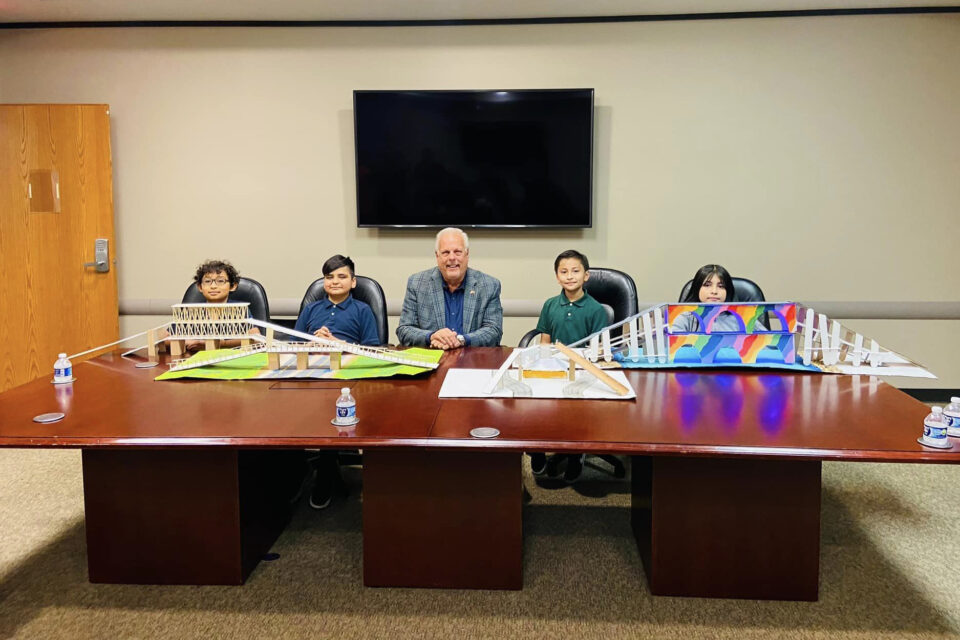 After-school meeting with the mayor
Not many fifth graders have a meeting with the mayor after school.
But four Webb Elementary School students made the short trip to city hall last week for an appointment with Arlington Mayor Jim Ross.
"I can't get over these awesome fifth graders from Webb Elementary School who want a bridge over Cooper Street near their school and designed models for consideration!" Ross wrote on his Facebook.
They not only designed and built models for a bridge, they brought them to their meeting with Ross.
The models were part of a Texas Performance Standards Project (TPSP), which is recommended for gifted and talented programs. The TPSP includes several projects to choose from, and the students voted for the "Bridges" project. 
The project called for the students to design a bridge they would like to build, and their inspiration came from right outside their school. Webb is on Cooper Street, one of the busiest roads in Arlington, and many students who live in the neighborhood must cross that street every day to get to school. A bridge would be so helpful.
The students dove into the project, studying and researching all kinds of bridges. They did tests in the lab and studied the geometric principles of each type of bridge.
As they planned and designed their bridges, the project got bigger and morphed into using even more materials than the TPSP project suggested. 
"I got them foam core, dowels, wood slats, a stronger permanent glue, wire, cardboard, duct tape, paint, protective eyewear and other materials," said Kathy Kaju, the Webb lead gifted and talented teacher who guided the students throughout project. "I provided the tools necessary to build their models, including hand tools, cutting tools, Dremel drill kit, sandpaper, etc."
As they worked, the class talked about what they could do with their bridges and how they could be models for an actual bridge across Cooper Street. They even called the Arlington Police Department to get information about accidents on Cooper.
"I wanted the kids to do all the calling and to learn that they can get good things done and learn a lot along the way," Kaju said.
The calls included one to City Council with a request to share their bridge ideas. Instead, the mayor's office called back with an invitation to meet with the mayor.
The meeting left the students inspired.
As they left the meeting, one student, Edgar, had a question for his teacher.
"So, what are the next steps?" he asked.