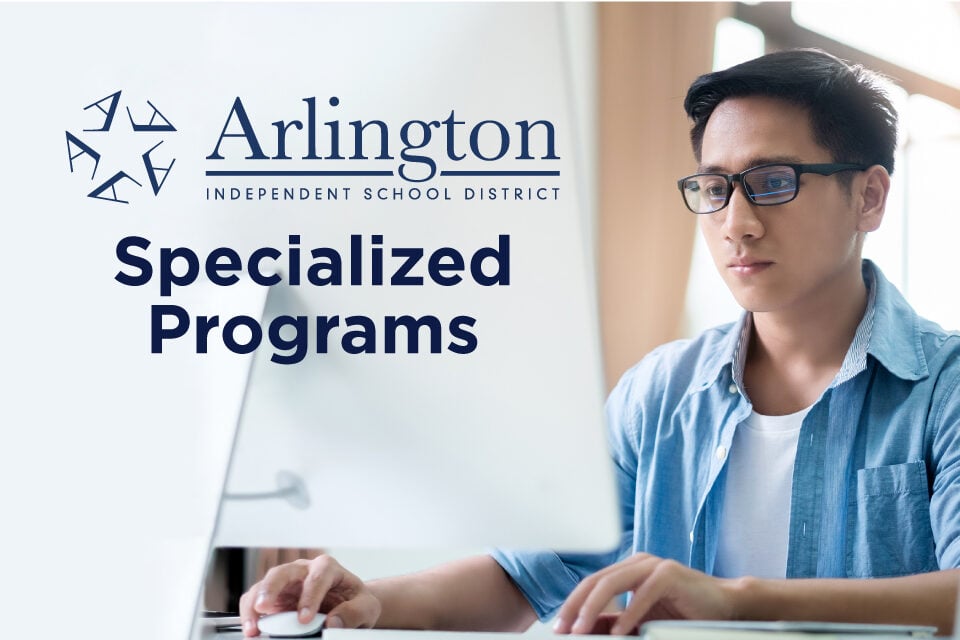 The Arlington ISD wants to set students up for their future and has the programs to do just that.
It doesn't matter if the future is college or career, the Arlington ISD will get you there through its specialized programs offerings that often include the opportunity for free college credits.
"Not everyone has the same plans when they leave high school," Arlington ISD superintendent Dr. Marcelo Cavazos said. "Our charge is to meet the student and help them find their path. Our specialized programs are one of the ways we can do that."
Want a chance for up to 60 hours of free college credit? Our two early-college high schools can get you there at the same time you graduate. What about workplace certifications? We've got that covered. Interested in our Pathways in Technology high schools to hit business or the medical field running? Got it. Is STEM your path? We've got a school for that, too.
Can't make that choice without getting some more details? Here are your options.
Early college high schools
The Arlington ISD is all about choices and that includes our early college high schools, too. Students can attend either Arlington Collegiate High School (ACHS) or Arlington College and Career High School (ACCHS). Both schools offer students the opportunity to graduate with their high school diploma as well as their associate degree at no cost to them. At ACHS, students can participate in the Lion Scholars program in partnership with the University of Texas at Arlington and Texas Wesleyan University. That free program puts them even closer to their college degree. At ACCHS students can earn work certifications in a variety of different fields from Tarrant County College.
P-TECH
Like our early college high schools, students in the Arlington ISD have P-TECH options, too. We have the new Lamar P-TECH opening in the fall of 2022 that puts students on a path towards a career in cybersecurity or business administration. If you're better suited for health sciences, then Bowie P-TECH is the path. There, students can branch out to four different areas in the medical field and have a chance to take upper-level classes with our program partner, Medical Center Arlington Like our early college high schools, students can earn an associate degree from our P-TECH programs. They can also participate in regular high school extracurriculars at the campus.
STEM
The STEM Academy at Martin High School offers another option for high schoolers who want to pursue college or a career in the STEM field. Dream of going to MIT? Two recent STEM Academy graduates are there now. Want to work for Lockheed Martin? We have STEM Academy students working there, too. STEM Academy students can earn early college credits from the University of Texas at Arlington. There are professional mentors and internship opportunities, too. And like our P-TECH programs, STEM Academy students can participate in traditional high school extracurriculars that are offered at Martin High School.
Find your path
No matter your path, the Arlington ISD has one that leads to college, career and lifetime success. Learn more about these programs and apply for an Arlington ISD Specialized Program today.