Assessment & Accountability
Programming
Research, Evaluation & Analysis
The Office of Research, Evaluation, and Analysis is committed to helping stakeholders make informed decisions that drive program implementation and continuous improvement. Our goal is to build practitioner-researcher partnerships that help increase the effectiveness and efficiency of district-wide initiatives and programs.
Well-conceived research and evaluation projects are able to discern weaknesses in design as well as benefits and successes that may otherwise be missed. Our team is well-versed in quantitative, qualitative, and mixed-methods research approaches. In adherence to field standards, we conduct systematic, data-based inquiries guided by ongoing professional development. We strongly believe that good evaluation work builds capacity to collect valid and reliable data on processes, not just the outcomes. By partnering with program owners to articulate the intended results of their efforts and the alignment of resources and supports needed to bring about those outcomes, we support their ability to communicate their theories of change to collaborators and contributors.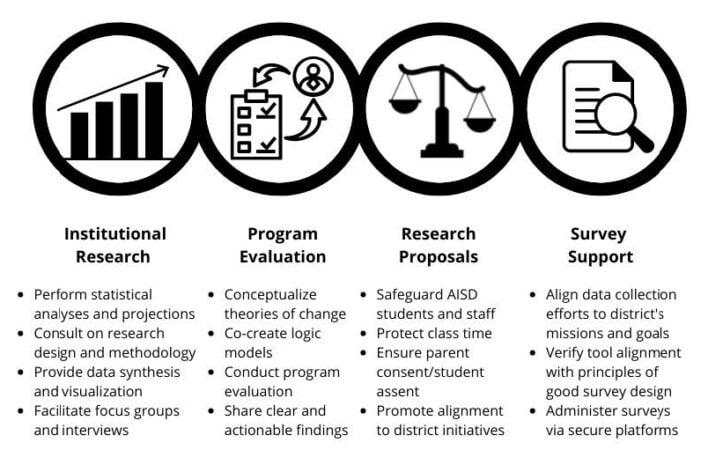 Research, Evaluation, and Analysis Staff
| | |
| --- | --- |
| Genea Stewart | Director - Research, Evaluation & Analysis |
| Alex Wooten | Research Analyst |
| VACANT | Research Analyst |
| VACANT | Research Analyst |