COVID-19 DASHBOARD
Please see below for information and notices related to COVID-19.
DAILY WELLNESS SURVEY
A wellness survey is to be completed by every parent and student daily.
INSTRUCTIONAL CHANGE REQUEST
Use the form below to request a change for a student to move from face-to-face to virtual learning or vice-versa.
Bond 2019 Campus Project
 Please see below for details and status updates related to the Bond 2019 project at Seguin High School.
As the new UTA Bound for Success admissions counselor this year, my role is to assist any student who is interested in UTA with their application, scholarships, FAFSA/TASFA, or even with major/career exploration. We are doing appointment only for in-person help, and more information for that process is forthcoming. Feel free to contact me with any questions at lezli.shelander@uta.edu. Click on the image below to see a larger view.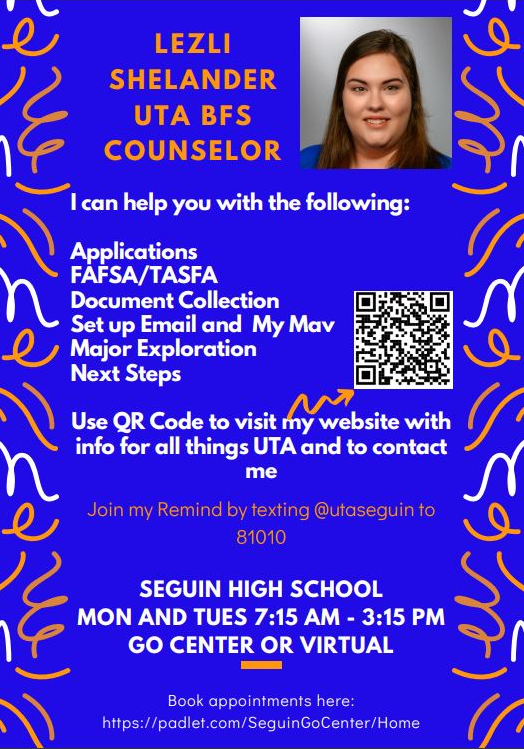 Notary Office Hours:     Monday - Friday      7:00-9:00 am   &   2:00-3:30 pm

Order Your 2020-2021 Yearbook
Students, you can still order your Yearbook.  To place your order go to YEARBOOK ORDER CENTER. 
For more information abut yearbooks, you can email Mr. Nielsen at jnielsen@aisd.net. 
Crime Stoppers
The Tarrant County, Crime Stoppers Call Center, is still open 7 days a week.
Friends for Life
Friends for life is an anonymous, safe resource for students, parents, and school staff to report third-party information on incidents of cyber-bullying, family violence/abuse, sexual harassment, suspected gang activity, self-harming and/or students exhibiting suicidal tendencies.
Seguin Administration
| | |
| --- | --- |
| Ray Borden, Principal rborden@aisd.net | Kirsten Lundin, Academic Dean klundin@aisd.net |
| Luke Defilippis, Assistant Principal Alpha A-CL ldefilip@aisd.net | Rick Humes, Assistant Principal Alpha CO-HE rhumes@aisd.net |
| Rosa Darkwa, Assistant Principal Alpha HI-MO rdarkwa@aisd.net | Chris Stroud, Assistant Principal Alpha MU-R cstroud2@aisd.net |
| Billy Linson Assistant Principal Alpha S-Z  blinson@aisd.net | Parents, if your are not receiving campus update, emails or instruction, please contact your child's assistant principal. |