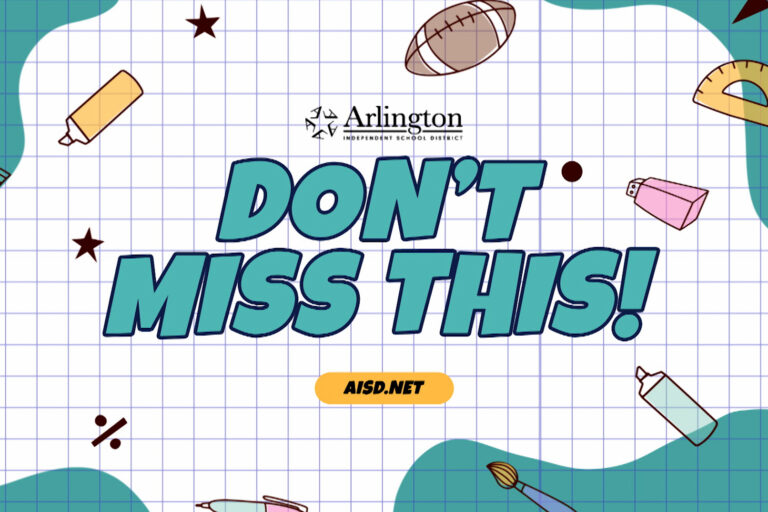 Good attendance at school is critical for success and will impact a child's entire life. That's why the Arlington ISD is highlighting Attendance Awareness Month throughout September.
"Attendance is the key to high school graduation and college and career readiness," said Ginger Polster, the principal at Arlington ISD's Dan Dipert Career and Technical Center.
Graduation Pays Off
Getting to graduation is almost imperative for a successful career and life. People often think of graduation as the finish line. But while it is the end of high school, it's also the starting line for a successful future.
And getting to graduation requires good attendance at school. In fact, school attendance is actually a better indicator of whether a student will drop out or graduate than test scores. Statistics show that students who are chronically absent – and not just in high school but starting in kindergarten – are significantly less likely to graduate.
"Students who attend regularly have a better chance at graduating from high school and at succeeding in life after high school, whether that is going to work, going to college or enlisting in the military," said Dr. Debbie Blackner, an Arlington ISD career and technical education specialist. "They learn more and develop better study habits and healthy life habits. Because of this, those who attend school regularly have more options in life after high school and greater earning potential."
The greater earning potential is significant. A high school graduate is likely to make $1 million more over their lifetime than a high school dropout. They are also less likely to live in poverty, suffer poor health and become involved in the criminal justice system (American University School of Education).
Missing school can ruin a student's chance to graduate, and not graduating can ruin their chances at success. On the other hand, graduation can launch a student into an exciting future.
Work Ready
As important as graduating is, attendance at school isn't just about walking across a stage and getting a diploma. It's also about preparing students for their lives after they graduate.
"We focus on ensuring that every student has the opportunity to be 'work ready' upon graduating from high school and help them learn that if you do not show up for work you do not get paid," Polster said. "We share with them that 'work ready' is their ability to apply academic knowledge, technical knowledge and hard and soft skills in a work setting."
Students learn soft skills, like the importance of showing up on time and being prepared. These skills empower them to make the most of the opportunities they will have after graduation.
"We teach students the importance of learning to manage themselves as they would be expected to manage themselves in the workplace," Polster said.
So, once they graduate, they're ready to thrive.
Impact
Dr. Ben Bholan, the principal at Arlington College and Career High School has seen the impact of good attendance over and over. Many of ACCHS' students are the first person in their family to earn a high school diploma and have had to overcome many struggles. 
"One thing they had in common was that they would always show up on time to every class, attend tutorials or professor office hours and seek out extra help wherever it was available," Bholan said.
By doing that – by attending – they set themselves up for success in their classes and for life after they graduate.
"Sometimes, because of their attendance to all classes and tutorial sessions, they were able to get additional information from their teachers or professors that helped them succeed in very difficult courses," Bholan said. "After graduation, good attendance became an innate habit for them, and they went on to acquire college degrees and enter the workforce as successful adults."
Act Now
Now is the time to act, to make sure your students make it to school every day. It's not always easy to get to school, but the long-term benefits of going make the effort more than worthwhile.
"Their dedication to success first started with a commitment to attendance and always being where they needed to be in a timely manner," Bholan said about his students. "It has been the baseline for their success in Arlington ISD and to opening the doors to an amazing future."
Attendance is key – for graduation and an amazing future.
Learn more about the importance of school attendance and what you can do to help at the Attendance Awareness Campaign 2023.