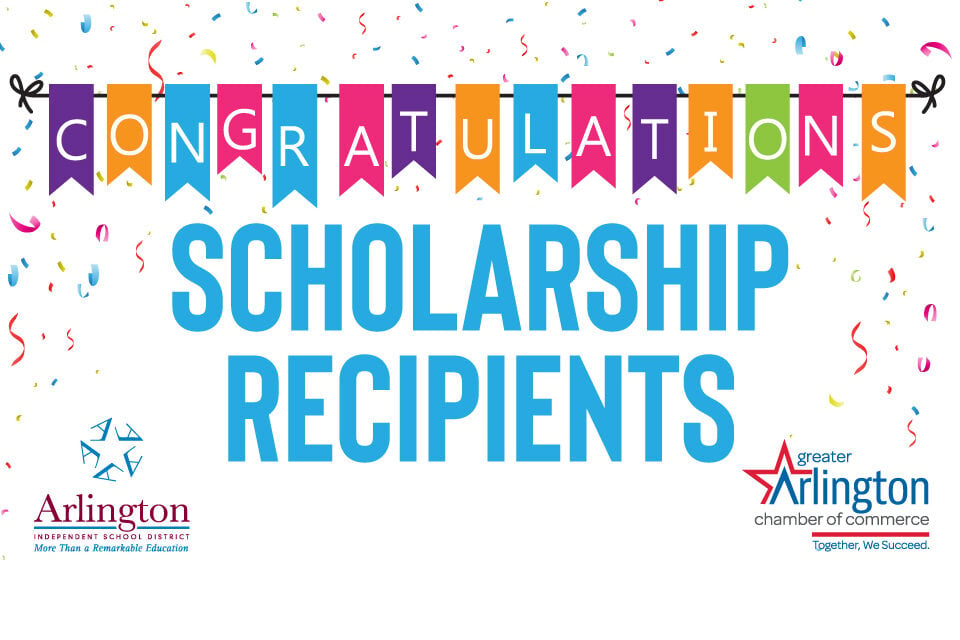 Greater Arlington Chamber Scholarship Program
Seniors from six Arlington ISD high schools were awarded scholarships ranging from $2,000 to $5,000 thanks to the Greater Arlington Chamber of Commerce and the Pettinger Foundation.

The Greater Arlington Chamber Scholarship Program (GACSP) awards graduating seniors a scholarship of up to $2,500 to be used at any college or university of their choice, and the Innovation Scholarship (ISP), sponsored by the Pettinger Foundation, awards $5,000 to two seniors who are looking to pursue a four-year degree in science, engineering or mathematics at The University of Texas at Arlington.
Presenting both scholarships is an honor that Alicia Collins-Butler, the Chamber's director of education, workforce and community development, is proud to be a part of.
"The Greater Arlington Chamber knows that one of the best ways to develop a strong business community and the economy is to invest in the future workforce of greater Arlington," Collins-Butler said. "Providing the youth with several scholarship opportunities is a way to help them engage in a higher education and open doors that were possibly closed before. Through our fantastic partnerships, we provide four scholarship programs that are targeted at bettering our future leaders."
Arlington High School senior Jonathan Torres felt honored that the Chamber selected him as one of this year's recipients and looks forward to using the scholarship toward his first semester of college.
"I am so grateful to receive the Greater Arlington Chamber Scholarship," he said. "The scholarship will help with textbooks and school supplies, so I'm really grateful I was selected."
Arlington High counselor Leila Perez spearheaded the senior ceremony for Arlington High graduates and was ecstatic for every recipient honored.
"It is a joy to watch these seniors celebrate their achievements with their families!" she said. "Each award is a culmination of the students' daily hard work, sacrifice and perseverance."
This year's Chamber scholarship winners include:
Arlington Collegiate High School
Luis Fernando Compean – ISP – $5,000
Maria Ortega – GACCSP – $2,500
Arlington High School
Grace Ressl – GACCSP – $2,500
Jonathan Torres – GACCSP – $2,000
Bowie High School
Kevin Vazquez – ISP – $5,000
Joanna Trinh – GACCSP – $2,500
Lamar High School
Emily Buechele – GACCSP – $2,500
Joanna Arellano – GACCSP – $2,000
Martin High School
Nicole Guarderas – GACCSP – $2,500
Sam Houston High School
Cinthya Zavala – GACCSP – $2,500
Scholarship Tips
Sophomores and juniors interested in earning scholarships like the Greater Arlington Chamber of Commerce scholarship and Innovation Scholarships can start by making a list of their academic, extracurricular, volunteer and work accomplishments as references to build their applications.
They should also take advanced classes, develop good relationships with their teachers and take advantage of leadership opportunities during the school year and summer months.
Learn more about the scholarships provided by the Greater Arlington Chamber of Commerce at Arlingtontx.com/Scholarships.