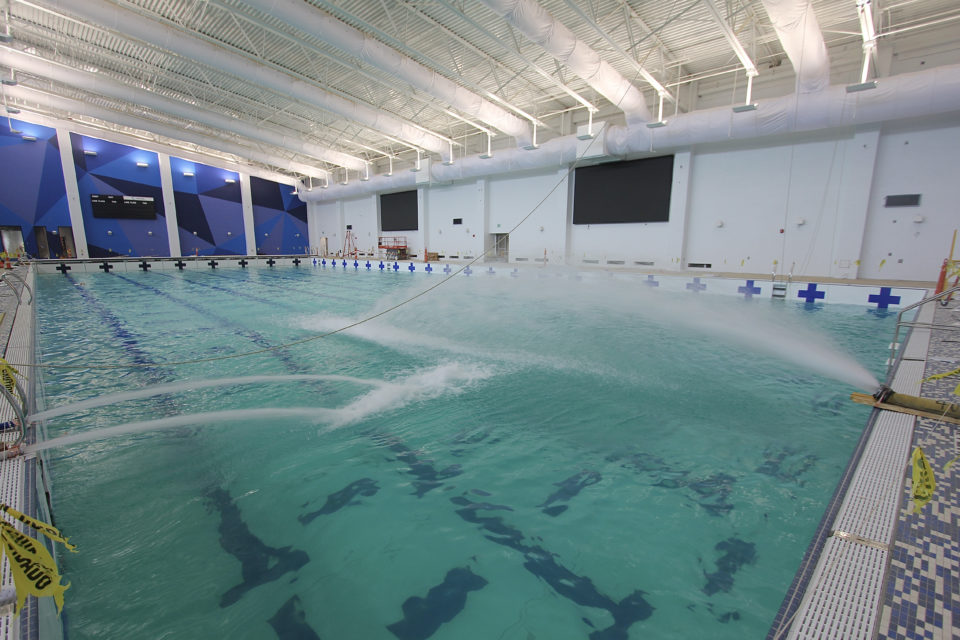 New Pool is Filling Up!
The water got turned on at the new Arlington ISD Natatorium Thursday afternoon. Thanks to a large hose borrowed from the Arlington Fire Department, the new world-class pool is quickly filling up. It won't be long before district swimmers are diving in.
"This is an exciting day for Arlington ISD," said Arlington ISD Athletic Director Eric White. "We appreciate the community's support in building a first-class natatorium for our student athletes. The pool will provide a great opportunity for our swimmers to train and compete. And we can educate our younger students on water safety.  We are ready to go!"
The high school coaches walked through the natatorium last week and saw the pool with water for the first time.
"We've dreamed about the day when we could open our doors and welcome swimmers to their home," said Suzanne Dangelmaier, natatorium director and aquatic coordinator. "Now that water is in the pool, we are thrilled to begin a new chapter in AISD swimming." 
The pool is part of the district's new Athletics Center opening soon. A 2014 Bond project, the facility includes the natatorium and an arena for basketball, volleyball, wrestling and elementary gymnastics. The Athletics Complex is located next to the district's future Center for Visual and Performing Arts.
The first-ever natatorium for the Arlington ISD includes the 50-meter pool with moveable bulkheads, a diving area, warm-up pool and seating for 1,000 spectators. And it gives the district's swimmers the "home" they've never had.
Check back soon to see the pool full of water.