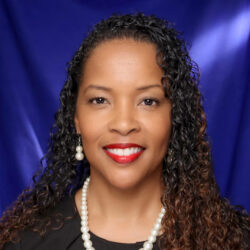 Campus Role:
Campus Team:
agivens@aisd.net
682-867-1400
Main Office

Academic Guidance for Chb-Ge 9-12th grade
10th Grade Parent/Community Coordinator
10th Grade Classroom Guidance
Academic Dual Credit Coordinator
College Visits Co-Coordinator (Non-AVID)
Senior Awards Committee
Senior Activities Week Committee
Graduation Committee
Needs Assessment/Impact Data
I am an Arlington, TX native. I earned my B.S. in Chemistry from Alabama State University and taught Science and Math at the high school level in Montgomery, AL, San Antonio, and Fort Worth. I completed my M.Ed. in School Counseling at Dallas Baptist University. I became a high school counselor in hopes of helping students on a broader scale. I truly consider it a blessing to be a member of the Bowie family. Each day I look forward to working with young people and impacting their lives in the most positive way possible.
My vision is for each student to realize their full potential and aim to become a better version of themselves as they learn and grow.
"We can not force someone to hear a message they are not ready to receive, but we must never underestimate the power of planting the seed." – Author Unknown