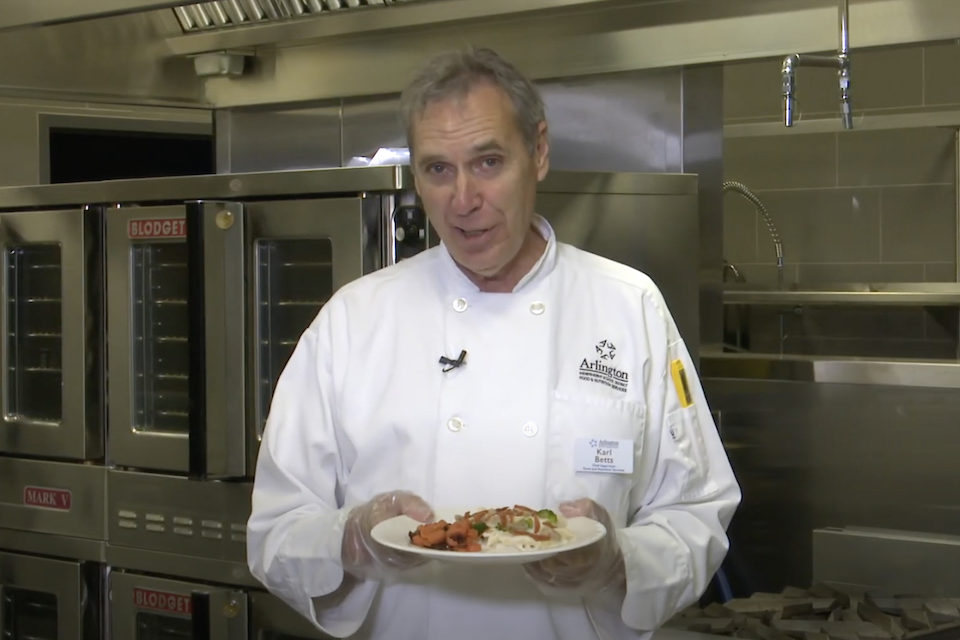 Chef Karl Shows How to Use Food Received at Student Meal Distribution Sites
Arlington ISD's meal distribution comes with a little something extra now. Arlington ISD Chef Karl Betts previews the menu and offers his tips and tricks in a new video series posted on YouTube and the district's Food and Nutrition webpage.
The new meal distribution plan includes two weekly pickups. Students can pick up food on Tuesdays and Thursdays from one of 30 campuses. Best of all, each distribution includes three lunches and three breakfasts. See details and a list of the 30 campuses here.
Chef Karl offers a new "Tips and Tricks" video for each pickup. He describes the menu and goes over the cooking instructions. Then, he offers a creative take on the menu. Similarly, for Spanish speakers, Arlington ISD Chef Cuco (also known as J. Refugio Palaciorojas) gives a similar presentation in Spanish. Just click the "View in Spanish" button.
"Feel free and creative to look at this thing as a whole and make stuff up for your own enjoyment and your own pleasure of cooking," Bett's said in the latest video.
Chef Karl then showed off a lunch he made from the ingredients in this week's pickup. Additionally, he livened up the fettuccini alfredo by adding broccoli and julienne strips of pepperoni that he borrowed from the pizza. The chef also doctored the carrots by simmering them in orange juice and raisins and adding some spices, like ginger and lemon pepper, that you may already have at home.
"Being home more often can be looked at as an opportunity to try new food combinations," Betts said. "Getting six or eight meals at one time is perfect for being creative and designing a new dish. I would love to hear about it if they come up with some new dish."
Share your meal creations with Chef Karl. Email a photo and description to pio@aisd.net and we'll make sure Chef Karl sees it. Maybe he'll share it in one of his videos!