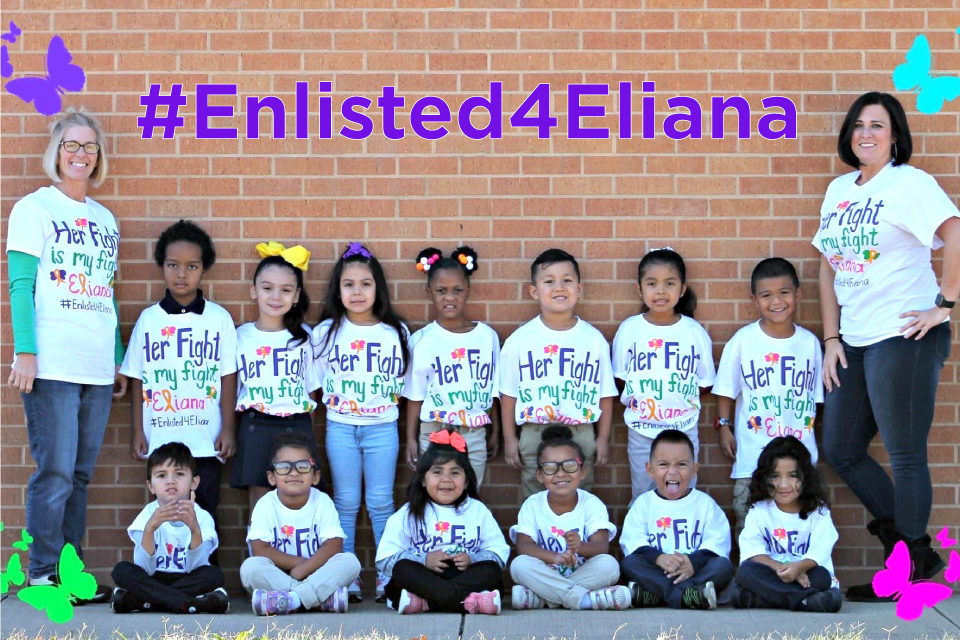 Rankin Elementary Pre-K Student's Fight Against Cancer
One of the smallest pre-K students in the Rankin Elementary community has provided the biggest of lift of spirit during the pandemic that closed schools for the remainder of the school year.
Eliana Cardenas, a Pre-K student who had her year cut short last September because of a cancer diagnosis, found out April 13 she was cancer free. That news not only brought a huge relief to her family, but it also was great news for everyone at Rankin Elementary who helped rally around Eliana and her family after a tumor was found in her stomach.
"It's an amazing feeling," said Rankin Pre-K teacher Amy Rainey, who organized a fundraiser for the family and has included Eliana in everything the class has done despite her not being at school. "Especially when you consider everything that's going on around us. I've been able to share the news on Class Dojo and our class Facebook page. From the time of the diagnosis, we've been communicating with her parents from the very beginning. We're a family, and we've joined together. To share that good news was the best."
The year certainly didn't start off that way. Eliana was in the Rainey's afternoon Pre-K class and started having stomach trouble in September. That stomach trouble led to a trip to the hospital and struggles to diagnose what was wrong with Eliana. Finally, a scan revealed she had a tumor in her stomach.
Surgery wasn't an option because the way the tumor was wrapped around her blood vessels. What followed was a 42-week chemotherapy plan for Eliana. The chemo began working and her April 13 scan found no signs of cancer. That news made its way back to Rankin in the form of Eliana's best friend Mia writing about it in her Seesaw exercise as part of the At-Home Learning Hub.
While there's more chemo still to come and other exams and checkups, Eliana is already thinking about getting back to school.
"She wants to go back to school," said Linda Mejia, Eliana's mother. "She's been wanting to go back to school. I tell her she's got to wait. It's been difficult for her. We've been social distancing since September. We won't ever be the same. We look at each other a lot differently. We've always been an on-the-go family."
While the family has had to be cautious because of the cancer, Eliana hasn't been alone. Throughout her treatments, Rainey and her classmates have checked in on Eliana. Whether that's been the fundraiser, FaceTime chats or the Easter basket Rainey left for Eliana at her house, Eliana has been included in everything.
Those acts of compassion haven't been lost on the family, which has two other daughters in the district.
"She (Rainey) has been awesome," Mejia said. "They've been so supportive of the family. She did a t-shirt fundraiser for our family in our time of struggle and need. I don't even know how to repay her for that. We were going through a lot at that time. It really did help our family. It's not even about the money. It's about taking the time. We feel so supported and blessed."
Mia, Eliana's Pre-K classmate, has been able to visit Eliana and her family also did a fundraiser for Eliana.
And while Eliana hasn't been in school, her fight against cancer has served as a valuable lesson for everyone at Rankin.
"She's a survivor," Rankin principal Lori Mosley said. "She shows you can overcome anything with the right amount of support, doing your best and following directions. She's made an impact on a lot of us."