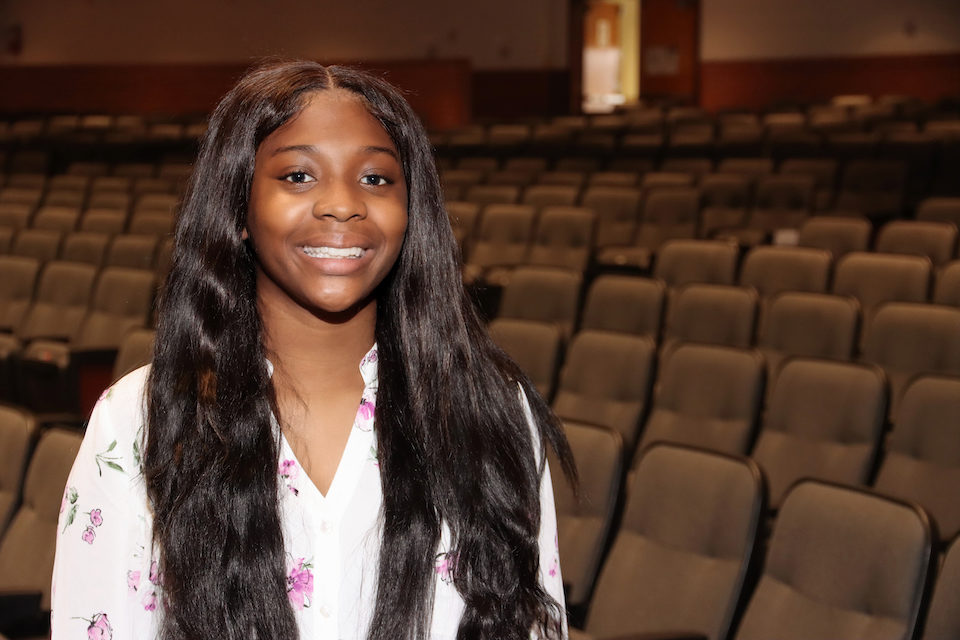 Perfect attendance for six weeks is impressive. A semester, even more so. A year of never missing a day is reason enough to celebrate such a special achievement. Well, try not being absent for 13 years.
That's the story of Ladasia Rhone. And it's one that deserves to be told.
The Arlington High School senior walked across the stage Thursday at AT&T Stadium as the only current Arlington ISD student with perfect attendance for the entirety of her academic career. Going back to kindergarten at Key Elementary and through Gunn Junior High and finally at Arlington, Rhone was present every school day without exception.
"I personally think it's pretty cool," Rhone said. "It's an honor to be able to tell your friends you did that. It's not a surprise that I was at school. People already know I'm going to be there, so if other students miss a day, they know I was there, so they just come to me."
Helping her classmates catch up on homework is a happy byproduct of perfect attendance. Such a feat would not be possible without a strong support system, starting at home. The expectation set by parents Cedric and Laquita Rhone is one of personal responsibility and accountability. Unexcused absences just aren't a thing in the Rhone household.
"We both believe in unless you can't move, you should be at work," Cedric Rhone said. "School is like work to us and when you finish school you get a real job. In our mind, basically, school is work. That's what you have to do. Unless there is something broken or you can't physically move, you should be at school."
Of course, there were some scares, especially the common sicknesses that float around elementary school. Allergies have also been a struggle for Ladasia. Once she made it to Gunn, the idea of staying perfect started to become a reality.
"I realized and noticed how I was keeping up a consistent role, and my parents were always saying you need to go to school and can't miss a day and keep up with it," she said. "After a while I didn't need them telling me anymore. I was just like, 'Gotta go to school today. Gotta be ready. Gotta have my work done.' It became my routine."
The last year has been particularly challenging with the pandemic. Rhone attended Arlington virtually for classes and in-person for sports and fine arts. She's been in band since the sixth grade playing clarinet, and has competed in volleyball, track and wrestling.
"I feel it was harder this year because the COVID mindset is 'Oh, I can sleep in,'" she said. "And with being virtual, it's easy to think you don't have to get up and go, but I knew I still had to go and show up every day. I feel like I'm a dependable person."
Rhone also took on several leadership roles throughout her academic career. She was active in AVID and Key Club, and in her church. One year, she gave away all her Christmas gifts to help others less fortunate at Mission Arlington.
"She prides herself in being on time and being helpful in the community," Cedric Rhone said.
Arlington High AVID counselor Beth Hancock first alerted Arlington ISD officials that Ladasia Rhone possibly had perfect attendance for life. After running data attendance reports that included elementary and junior high, Hancock's hunch was confirmed.
"Ladasia has been such a model student throughout high school," Hancock said. "She was selected to go to Arlington Collegiate, but opted to come to a traditional high school to get the full high school experience only to have that completely interrupted by a global pandemic. 
"She chose a very difficult course of study and is active in band and AVID. It is so impressive that she has maintained perfect attendance throughout all her years in Arlington ISD. She truly shows what it means to have the AVID 'Individual Determination.'"
Rhone plans to instill that determination in others. Her career goal is to follow in the footsteps of the teachers who have influenced her along the way.
"In elementary I wasn't necessarily always the best student, but my teachers always believed in me and thought I could go somewhere," she said. "When I got to junior high, I was like I need to get my act together in school and I need to show that I could go somewhere in life. Because me teachers were always backing me up, I wanted to be a teacher to inspire other kids to go for their dreams."
Next up is college, and she plans to attend Texas Wesleyan.
Think she'll ever miss a day?
"I don't," she said. "No reason to stop."