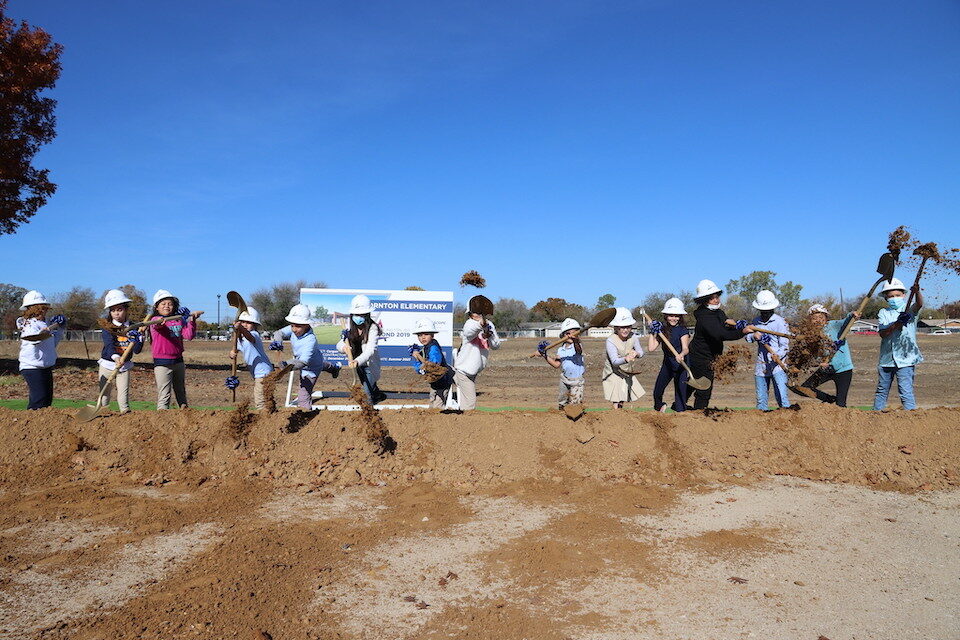 New Beginnings
The weather was gorgeous, unseasonably warm for a day in December, and everything was set up and ready to go for the groundbreaking ceremony for the new Thornton Elementary School. The chairs were in line. The pile of dirt, shovels and hard hats were all there, and all the important guests had arrived. The mayor, city council members, school board trustees. There were even two large, beautiful oak trees behind the podium dropping colorful fall leaves in the breeze.
The scene was almost perfect. But one thing was missing.
That's when a big yellow school bus rolled up and students and teachers from Thornton joined the celebration.
Now it was perfect.
Thorton's New Legacy  
"It's for them," Arlington ISD superintendent Dr. Marcelo Cavazos said about the students. "It's not for us, not for the adults. It's for them today, tomorrow, for their future, for their siblings and for generations for years to come."
"It" is a new school building for Thornton Elementary School. The original building, which first opened in 1956, was demolished this fall, and a new school will be constructed on the same site. Thornton's students and teachers are currently housed in a temporary location until the new building opens in the fall of 2023.
"A state-of-the-art brand-new building will definitely elevate our school and our community," said Thornton principal Alicia Rodriguez, "but we need something else."
That "something else" is something they already have. That "special ingredient," she said, is the people, the wonderful teachers, students, parents and community that have made Thornton an incredible place for 65 years.
"We can hardly wait to see what our new school will look like," a Thornton student told the audience before Thornton choir students sang a song about their school pride. "But we know it will be great because what really counts is on the inside."
See photos from the groundbreaking ceremony.
Thank you Bond 2019!
Arlington ISD Board of Trustees President Kecia Mays agreed as she talked about the strong Thornton community that has existed for decades.
"The building here will be new, but that same pride, that same culture of the community and the staff of Thornton Elementary will continue to make this building yours to inspire students and open up a world of opportunity for many, many generations to come."
The new Thornton building, funded by the 2019 Bond, has been designed by Corgan Architects with input from district administrators and Thornton teachers, students and parents. Pogue Construction will serve as the general contractor and will begin earthwork in early 2022.
"The 2019 Bond is allowing us to transform our district with rebuilding four of our schools that need it most," Mays said. "The new school at Thornton is part of our plan for east Arlington that is transforming all of our schools in the area to make sure every student gets an outstanding education in a facility designed to inspire and promote learning."
Next week, Arlington ISD will also break ground for another school rebuild – this time for Berry Elementary School. And the design process for rebuilding Carter Junior High, another aging east Arlington school, started last month as architects held planning charettes with Carter students, parents and teachers to help plan their new facility.
In addition to Thornton, Berry and Carter, east Arlington's Crow Leadership Academy recently opened a new classroom wing, gymnasium and kitchen. And nearby, the 2019 Bond is also building a replacement facility for Webb Elementary. Construction on the new Webb began in the spring and much of the slab is now poured. The new Webb will open in time for next school year.