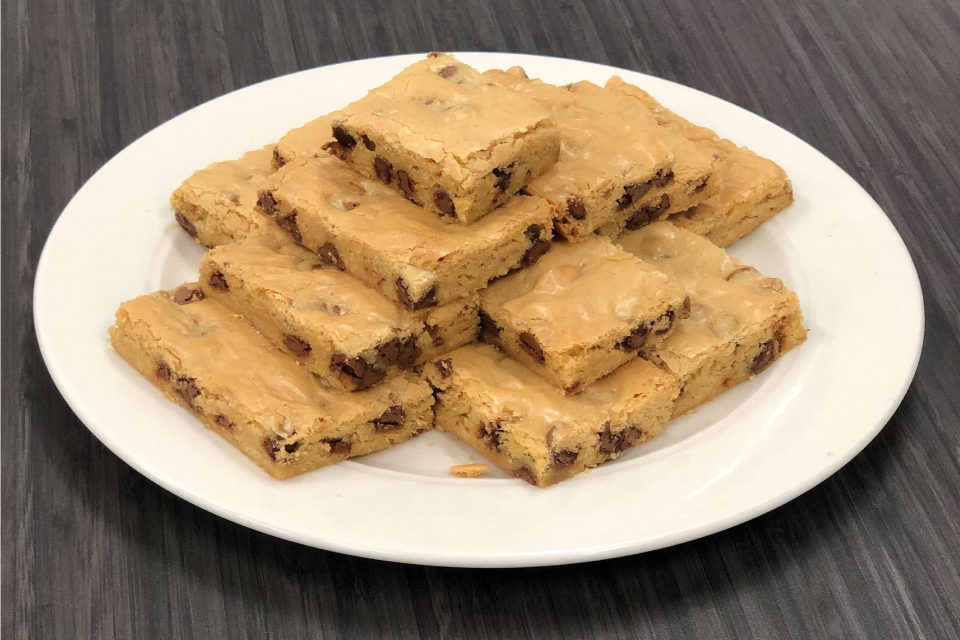 Chocolate Chip Blondies. Yes, please. 
Arlington ISD's culinary program at the Dan Dipert Career and Technical Center (CTC) has a holiday gift for you! It's the recipe for one of its most popular desserts, the CTC Chocolate Chip Blondies.
"This is one of the first recipes that the CTC culinary department perfected, and it is still a favorite four years later," said Alyce Monroe, culinary arts instructor at the CTC.
The Blondies recipe is one of the fundamental recipes that all CTC culinary students learn at the beginning of the year. It is also one of the most frequently requested desserts when the CTC culinary students cater.
"They are a simple dessert with a big flavor!" Monroe said.
Enjoy!
CTC Chocolate Chip Blondies
Ingredients
1 ½ C brown sugar, packed
½ C butter, melted
2 eggs, lightly beaten, room temperature
1 tsp vanilla
1 ½ C flour
½ tsp baking powder
½ tsp salt
1 c semisweet chocolate chips
Directions
Preheat oven to 350°.
In a large bowl combine brown sugar, butter, eggs and vanilla until just blended.
Combine the flour, baking powder and salt.
Add flour mixture to sugar mixture.
Stir in chocolate chips.
Spread into a greased 13 x 9 pan.
Bake 18 – 20 minutes until a toothpick inserted in the center comes out clean.
Cool on a wire rack.
Cut into bars and enjoy!
After you've made your Blondies, take a pic at post to our Instagram account @ArlingtonISD with hashtag #CTCBlondies.