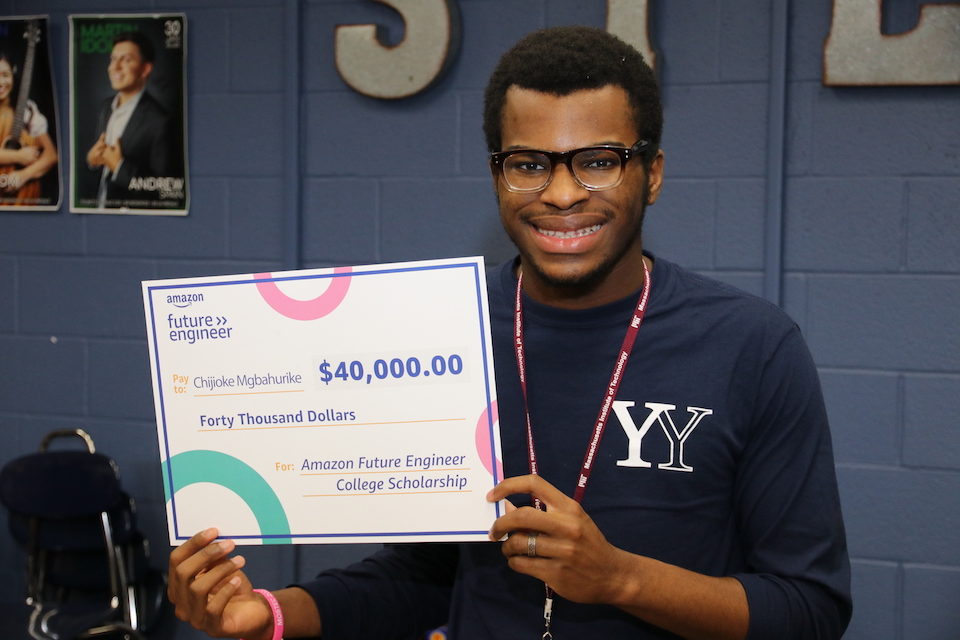 STEM Student off to Stanford in the fall
STEM Academy student Chijioke Mgbahurike applied for the Amazon Future Engineer scholarship on a whim after realizing he met eligibility requirements.
The results helped turn an ordinary day at Martin High School into an extraordinary one when he opened an Amazon package April 28 and discovered he'd won a $40,000 scholarship.
The Amazon Future Engineer Scholarship program helps underserved students advance their education in computer science with a scholarship and paid summer internship opportunity at Amazon.  To diversify the technology industry, the company awards scholarships to 100 students across the nation who have completed a high school computer science course and plan to further their education in computer science.
The Surprise of a Lifetime
Teachers and staff surrounded Mgbahurike as he opened the box that held a certificate and company paraphernalia. He was surprised and filled with excitement as he opened the box and learned about his award status.
"I guess I was a stronger applicant than I thought," said Mgbahurike.
Mgbahurike's family is originally from Nigeria and moved to the United States in 2010. He credits his mother as being his biggest supporter throughout life.
"She always told me I could succeed at anything I wanted to do if I worked hard enough," Mgbahurike said. "No matter how tough things may get along the way, you have to keep going."
Developing Solutions Before Graduation
While in the STEM Academy at Martin, Mgbahurike participated in several competitions in the district and visited the University of Oklahoma for Math Day, a day-long program of math activities for high school students from Oklahoma and Texas. His teachers describe him as a specialist in Hackathon, a project-based event designed to test students' engineering skills by allowing them to create a solution to an issue they have noticed in or with schools and students. Mgbahurike recently had the opportunity to present his original software solution to Superintendent Marcelo Cavazos and Chief Academic Officer Dr. Steven Wurtz.
Awards Galore
"The STEM program at Martin is the absolute best in the city," said Mgbahurike. "The countless opportunities it gives you to succeed are extremely beneficial to your growth as a student, and it helps develop your passion for innovation in science and technology."
The National Honor Society, Mayor's Youth Commission, Ready Writing program and a software developer internship at Bell Flight also keep Mgbahurike busy throughout the school year. Spare time may seem like a foreign concept in the life of such a hard-working student, but Mgbahurike finds time to play soccer, watch anime and cook his favorite foods when he's at home. 
Dedication, Drive, Determination
Jennifer Rothwell, an advanced English teacher at Martin, has taught Mgbahurike since he was a freshman and has enjoyed seeing his growth as a continuous learner.
"It's truly amazing to see all of his goals from years ago come to fruition," said Rothwell. "I always knew he had so much potential because he was the only student that didn't just want to excel in school. He wanted to understand life, and I wish every student possessed that type of insight."
"In all my years of teaching him, he never took one opportunity for granted. He had no sense of entitlement and worked diligently to get to this point today."
Standford – for the Weather
In the fall, Mgbahurike will attend Stanford University on a full scholarship to pursue a bachelor's degree in computer science. 
"Stanford has one of the top computer science programs in the world, and I can't wait to expand my knowledge with the best leaders in technology," said Mgbahurike.
While Stanford won the competition to get Mgbahurike to enroll, it's not like he didn't have other outstanding options. Yale and Columbia are also among the schools that offered him full scholarships. 
"Yale and Columbia are great schools, but I really want to enjoy the California weather," said Mgbahurike.  He has no plans of slowing down any time soon and wants to continue his extracurricular involvement at Stanford.
"It's my mission to come back and tell kids about the wonderful opportunities and benefits of the STEM program at Martin," said Mgbahurike. "This program changed my life, and other students need to be aware of the positive impact they can make in the community and the country if they dive in."
For more information on the Arlington ISD STEM Academy, please visit aisd.net/stem-academy.