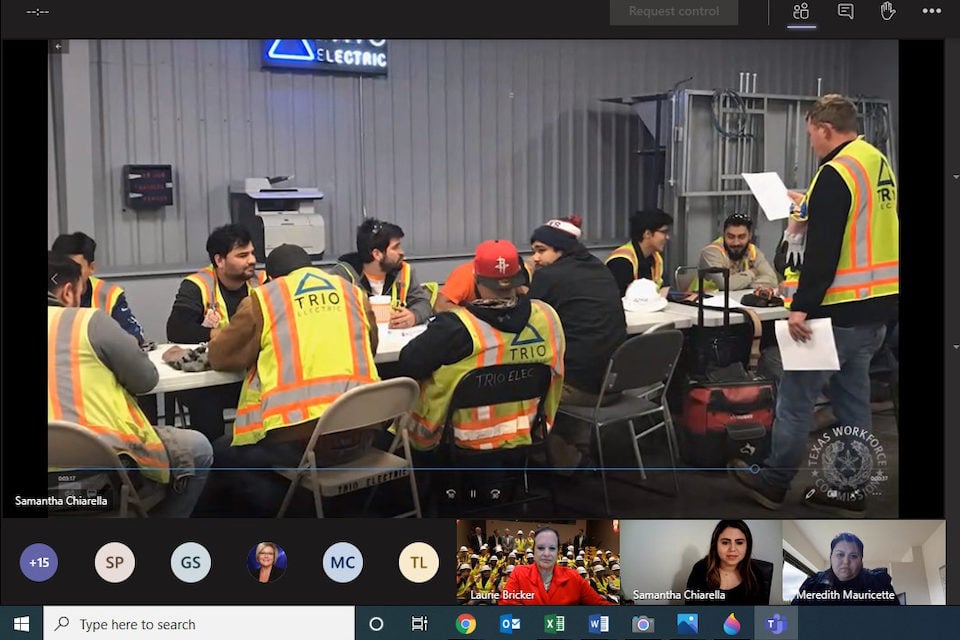 TRIO provides teacher, curriculum and materials
Sam Houston senior Misael Resendiz has an early roadmap on what his life after high school will look like.
The virtual commitment ceremony he took part in Tuesday night as part of Arlington ISD's partnership with TRIO Electric was further proof of that.
Resendiz is just one of the Arlington ISD students who committed to work for TRIO Electric after he graduates this year. He has his job in place because of the work he did in the classroom at the Dan Dipert Career and Technical Center in his electrical technology classes.
Resendiz is part of the pre-apprenticeship program that puts students who complete the program in line for jobs with TRIO and on the path to earning their professional journeyman's license.
"It's like most things," Resendiz said. "It can be pretty simple if you're interested in it, and I was really intrigued by it. My father works in house remodeling. I've seen some things and the little experience I had with electric caught my attention. I was looking into it and thinking about college. I wanted something I could do with my mind and my hands. I was really interested in what I could do at the CTC."
The TRIO partnership falls in line with the Arlington ISD's goal to have 100 percent of students prepared for college, career and citizenship. Once Resendiz graduates he can complete the apprenticeship program while working full-time. The students are also entering a high-demand field as electricians are some of the most targeted occupations in Texas.
It helps that the district has outstanding community partners like TRIO. The classes are not taught by any Arlington ISD teacher but by a TRIO employee, Thomas Lyons. There are more than 40 students in the class, and while not all of them will end up working for TRIO, the classes give the company a pool of students to work with in the future.
"It's a big deal," Lyons said. "I've got several students who have parents that are general contractors. They have a lot of technical capability. We've had quite a few other students who have shown a proclivity for this."
As part of the classes, TRIO provides the curriculum, material and supplies. The classwork also counts towards the 8,000 hours that are required for someone to receive a journeyman's license. When the students begin working for TRIO, they will continue to take classes so they can gain the hours needed for that license.
"We're fortunate to have partners like TRIO Electric," said Arlington ISD superintendent Dr. Marcelo Cavazos, who attended the commitment ceremony. "Providing students with this unique opportunity to transition from high school into the workforce and continue rigorous training and development is a tremendous benefit to students, the industry and our community. Companies like TRIO allow us to work together to serve our students and the industry exceptionally well."