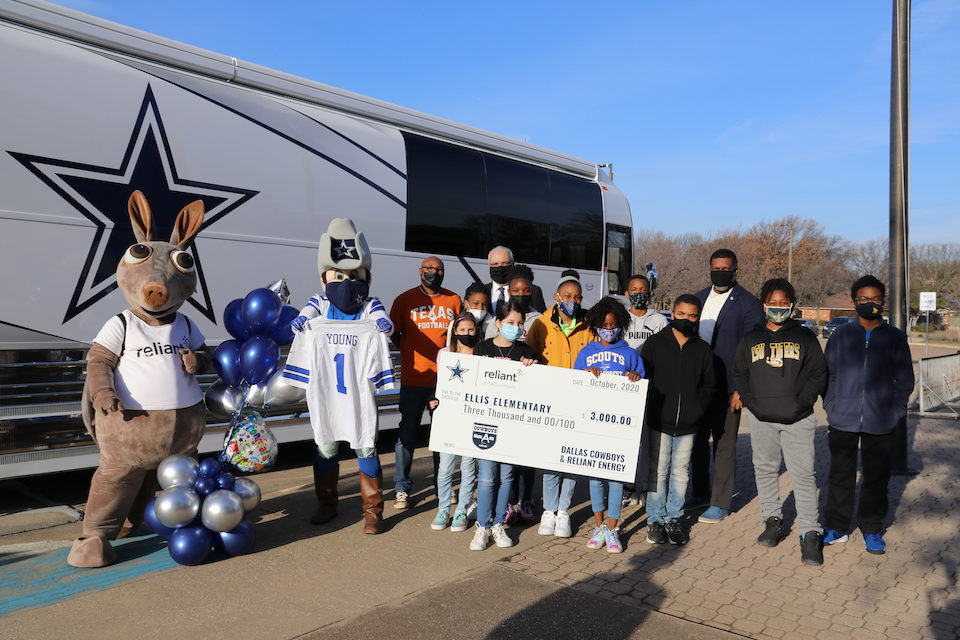 Arlington ISD teacher first to win the award
Ellis Elementary sixth grade teacher Antonio Young expected Thursday to be just like any other day at school.
He couldn't have been more wrong.
Young's morning started when he was escorted outside the school by principal Keith Boyd to find the Dallas Cowboys bus, team mascot Rowdy, Arlington ISD Superintendent Dr. Marcelo Cavazos and others waiting to honor him. It ended with his class talking to Cowboys offensive lineman Joe Looney on a Zoom call about Young, his students and teaching.
Those are the kinds of days that happen when you've been selected as the first Dallas Cowboys/Reliant Energy Class Acts Teacher of the Month.
"I had no idea," said Young. "They got me on this."
Young found out about the honor in December when the Cowboys announced he was the winner on social media. As part of the award, the school received a $3,000 grant, which will be used for an interactive learning experience in Young's classroom.
That was where Young thought the honors ended. Instead, Young was given a Cowboys jersey with his name and the No. 1 on it, and his class had a chance to talk to Looney during an afternoon class period.
"Antonio Young demonstrates excellence," Cavazos said. "We met several years ago, and he does a phenomenal job connecting with the students. He represents our teachers extremely well."
Young, who teaches English Language Arts, uses his writing and rapping ability to interact with his students. Several of his students have starred in videos with Young, including one during Black History Month last year featured on Access Hollywood and in People Magazine. Young also put together a return to school video with students for the 2020-21 school year, another for the city's Martin Luther King Jr. celebration, and is working on another for Black History Month this year.
And that's just what he does with his free time outside the classroom.
When Ellis Elementary principal Keith Boyd found out that Young was nominated for the award, he wasn't surprised.
"He was just in my office asking me what more he could do," Boyd said. "I can't think of anyone better to be honored."
Young's students were also involved as they got to go outside to see him get surprised by the Cowboys team bus being in the parking lot. They also got to participate in the Zoom session with Looney, where they got to talk about their favorite Cowboys players as well as their favorite class. Looney was also able to talk to the students about the importance of education.
Since they have a teacher like Young, they already knew that.
"As a person who's always loved education, I loved education as a student myself," Young said. "I feel that the future these kids are going to walk into as they graduate from high school, they have to be prepared and ready. But they first have to love education. So to do it, bringing education to them in a way that's going to make them want to learn and have fun in the classroom, just that element of writing rap songs to provide a positive outlet for them. It means the world to be recognized for it."