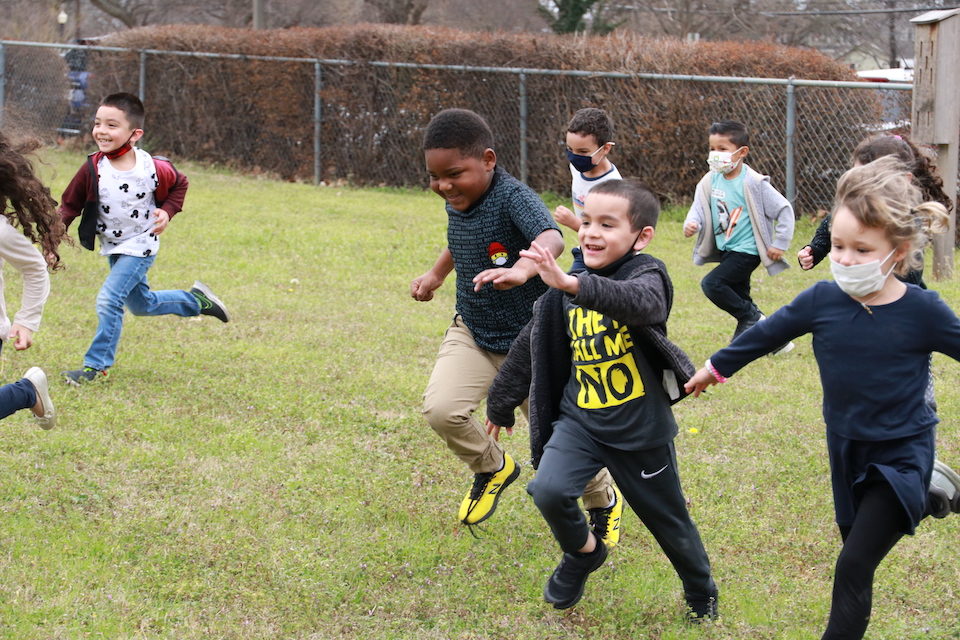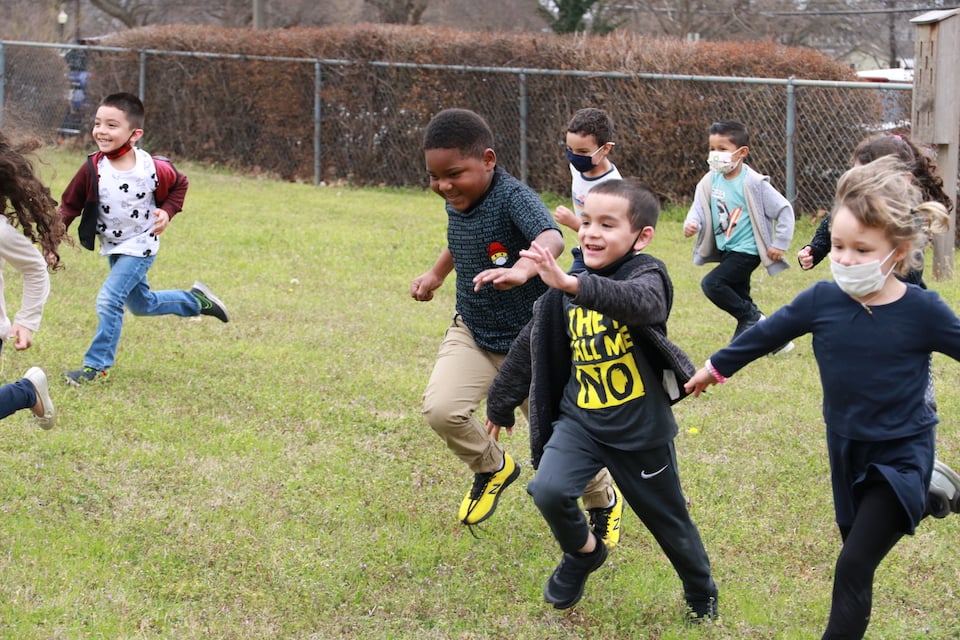 Welcome to Kooken!
Its name doesn't tell you what Kooken Educational Center really is, but once you go in and start walking the hallways, you quickly find out. Each detail of the center is catered to pre-K students and their early childhood development. Built in 1938, the building opened again in 1988 as the only school in Arlington ISD that exclusively houses pre-K. With child-sized bathrooms, fun colors, decorations and knee-high chairs and tables, the Kooken experience is unique and memorable for each student.  
Kooken has it all when it comes to pre-K, including every pre-K program the district offers: 
Pre-K 4 full day

 

Pre-K 4 full day bilingual

 

Pre-K 3 half day

 

Pre-K 3 half day bilingual

 

Pre-K 3 half day – tuition based

 

Pre-K 4 full day – tuition based

 
Learn more about the Arlington ISD's pre-K programs.
Kooken's Head Start Program
Kooken is also the only school in the district to offer a unique program called Head Start Pre-K Plus. Initiated in 2020 in partnership with Child Care Associates, Head Start Pre-K Plus is designed to increase students' oral language development, early literacy, mathematics, science, social studies, fine arts, personal, social, emotional and physical developmental skills. The program caters to families with children ages three to five who may be experiencing homelessness, foster care, poverty or are in of need public assistance. 
Learn more about Head Start Pre-K Plus. 
Family Nights
Kooken is big on family and does a lot to build community. Staci Nelson, a teacher at Kooken, shared that each family in the school can paint a ceiling tile that is placed in the hallways. Students love looking up at the ceiling and seeing their tile as encouragement every day.  
International Picnic Night is another big hit with families. Families and staff bring lawn chairs and blankets along with a big dish to share. With a diverse student body, the event is a fun chance for families to taste foods from different cultures.  
STEM meets STREAM
At Kooken, STEM (Science, Technology, Engineering & Math) is now STREAM and includes Reading and Art. It's a program that Mary Eldredge, Kooken's librarian of over 10 years, is most proud of. Her STREAM maker lab introduces a new theme each month to the students. While the themes are not identical to what the students do in the classroom, they are always tied into the curriculum and guidelines of the state. Students get to do all kinds of hands-on activities that foster curiosity. They've learned about animals and built a zoo in shoebox dioramas mimicking each animal's habitat, worked with wind tunnels, and created a Chinese restaurant for Lunar New Year.  
Two of the students' favorite activities from this past year were water painting on Buddha boards and gift wrapping. These kinds of projects help students work on their motor skills.  
"It's problem solving. We tell the teachers the only thing they should be doing in the maker lab is asking questions. It is a switch for the teachers that at first can be a little hard, but we let the children create the learning. We prompt the students and guide them as they figure it out," Eldredge said.  
Eldredge is especially proud of their 1,000 Books Before Kindergarten project. It is a national program, but Kooken has adapted it by creating 100 book bags in English and one hundred book bags in Spanish to aid their bilingual program. Each bag has 10 books inside and parents can check them out as often as they want.  
"We were blown away by the participation," Eldridge said. "Between August and March parents checked out over 15,000 books. Kooken had the highest print circulation of all schools. High school, junior high, elementary, and it was all because of this project."  
Outdoor Learning
Kooken places a big emphasis on outdoor learning for its three- and four-year-olds. Lessons for this upcoming year will include mud kitchens, rain gauges, water tables and water troughs.  
Former teacher turned associate principal Elizabeth Huebner is most excited about new clear garden boxes they will incorporate into outdoor learning this year. Students will be able to plant plants in the clear boxes and then watch the roots of each grow! 
"This hasn't been in place yet so it's brand new and it's perfect timing because we are about to get new playgrounds," said Huebner. "Although it is not the playground, it is just as engaging!" 
Once a Kookenite Always a Kookenite
Every student at Kooken is included in everything at Kooken. In 2005, Kooken was recognized as a TEA Promising Practice school for the integration of disabled students with their non-disabled peers.  
"We do everything together. When classes come into the library, Special Education (SPED) comes with them. It makes a real difference for the kids because they are comfortable and do not really notice the difference. The SPED students are just some of their friends. They just see the person," Eldridge said. 
And those new playgrounds the principal talked about will be accessible for all students with rubber surfaces, ramps and accessible equipment. 
Sadly, some of Kooken's students deal with disabilities that cut their lives short. But they are never forgotten at the school. Kooken makes a point to dedicate areas of the campus to their memory. Areas like "Malcom's Place" and "Sam's Place," where learning and outdoor play take place for students, honor their memory. 
Huebner also has a special place of reflection at Kooken dedicated to her father, a devoted Kooken volunteer.  
"When my father passed, Kooken brought us in for a 'Pipo Celebration,'" Huebner said. "They had special seats marked for my mother, brother and I right up front. It brought us a bit of joy and peace that we were missing without him. As the children danced and pictures of him in some of his happiest moments flashed on the screen, we were able to truly smile and laugh in a time of such loss. Kooken is truly a magical place that changes the lives of every single person walking through its doors, especially a retiree volunteer and his family." 
Once a Kookenite, always a Kookenite. 
Register for Pre-K
If you are interested in a pre-K program at Kooken or any Arlington ISD school for your child, you can still register. Please visit aisd.net/prek to get started. And if you have any Kooken or pre-K questions, feel free to call (682) 867-9418 or prekquestions@aisd.net.