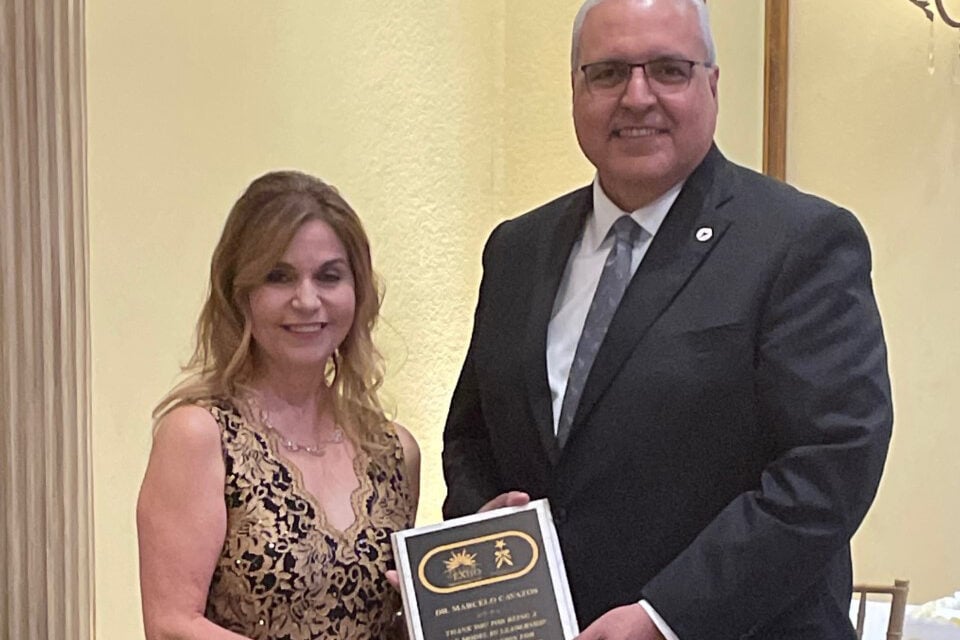 "Stand up, if you believe that dreams do come true!"
Those were the words that motivational speaker and financial education book writer Diana Rochin told a large crowd last week while welcoming them at her first Arlington Latino Gala and Awards Ceremony.
The founder of El Club del Exito (The Success Club) had invited guests to the Mediterranean Villa – a banquet hall on Arlington's north side – to celebrate the accolades and community service work of various local Hispanic leaders. Among the honorees were Arlington ISD Superintendent Dr. Marcelo Cavazos.
Guests of the bilingual, black-tie event were treated to live music, dancing and a speech from Arlington Mayor Jim Ross. The grand affair was vital, Rochin said, to show that the contributions of local Hispanics are crucial to the area.
In Rochin's opening address, she described how the club's first award ceremony had come to fruition after seven years, and she praised Cavazos for – as his plaque stated – being "a role model in leadership and education for our Latino community."
During his acceptance speech, Cavazos reflected on his humble beginnings. He recalled how he spent many childhood days in south Texas picking okra in the summer to earn money for clothes and supplies for school. Today, Cavazos oversees a district that serves 57,000 students and has undergone numerous, massive changes under his leadership.
"The mission to serve students and to help them really realize their potential and their dreams – that is the biggest motivator for me. It always has been," Cavazos said.
Dr. Natalie Lopez, assistant superintendent of research and accountability, who was also in attendance, said Cavazos' recognition was "well-deserved."
A district employee for five years, Lopez has witnessed Cavazos' impact on students across the district's 75 campuses. She said he is a great example for the region's Latino community, particularly Arlington's youth. After all, 46 percent of all Arlington ISD students are Hispanic.
Dedicated to education, service
Cavazos – who holds a bachelor's and a master's degree from the University of Texas-Pan American and a doctorate from the University of Texas at Austin – began his career in education in 1990. His first position: an English teacher for Mission Consolidated ISD.
Cavazos later taught for McAllen ISD and eventually took on leadership roles for Mercedes ISD and San Benito Consolidated ISD. In 1998, he began working for the Texas Education Agency Department of School Finance and Support.
A year later, Cavazos joined Arlington ISD as associate superintendent for instruction. By December 2012, he was selected for the district's highest position of superintendent.
Cavazos was also the perfect choice for Rochin's award because of his extensive community service. He has served on boards for United Way of Tarrant County, Workforce Solutions for Tarrant County, River Legacy Foundation, Salvation Army Youth Education Town and more. He is a member of the Rotary Club of Arlington and the Knights of Columbus. He also serves as an associate member of the Greater Arlington Lions Club and as a Lifetime Supporting Member of the Texas Lions Camp.
More accolades
This is just the latest honor for Cavazos. Earlier this year he was selected as one of three TRIO Achievers for 2021. TRIO provides educational opportunities to everyone regardless of race, ethnic background or economic circumstances.        
Cavazos spent hours in high school researching what he wanted to do with his future, and TRIO opened up doors for him.
"TRIO's vision is to support, create, develop, improve and extend educational, financial and cultural opportunities for every TRIO participant to develop to their full potential," Cavazos said. "Those words don't just ring true for me; they have been something that I've carried with me professionally when I look at the opportunities we have for our 57,000 students in the Arlington ISD."
During his speech for that honor, he stressed the importance of extending opportunities for Arlington ISD students and pointed to facilities like the new Center for Visual Performing Arts, the district's early college high schools and the Career and Technical Center as some of those outlets.
"The more options we extend to our students, the more chances they have to reach their full potential," he said. "That's something that was instilled in me as a child, something that was reinforced in my involvement with TRIO and something that I'm happy to see we weave into everything we do with our students in the Arlington ISD."