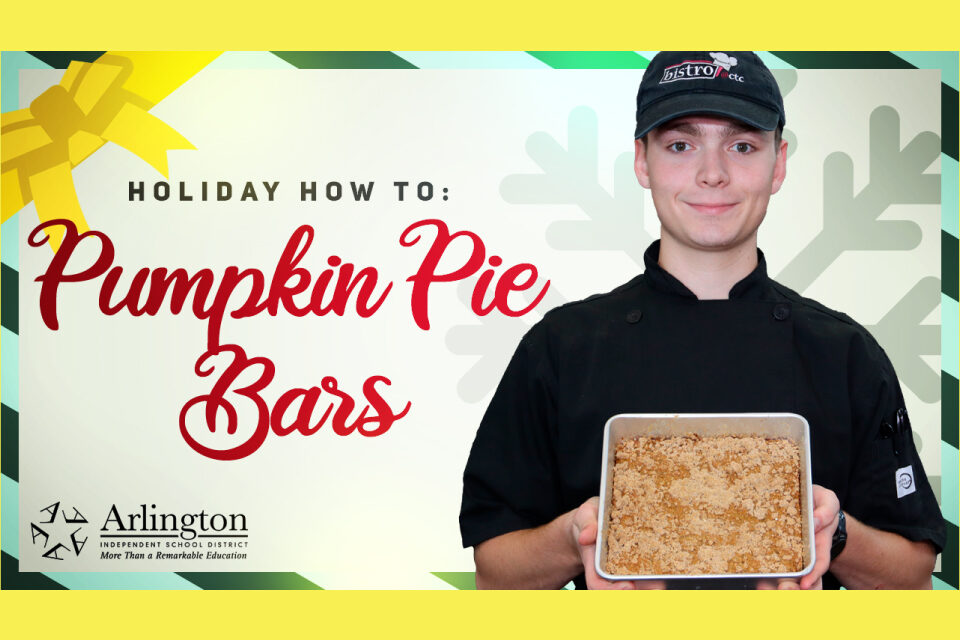 Pumpkin isn't just for Halloween or Thanksgiving. At least not the way advanced culinary student Tristan Johnston does it. Johnston, who is a senior at the Dan Dipert Career and Technical Center, has the perfect pumpkin recipe that just about anyone can do over the winter break. His recipe for pumpkin pie bars is simple enough that you don't have to be a top student like Johnston is and tasty enough to impress any foodie.
All you have to do to make them is watch Johnston work his magic and follow the recipe.
Pumpkin Pie Bars (makes 8-10 servings)
Ingredients
1/2 c unsalted butter melted and cooled to room temperature
1/2 c light brown sugar
1 1/2 c all-purpose flour
1/2 tsp baking soda
1/2 tsp baking powder
1/4 tsp salt
1 tsp ground cinnamon
1/4 tsp ground cloves
For the filling:
1 1/2 c pumpkin pie mix from a can, not puree
1 large egg
1/2 tsp pure vanilla extract
Preparation
Prepare an 8″ square pan by greasing the sides and the bottom. Line with parchment paper. Set aside.
Preheat oven to 375 degrees F.
In a medium mixing bowl, whisk together flour, brown sugar, soda, baking powder, cinnamon, cloves and salt.
Add melted butter and mix until crumbly dough forms.
Reserve about 3/4 c of the mixture for the topping.
Press the remaining dough into prepared pan. Set aside.
Place all filling ingredients in a large mixing bowl or a stand mixer and mix until all combined.
Pour over crust.
Sprinkle with the topping mixture.
Bake for 28 to 32 minutes or until the topping is golden brown.
Cool completely in pan. Cut into squares.