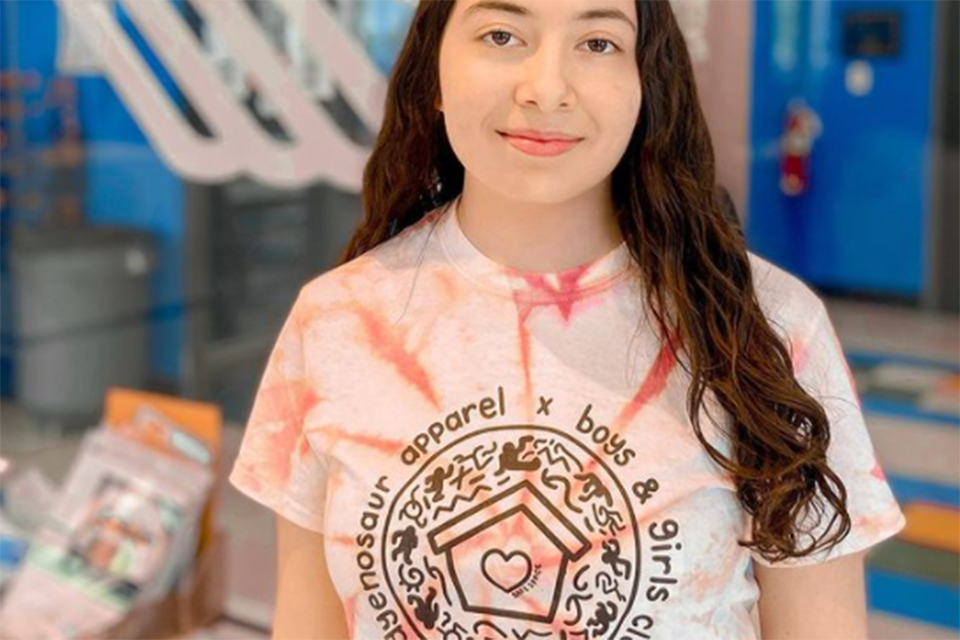 Arlington ISD is known for having outstanding students whose bright minds will help change the future. We pride ourselves on being ahead of the curve as a district where students can showcase their talents and utilize their resources to affect change. Today we want to highlight one of our own – Vivian Nguyen.  
Nguyen is a sophomore entrepreneur at Martin High School. She is the founder of "Dyenosaur Apparel," a teen-led clothing line that celebrates creativity, highlights youth artistry, and finds a way to give back to the community. Nguyen recently partnered up with the Boys & Girls Clubs of Greater Tarrant County for their youth campaign. This initiative focuses on promoting the physical, mental and social well-being of kids in their everyday lives, education and futures. When asked about her commitment to bring social change, Nguyen says that she has been working in spaces of activism since she was 14.
Nguyen has created a collection of Dyenosaur Apparel tie-dye t-shirts for the Boys and Girls Club of Tarrant County that come in colors of blue and red. Half of the proceeds from the t-shirts will be donated to the Boys and Girls Club of Tarrant County for their community efforts.  
To support Nguyen and the Boys and Girls Club Tarrant County by purchasing a t-shirt or other items, visit her website at https://dyenosaurapparel.com.
Arlington ISD is committed to growing whole and well-rounded young adults who are prepared to excel in college, career and beyond. The district's mission is that every one of its more than 57,000 students will graduate exceptionally prepared for college, career and citizenship. With top educators, an outstanding core curriculum, a growing number of specialized programs and state-of-the-art facilities, the opportunities for all students from pre-K through high school are endless.