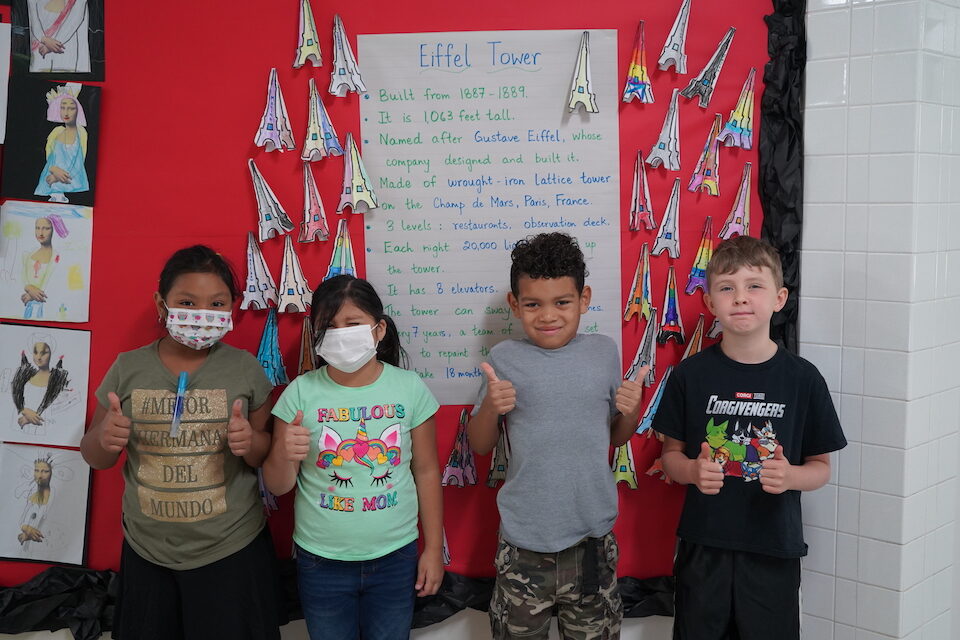 Wimbish World Language Academy may be located in Arlington, but elementary students are being transported to different countries around the world through the multicultural curriculum. Wimbish is setting itself apart by creating a one-of-a-kind learning environment for children starting as early as pre-K.
That multicultural curriculum extended beyond the school year into Summer Learning.
Wimbish held an Olympics-themed summer enrichment camp July 19-23 and immersed students in art, dance, language and sports classes. The final week of camp culminated with students cooking empanadas, chocolate mousse and other famous cultural foods from the countries students learned about at camp.
"Cooking class is my favorite part of the day at camp," said M. Gordon, a third-grade student. "I love it here, because we can learn about our cultures at home and at school, too."
That kind of curriculum is par for the course at Wimbish all year long.
Students who attend the academy are taught in English for the first half of the day, then in a second language for the remainder of the day. French, Spanish and Mandarin are among the languages offered for kids.
"The academy gives kids the opportunity to open the doors of the world right here in their backyard," said Elizabeth Velasco, community engagement liaison at Wimbish. "At four years old, students can begin to learn about other countries' cultures and languages for free, and you simply can't find that anywhere else."
If you thought this school couldn't get any better, think again. Students who attend Wimbish will complete their language elective requirements for graduation by the time they finish sixth grade. Students will be ahead of the game with lessons from fluent bilingual teachers, many who speak three to four languages.
"Wimbish offers a variety of opportunities and diverse learning options for students at such a young age," said Lauren Velasco, a Wimbish teacher. "From the languages to the other kids that they meet in their classes, we expose our kids to a unique experience that every Arlington ISD school doesn't offer yet."
Wimbish is currently rebranding for the 2021-2022 school year by looking to implement new school colors and a mascot, among other elements.
"This creative design process is like a rebirth, and we're appreciative of the opportunity the district has given us to start fresh and expand our program with the help of our diverse staff," said principal Manuel Trevino. "This expansion is only the beginning and we're eagerly looking forward to growing and preparing global leaders."
If you're ready for your child to be prepared for leadership that reaches beyond the city limits of Arlington, register your child now at aisd.net. Big dreamers start small in Arlington ISD!