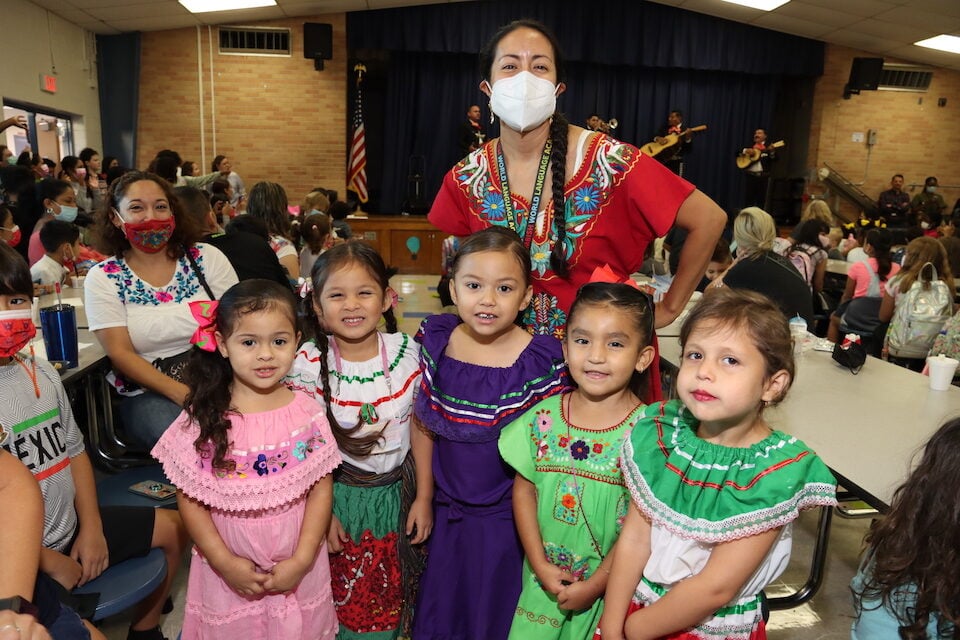 In honor of National Hispanic Heritage Month, the Arlington ISD is featuring stories that highlight different aspects of Hispanic culture.
Wimbish World Language Academy knows there is no better way to kick off National Hispanic Heritage Month than with a festive celebration for students, parents and staff. Hispanic Heritage Month aims to recognize the history, heritage and contributions of Hispanic and Latino Americans.
It started the moment students walked into school. Colorful decorations and flags from Hispanic countries hung from the walls while hand-stitched dresses lined the hallways to display a variety of cultural styles. Traditional desserts and beverages were handed to parents as they walked their children into the school yesterday morning.
Staff and students were also allowed to dress in clothing from their cultures to show their pride in celebration of the special month. Students waited eagerly in line to take pictures of their outfits in front of an original backdrop made by a group of parent volunteers.
"My husband was born in Mexico, so it's important for us to teach our family the significance of their heritage," said parent volunteer Jerrica Luna. "We don't travel to Mexico often, so we love to participate in any event that helps keep our heritage alive, especially at school."
Luna and other volunteers brought in a host of decorations such as miniature fruit stands, sombreros and piñatas from their native countries to give the school's décor a personal touch.
Wimbish ended the celebration with a live performance from a professional mariachi band sponsored by North Davis Church, a longtime community partner.
"Seeing the kids dance and enjoy the mariachi band was the highlight of my day," said Wimbish community engagement liaison Elizabeth Velasco. "A lot of them have never had the opportunity to celebrate this monumental month, so we wanted to make sure we started off with a bang."
Often times we run into parents and students who think Hispanic Heritage Month is only about Mexico, so we've taken on the responsibility to teach them about the history and influence that stems from many other Hispanic countries."
Hispanic Heritage Month is observed from Sept. 15 to Oct. 15 annually, so there's plenty of time to celebrate and get educated about the positive impact Hispanic and Latino Americans have created. If you'd like to learn more, visit the National Hispanic Heritage Month's official website. Feliz mes de la herencia hispana!